Application scenarios of license plate recognition system
by:Shenzhen TGW Technology Co.,Ltd
License plate recognition technology is used to extract and recognize a license plate from a car in motion, The complete work principle includes license plate extraction, image preprocessing, feature extraction, and license plate character recognition. At present, the license plate recognition accuracy of leading ALPR system can reach a rate of 99.7%. The license plate recognition system combined with a toll collection system so that  car owners don't need to stop when they pass through a crossing .It realize automatic identification of vehicle numbers and automatic toll collection in a easy way. Using the smart parking recognition system, you can work offline by using an embedded integrated design.Such as add the license plate recognition technology algorithm to a camera, or set up a black and white list to manage vehicles, then we can realize allowing VIP members to pass freely while disallow nonmember to pass without paying .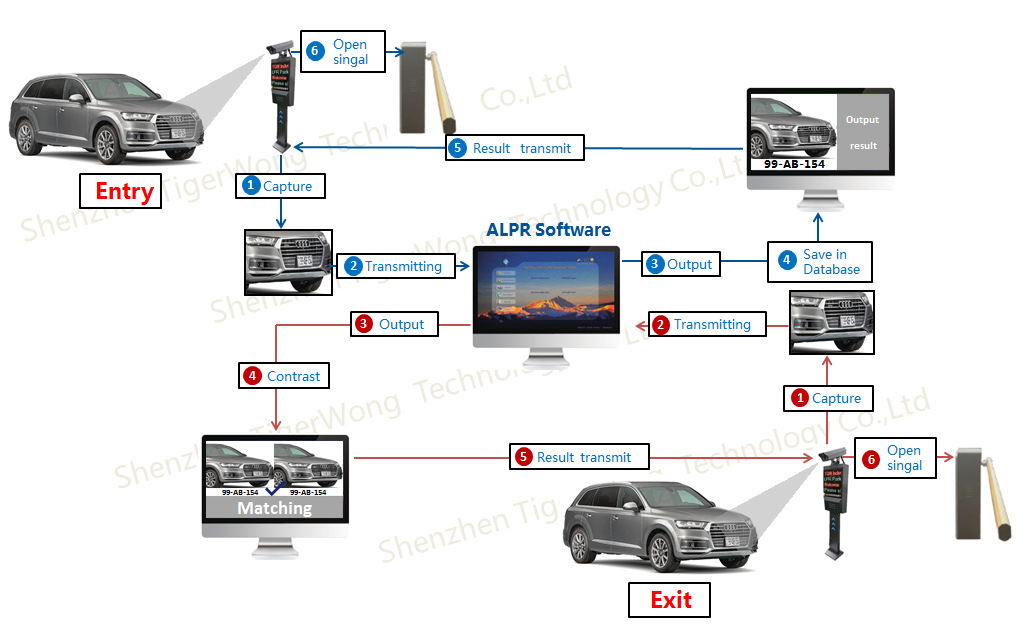 1. Smart parking system
The license plate recognition system is installed at the entrance and exit of the smart parking lot, it records the license plate number of vehicles and the time when vehicles enter or leave, and is combined with the control equipment of automatic gates and railing machines. License plate recognition system can realize automatic time-based charging.It can also automatically calculate the number of available parking spaces and give tips to realize automatic management of parking charges to save manpower and improve efficiency. The license plate recognition system is used in intelligent communities, which can automatically determine whether the coming vehicles belong to this community, and realize automatic timing and charging for nonmember vehicles. The intelligent license plate recognition parking lot charging system achieve passing wuihout cards, which effectively improves the efficiency of vehicle access.
2. Monitor and alarm
If you want to check whether a car is included in the "blacklist", such as: wanted or reported vehicles, unpaid vehicles, vehicles under annual inspection, accident and escape vehicles, etc., just enter the license plate number into the management system.The system is installed at designated intersections, checkpoints or carried by law enforcement officers at any time. The license plate recognition technology will identify all license plate numbers of passing vehicles and compare them with the "blacklist" in the system. Once a designated vehicle is found,an alarm message will be issued immediately... The license plate recognition system can work continuously throughout the day, without fatigue, and with extremely low error rates; it can adapt to moving vehicles; it can complete license plate recognition without affecting normal traffic, and the driver will not be affected during the entire monitoring process Sensitive and confidential. Application of license plate recognition technology will greatly improve the efficiency of law enforcement.
More application Industry of License Plate Recognition System
1.Recognition and monitoring of license plates at the entrance and exit of the parking lot;
2.Identification and monitoring of license plates at highway entrances and exits;
3. License plate identification and monitoring at the entrance and exit of the mall;
4.Identification and monitoring of license plates at the entrances and exits of government agencies, enterprises and institutions;
5. Weighing charges.
The extensive application of the license plate recognition system has greatly helped vehicle management and parking billing of parking lots, such as parking lots in residential quarters. This has also contributed a lot to smart transportation. Dimon artificial intelligence shared a parking solution includes smart on-street parking, smart parking lot, three-dimensional parking garage, shared parking, new energy charging pile, and other subsystems. As a city-level smart parking solution, this solution is based on a "high-level video + palm parking app + AI parking management cloud platform" as a framework, a set of high-level video The device can manage 8-12 parking spaces, and the license plate recognition rate is as high as 99.99%. It can automatically store users' on-street parking videos and image records. It provides a complete evidence chain for handling illegal parking, recovering evasion and leakage, and solves traditional parking. Problems such as low management efficiency, manual labor, cumbersome operation, and poor user experience. Also, Dimon's artificial intelligence shared parking uses on-street parking as a fulcrum, which can completely open up on-street parking resources, and comprehensively link the city's public bus travel system, traffic command system, public security monitoring system, and traffic police enforcement system to realize a city platform, One network, integration, intelligent parking management and platform sharing, parking space sharing, and data sharing have completely overturned the traditional parking management model.
We are a License plate recognition company which specialize in ALPR system,(License plate recognition),we offer ALPR solution all around the world.Click the links bellow to learn more about our products!
ALPR software,ALPR camera ,ALPR hardware,license plate recognition system,LPR camera
You can also learn more about ALPR at Wikipedia