ALPR camera
What is ALPR camera?
ALPR integrated camera is specially used at the parking industry, ALPR camera based on embedded intelligent ALPR integrated product, exclusive set ALPR, camera, front-end storage, supplementary light and other integration, using hd dynamic CMOS and DSP, peak computing power up to 6.4Ghz.Based on the automatic exposure control algorithm, the image we get by ALPR camera is excellent.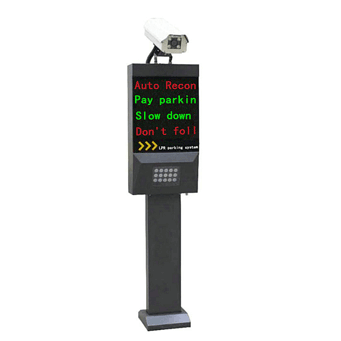 With excellent performance, multifunction, high adaptability and strong stability, it is the best application form of ALPR function for parking management system.
ALPR cameras convert optical images into electrical signals for storage or transmission.
ALPR cameras increase the function of license plate recognition,the reflected light of license plate is collected by camera , and then convert light into electrical energy(video signal) by the camera device .last, we get the corresponding license plate number by process the ALPR algorithm analysis.
What types of License plate that can be recognized by ALPR cameras?
 Our alpr camera can deal with license plates of all countries around the world.such as ordinary blue license plate, black license plate, yellow license plate, double yellow license plate, police license plate, new armed police license plate, new military license plate, embassy license plate, Hong Kong and Macao entry and exit license plate.
ALPR camera has independently developed ALPR algorithm, so it will keep updating and upgrade, which can keep the best recognition status for a long time.
Core features of ALPR camera
1.Embedded ALPR algorithm: the comprehensive recognition rate is higher than 99.58%;
2.Excellent automatic imaging control: automatic tracking of light changes, effective suppression of forward and reverse light;
Suppress car headlights at night;
The filling lamp is controlled based on image analysis algorithm to avoid the instability of the traditional filling lamp based on photosensitive resistor.
3.Offline operation: front-end data storage function;
Intelligent treatment of vehicles without license plate: multi-trigger mechanism ensures the normal traffic management of vehicles without license plate (or serious pollution, etc.).
ALPR cameras equip with wide dynamic CMOS, local exposure, image algorithm based on license plate control of fill light technology, completely different from the ordinary ALPR cameras, can automatically track the light changes, effectively restrain frontlighting and backlight, especially at night can restrain the interference of car headlights, thus clearly capture the license plate.
In particular, the supplementary light controlled by image algorithm avoids the instability of the traditional photosensitive resistor's supplementary light, thus completely ensuring the good imaging effect in the environment of dark night, backlight, direct headlight and severe weather.