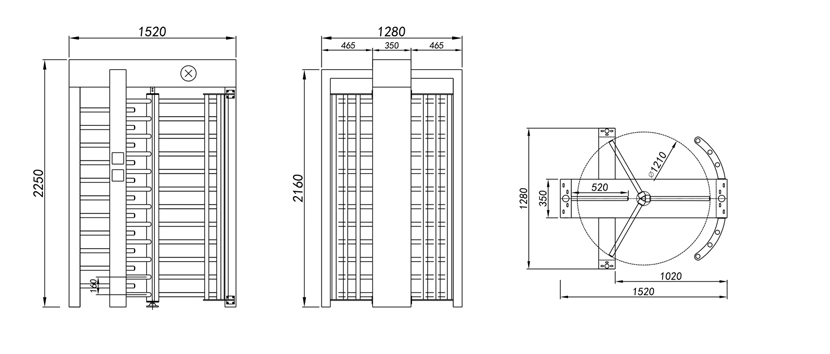 1) Unique two-way anti-reverse function.
2) Programmable device's operating status through the built-in small press plate on control board.
3) Anti-rushing function ,when the gate signal is not received, the turnstile arms locked automatically.
4) The center rotor will be set free (default) or locked (optional) automatically when the power is off.
5) Automatic Reset Functions: after you swap the card, during the specific time (the system is 10s).
6) The turnstile can work with door access control system/ consumption system /ticket system/biometric recognition system/ESD system and so on.
7) Each cabinet have one LED direction indicator.
8) Can manager and long-range control the turnstile directly by managing the computer.
Company Advantages
1. TGW temperature sensor types is verified to comply with relevant applicable standards. They are the US, EU, and numerous other standards including ISO, AATC, EDANA, and ASTM.
2. TGW automatic card dispenser has passed recognized tests. These tests include fiber composition testing, fabric construction testing, dimension stability testing, and flammability testing.
3. The manufacture of TGW AUTO PAYMENT MACHINE-TGW meets specific regulations. It is in accordance with standards like ASTM, AATCC, ISO, EN, JIS, and GB.
4. TGW tablet temperature sensor meets the requirements of the destination market's regulations. It must comply with REACH directives, CPSIA, SASO, and AATCC.
5. TGW temperature sensor types has been checked based on the quality control checklist. The checklist covers weight & dimensions, fabric materials, color, markings & labeling such as sizes, textile composition, and packaging.
6. The quality of TGW product highly conforms to established specification.
7. The quality of the product has withstood the test of time.
8. The product has a long-lasting performance and stable functionality.
9. The product is functional and with an internationally certified quality.
10. The product provides long-lasting performance and strong functionality.
11. Compared with other products, this product has a higher potential value.
12. This product can easily deal with the diverse needs of customers.
13. This product can provide customers with more predictable economic benefits.
Company Features
Shenzhen Tiger Wong Technology Co.,Ltd designs and manufactures high-quality and reliable vehicle number plate reading with the main focus on realizing customer needs. Shenzhen Tiger Wong Technology Co.,Ltd is an award-winning designer and manufacturer of vehicle number plate reading. We have established an all-round product lineup. Shenzhen Tiger Wong Technology Co.,Ltd is an award-winning designer and manufacturer of vehicle number plate reading. We have extensive experience after years of development.
To be at the technological frontier, TGW has been persistently absorbing high technology at home and abroad. Constructing the advanced technology is the only way for TGW to break the bottleneck in vehicle number plate reading industry. TGW realized that the bottleneck of manufacturing vehicle number plate reading needs to be broken by implementing new technology. By revolutionizing the technology of producing vehicle number plate reading, TGW is able to provide one-stop solution for customers. With a large scale of vehicle number plate reading development technology labs, TGW enjoys great reputation for its high quality products.
We are committed to acting in an environmentally responsible way using best practice and best available materials in all our activities. In our company, sustainability goes far beyond reducing carbon emissions or paper usage — it's about embedding the business practices that enable us to do more good and make positive contributions to the people with which we work. We would like to constantly create new values with 'encouragement' as well as provide products and technology according to the viewpoint of customers and partners. We have already undertaken and in many cases has completed actions to improve our environmental performance and reduce the environmental impact of our activities.
Application of the Product
The vihicle recognition system produced by our company can be applied to different fields and scenarios. So the different requirements of different people can be satisfied.
We have been engaged in the production and management of for many years. For some problems encountered by customers in the procurement, we have the ability to provide customers with a practical and effective solution to help customers solve problems better.