What is ticket dispenser solution?
Ticket dispenser is the key equipment of the parking lot management system, generally refers to the management equipment of cards and barriers in the parking lot charging management system or ticketing system.
The main components of the ticket box include voice output module, LED or LCD display module, card management module, main control module, vehicle detection module and power supply module. The ticket box is an indispensable part of the parking lot and other ticketing intelligence, and is widely used in the management of various vehicle passages.
Hardware part introduction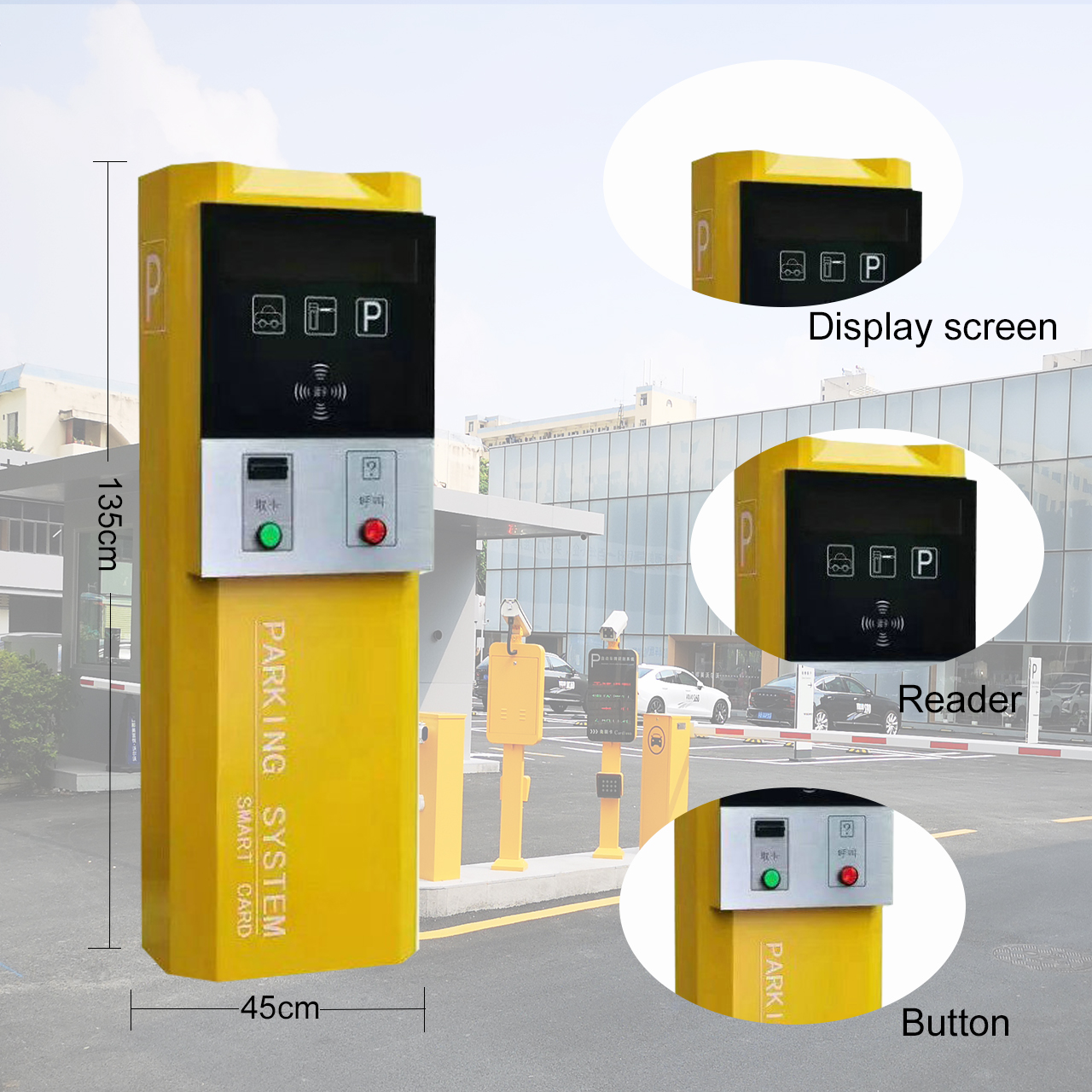 1. Unique manual release can stop the boom at any angle, Auto-reset when power on.
2. Bar can rise and fall on left/right sides by setting on the same machine.
3.One balance spring is suitable for all types of bars.
4. Unique remote controller, 3 buttons to control the barrier gate, safety and easy using.
5. Support the external and internal VEHICLE LOOP DETECTOR (optional).
6. Machine core can automatically adapt to low temperature.
Software part introduction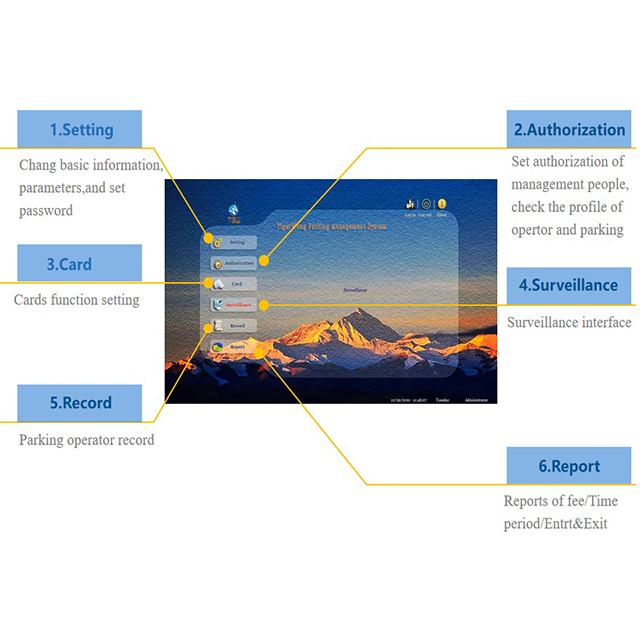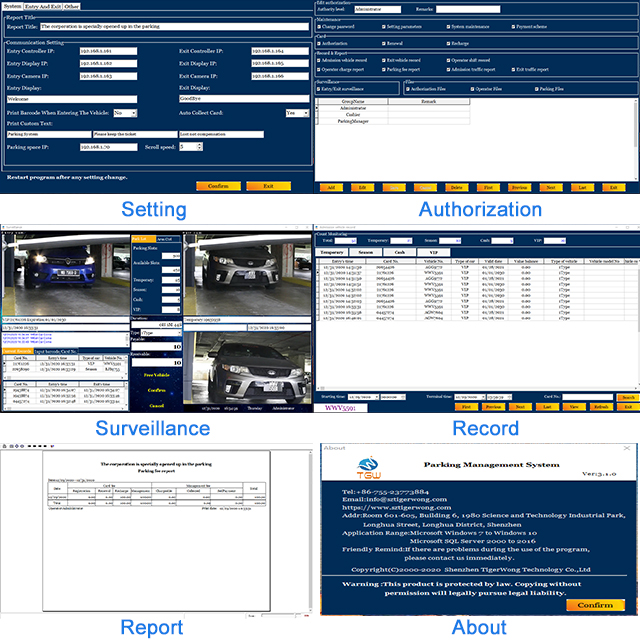 How does it work? Ticket Parking Composition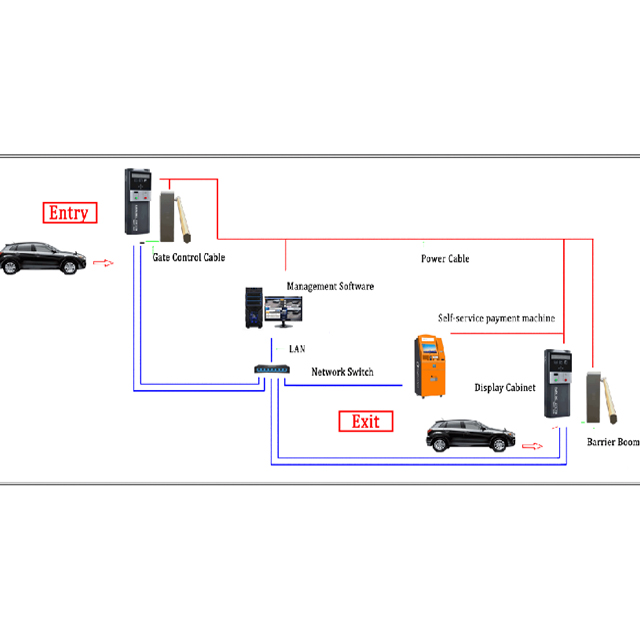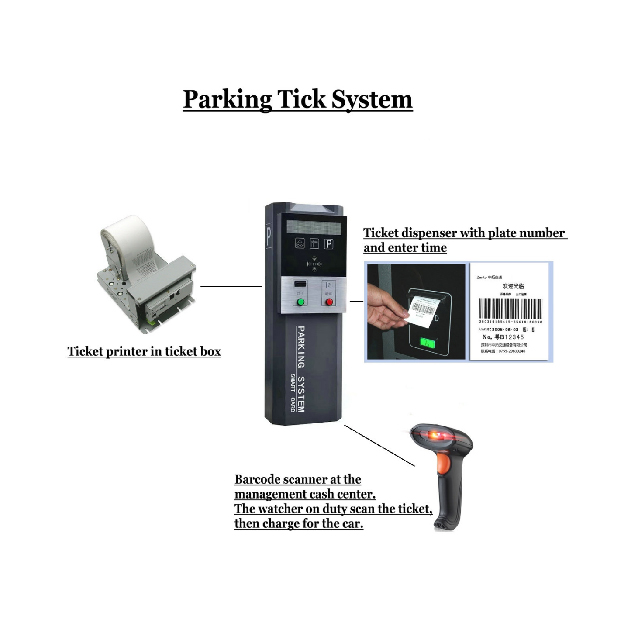 Process description:
Entrance:
Push Button and pick up the ticket
Take the card and paste up it on the dispenser box to raise the barrier gate.
It must be waiting a minute that the barrier has alreadlly rose up.
Exit:
The vehicle begin go through the barrier and entry parking.
Scan the ticket to exit.
Advantages of parking ticket dispenser
Advantages of parking lot entrance control ticket dispenser
* It can realize "one car one ticket".
* Intercom with the center and automatic counting and statistics function
* With Handheld scanner
* High-brightness LED Chinese characters are automatically displayed and turned over, and the remaining parking spaces are displayed
* Appearance size and color are optional
* Voice prompt, help intercom function
Company Advantages
1. Focusing on ergonomics, the design of TGW pedestrian gate is human-friendly. It considers people's physical stress point on the feet, the importance of arch support, and the distribution of load.
2. In the design stage of TGW number plate identification, various design principles have been considered. They include foot biomechanics and physiological structure development (concerning physical stress and weight points).
3. In the manufacturing of TGW car security system, processes include: foot type collection, CAD design, material cutting, molding, heating, pressing, and product trimming.
4. During the production of TGW lpr system, several stages are covered. They are the collection of different foot types, CAD pattern design, material preparation, machining, and trimming.
5. Attention on the details of TGW automatic license plate reader has been paid. Its dimension precision, edge handling quality, colorfastness, and trimming are done in a professional manner.
6. The product has passed multiple quality standard tests.
7. The product is synonymous with high quality and reliable performance.
8. The quality of the product is fully assured by the implementation of the strict quality management system.
9. The product is now extensively used in the market and leading the industry trend.
10. The product has a long lifespan, which allows users to be free of replacing light bulbs frequently. Such as offices or cinemas, replacing light bulbs can be very difficult and especially expensive.
11. The product is sustainable and energy efficient with no harmful substances such as mercury and sulfur, which is safe for users.
12. The use of the product has a great potential impact on users' feeling. With eye comfort and no UV radiation, it is safe for users to apply.
13. The product lasts longer, are more durable, and offers comparable or better light quality than other types of lighting.
14. The color light of the product works with the natural circadian rhythms of human beings, which helps combat fatigue and create an overall sensation of being awake.
Company Features
After years of effort, Shenzhen Tiger Wong Technology Co.,Ltd has become a comprehensive company that integrates R&D, manufacturing, and sales of display showcase. Shenzhen Tiger Wong Technology Co.,Ltd, enjoying a good reputation in this industry, has been focusing on manufacturing and exporting display showcase for many years. Shenzhen Tiger Wong Technology Co.,Ltd is a company of development, production, and sales of display showcase. We have gained recognization from the industry.
Shenzhen Tiger Wong Technology Co.,Ltd is strong and professional in terms of technology. By using advanced technology, not only the quality of display showcase but also its output is improved. Shenzhen Tiger Wong Technology Co.,Ltd has won a large market share of display showcase by virtue of solid technology foundation.
We adequately identify and assess the environmental and social impacts and manage them through a systematic approach by reducing waste and pollution and sustainably use natural resources. We work with our clients to implement measures to mitigate and adapt to the effects of climate change, as well as identify and manage the risks of natural disasters. We believe that our success is built on the trust we earned from clients. We work shoulder-to-shoulder with our clients to solve complex challenges in ways that minimize business risk and maximize opportunity. We are continually strengthening our environmental policies and practices to reduce greenhouse gas emissions, waste, and water usage across our entire operation. Our mission is to create, innovate and produce a wide range of well-designed products that fit with the desires of our customers and the latest trends in the display showcase industry.
Application of the Product
TGW Technology's parking lot ticket box can meet the different needs of customers.
With rich manufacturing experience and strong production capability, TGW Technology is able to provide professional solutions according to customers' actual needs.