Hardware introduction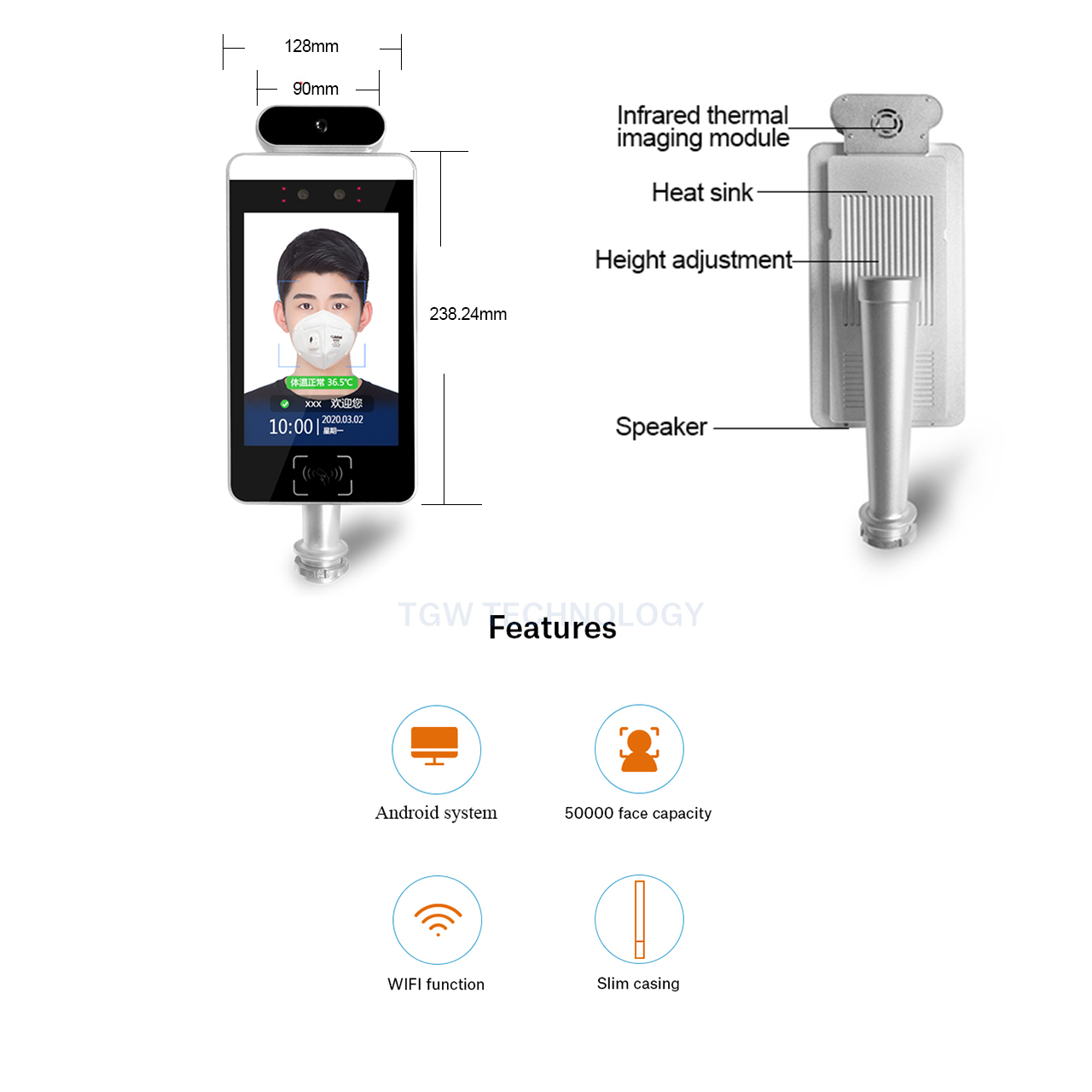 A high-performance dynamic temperature-measuring face recognition terminal, which is divided into gate installation and wall installation.
The terminal integrates the functions of off-line face recognition, temperature detection, mask recognition, identity verification, on-site face collection,
blacklist early-warning, photo taken after passing, active object detection. It adopts WDR HD face recognition camera,
which is fully adapted to harsh environment such as strong light, back light and weak light, with characteristics of fast recognition speed,
high accuracy and large list storage capacity.
Product details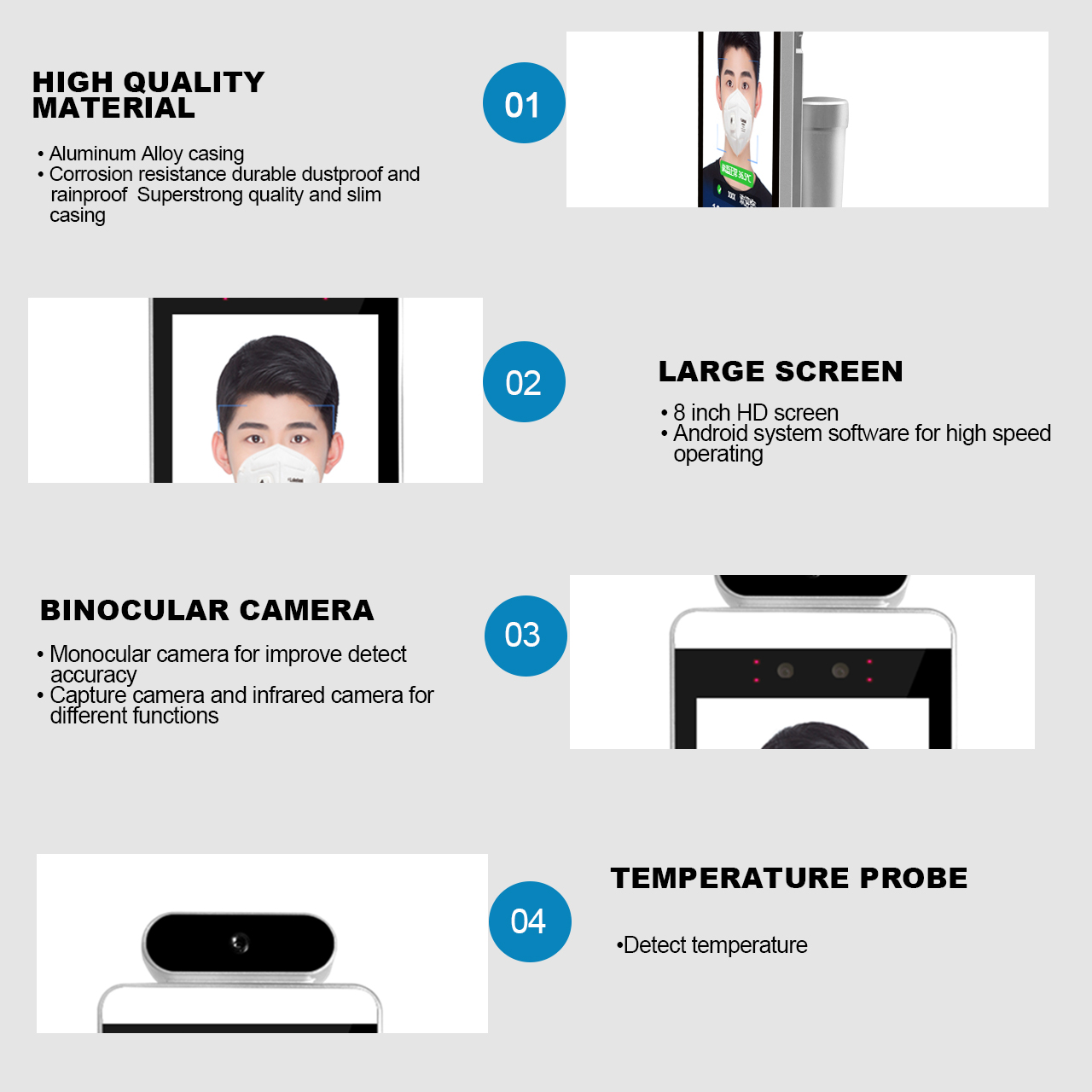 About temperature measurement face recognition terminal
1.8-inch IPS full-view LCD display.
2.Industrial-class appearance, waterproof and dustproof design which is stable and reliable.
3.Supports 10000 face database. The 1: 1 comparison recognition rate is more than 99.7%, the 1: N comparison recognition rate is more than 96.7%@0.1%
misrecognition rate, and the live detection accuracy rate is 98.3%@1% misrejection rate. Face recognition pass speed is less than 1 second.
4.Supports accurate face recognition and comparison while wearing a mask.
5.Using industrial-grade binocular wide dynamic camera, night infrared and LED dual photo flood lamp.
6.Supports human body temperature detection and temperature display. The best temperature detection distance is 0.5 meters.
The longest distance at which body temperature can be measured is 1 meter. The measurement error is plus or minus 0.5 ℃.
7.It only takes a few seconds for detection, and supports automatic alarm for body temperature abnormality.
8.Attendance temperature measurement data is exported in real time.
9.Supports various peripheral expansions such as ID card reader, fingerprint reader, IC card reader,QR code reader, etc.
10.The documentation is complete and supports secondary development.
11.Support system level, APP offline level, APP + background network level multiple API docking.
A collection of features to meet your different needs

Advantages of temperature measuring face terminal
1.Real living body detecting
2.Recognition speed around 0.5ms
3.Recognition rate very high,recogntion rate up to 99.7%
4.Supppot recognize whole world race.
5.Storage capacity max 2-50k/person
6.Support language change for software
7.SDK/API interface avaible
8.Standalone use or with operate software
9.Very good heat dissipation and system stability
Application scenarios
It can be used with application management systems such as face-based site real-name management system, face-based access control attendance management system and visitor management system, which is perfect for complex application scenarios that require temperature monitoring, identity recognition and access control, such as communities, campuses, hospitals, scenic spots, hotels, shopping malls, office buildings, public places and construction sites. In terms of epidemic prevention and control, it effectively reduces the potential risks of large-area contact with human body during temperature measurement, shortens the temperature measurement time and improves the temperature measurement efficiency. At the same time, centralized management provides real-time data support for the screening and tracing of suspected patients and floating population, and provides a strong safety guarantee for the management under the above scenarios.
Company Advantages
1. The quality of TGW LED is guaranteed by a series of tests. It has gone through fiber identification, performance testing, and flammability testing which all meet the textile standards.
2. During the production of TGW intelligent car parking system, different optimized processing techniques such as electrostatic spinning, air vortex spinning, or jet spinning are adopted.
3. TGW ALPR Equipments is developed by the R&D team who are acquainted with the combination and formula of different fabrics and dye agents.
4. It features thermal comfort. The fibers constructing this product have appropriate moisture absorbency and are able to absorb moisture from the body, therefore contributing to thermal comfort.
5. This product features thermal comfort. It has appropriate fabric structure and thickness which contribute to its air and moisture permeability, thereby increasing thermal comfort.
6. This product features thermal comfort. Appropriate construction and thickness of the fabric contribute to its heat and moisture transferability and hence thermal comfort.
7. This product features wear comfort. Factors affecting the comfort properties of fibers and fabrics are seriously taken into consideration and integrated it to its design.
8. The product is going to expand market further as we keep product improvement.
9. The product is cost-effective and widely used in the global market.
10. The product is popular in domestic and foreign market and has remarkable market potential.
11. The product has gained much attention from customers owing to the great economic benefits it can bring.
Company Features
TGW has won many praises like automatic gate system award. The fame of TGW has been increased much since its establishment. As one of the most competitive enterprise, TGW is famous for its automatic gate system and excellent service. TGW still continues to make rapid progress in the automatic gate system industry.
We have lean and flexible management layers. They are able to drive quick and effective decision making and thus enable the company to bring high-quality products including automatic gate system quickly to market. Our company boasts a team of competent and skilled professionals. They work closely during our production process from start to our finish to ensure the end result meets our high standards. We have imported a wider range of production facilities. These state-of-the-art facilities enable us to deliver on the most complex design requirements, while also ensuring exceptional standards of quality control. We have a high-efficient manufacturing factory and we continue to invest in its production capabilities, its quality and increasing its product depth. This allows us to earn a remarkable record on on-time delivery. Our company is backed by a dedicated R&D team. They have years of extensive expertise in the automatic gate system industry and are able to quickly develop new products according to the newest market trend.
We are committed to run business in a healthy and sustainable way. We conduct production and business activities in an environmentally and socially responsible manner. We have the confidence to reduce our carbon footprint and pollution on the environment. Our company will actively foster sustainable practices. We have made progress in reducing waste gases, polluted water, and conserving resources. During the production processes, we consciously reduce pollution. We have introduced professional wastewater treating and waste recycling facilities to help us control waste discharge. We consider that we have the responsibility to protect our environment. We have made a long-term plan to reduce our carbon footprint and pollution on the environment. For instance, we use wastewater treating facilities to handle wastewater. We strive for long-term success through sustainable development. We closely work together with the local communities and government to minimize the impact on the environment during our production.
Application of the Product
The Wide Dynamic Camera produced by TGW Technology is widely used in field for its excellent quality.
TGW Technology always focuses on meeting customers' needs. We are dedicated to providing customers with comprehensive and quality solutions.