Company Advantages
· Tigerwong Parking parking ticket dispenser is developed and manufactured using the latest technology materials.
· The patented design of this product ensures the desired performance.
· This kind of product with high-quality is suitable for people with tired eyes by its significantly cool and comfortable feeling.
What is ticket dispenser solution?
Ticket dispenser is the key equipment of the parking lot management system, generally refers to the management equipment of cards and barriers in the parking lot charging management system or ticketing system.
The main components of the ticket box include voice output module, LED or LCD display module, card management module, main control module, vehicle detection module and power supply module. The ticket box is an indispensable part of the parking lot and other ticketing intelligence, and is widely used in the management of various vehicle passages.
Hardware part introduction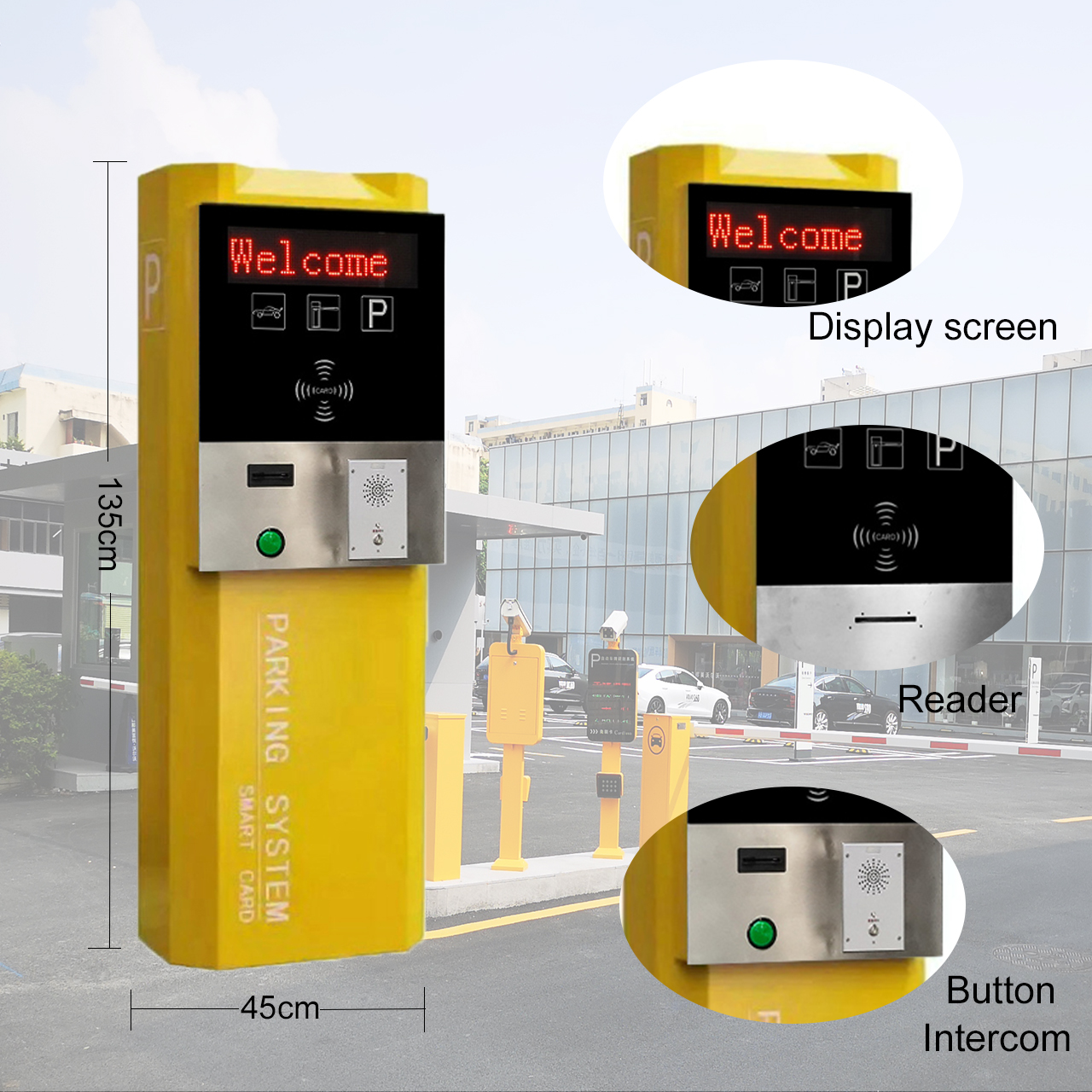 1. Unique manual release can stop the boom at any angle, Auto-reset when power on.
2. Bar can rise and fall on left/right sides by setting on the same machine.
3.One balance spring is suitable for all types of bars.
4. Unique remote controller, 3 buttons to control the barrier gate, safety and easy using.
5. Support the external and internal VEHICLE LOOP DETECTOR (optional).
6. Machine core can automatically adapt to low temperature.
Software part introduction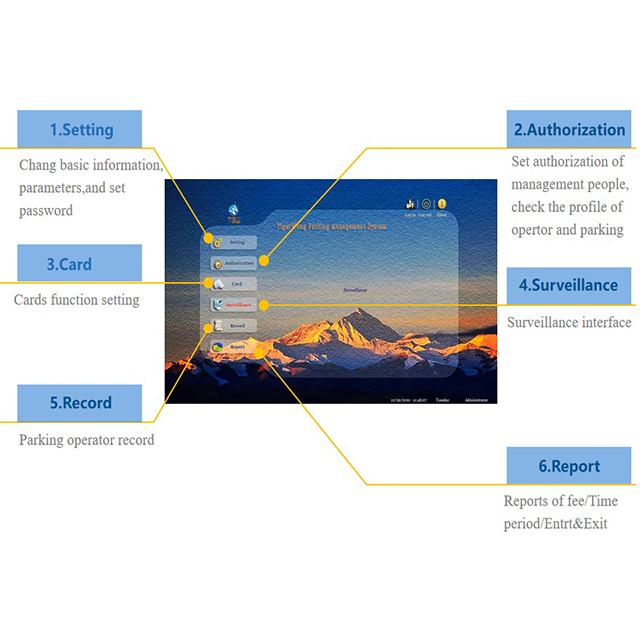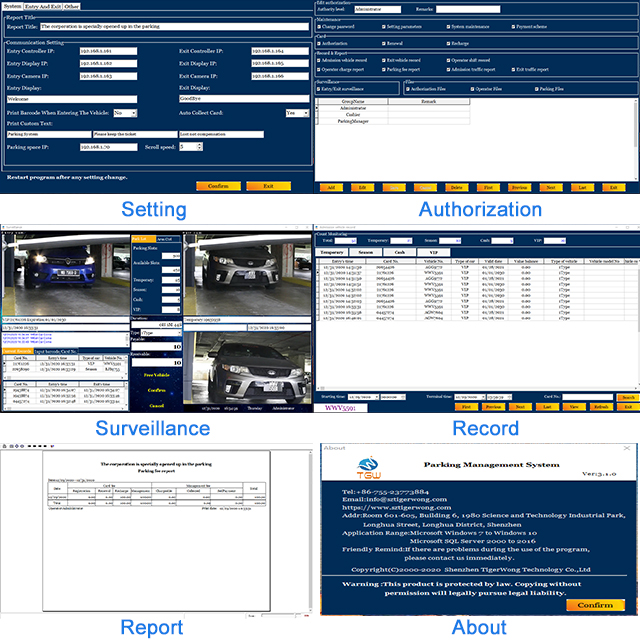 How does it work? Card Parking Compos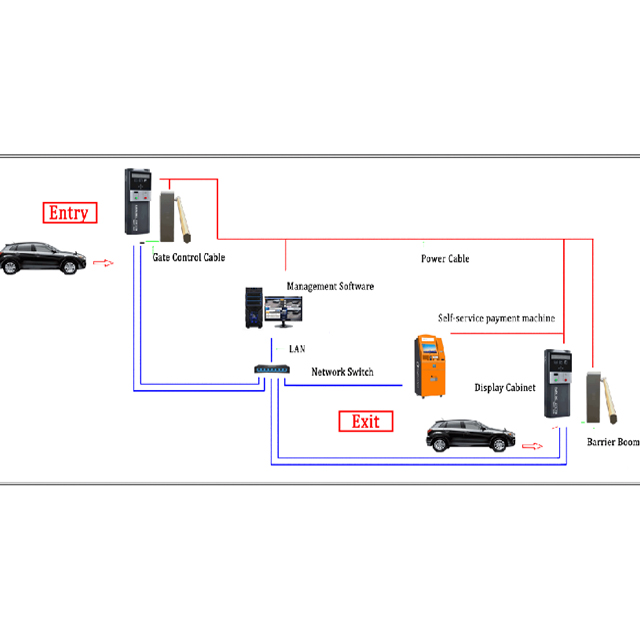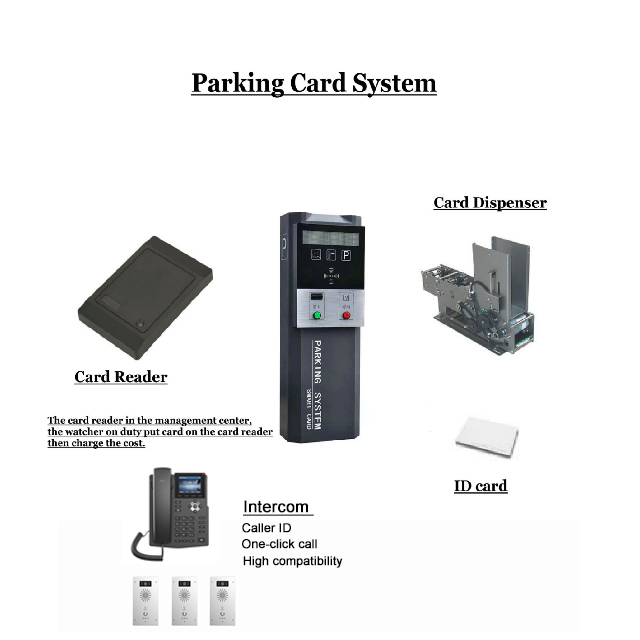 Process description:
Entrance:
Push Button and Take a Card.
Take the card and paste up it on the dispenser box to raise the barrier gate.
It must be waiting a minute that the barrier has alreadlly rose up.
Exit:
The vehicle begin go through the barrier and entry parking.
Keeping the card for exit.
Advantages of parking ticket dispenser
Advantages of parking lot entrance control ticket dispenser
* It can realize "one car spit out one card", "non-entry no longer spit out card"
* Intercom with the center and automatic counting and statistics function
* It can store 200 ISO standard proximity cards (with automatic card issuing machine)
* High-brightness LED Chinese characters are automatically displayed and turned over, and the remaining parking spaces are displayed
* Appearance size and color are optional
* Voice prompt, help intercom function
Advantages of parking lot exit control ticket dispenser
* Can realize "one car swallow one card"
* Intercom with the center and automatic counting and statistics function
* High-brightness LED Chinese characters automatic display, screen flip, charge amount display
* Appearance size and color are optional
* Charged voice prompt, help intercom function
Company Features
· Shenzhen Tiger Wong Technology Co.,Ltd is a intelligent technology systems provider offering a multitude of products and services to meet your business needs.
· Our factory is equipped with advanced computer-assisted machines. This computer assistance improves accuracy and minimizes errors during production, allowing us to achieve state-of-the-art manufacturing. We have a plant that is in compliance with internationally recognized standards of good manufacturing practices. It ensures that every product has the attributes of quality. Our factory has teams of highly trained and qualified staff. They provide a wealth of experience in the intelligent technology systems industry to ensure high-quality standards are maintained throughout the manufacturing process.
· Tigerwong Parking has been doing its utmost to manufacture the best intelligent technology systems to serve customers. Please contact.
Product Details
Next, Tigerwong Parking Technology will show you the details of Parking Ticket Dispenser.
Application of the Product
Our Parking Ticket Dispenser is widely used in various scenarios.
In addition to providing high-quality products, we also provide effective solutions based on the actual conditions and the needs of different customers.
Product Comparison
The Parking Ticket Dispenser of Tigerwong Parking Technology has been improved greatly in the following aspects.
Enterprise Advantages
With the main focus on sci-tech innovations, Tigerwong Parking Technology has an excellent scientific research team. They provide strong technical support for the production of high-quality products.
Tigerwong Parking Technology focuses on the internal management and opens up the market. We actively explore innovative thinking and fully introduce modern management mode. We continuously achieve development in the competition based on strong technical capability, high-quality products, and comprehensive and thoughtful services.
Our company adheres to the tenet of 'customer first and honesty-oriented' and the management philosophy of 'quality and excellence'. We make effort to get a lasting development while providing high-quality products, and look forward to work together and create brilliance with new and old customers in industry.
Tigerwong Parking Technology was founded in and has been in the industry for years. We have never forgotten the initial intentions and dreams, and marched forward bravely in the development journey. We actively face the crisis and seize the opportunity. Finally, we achieve success through unremitting efforts and hard work.
Tigerwong Parking Technology's are sold in major cities in China. They are also exported to many overseas countries and regions.