Hardware introduction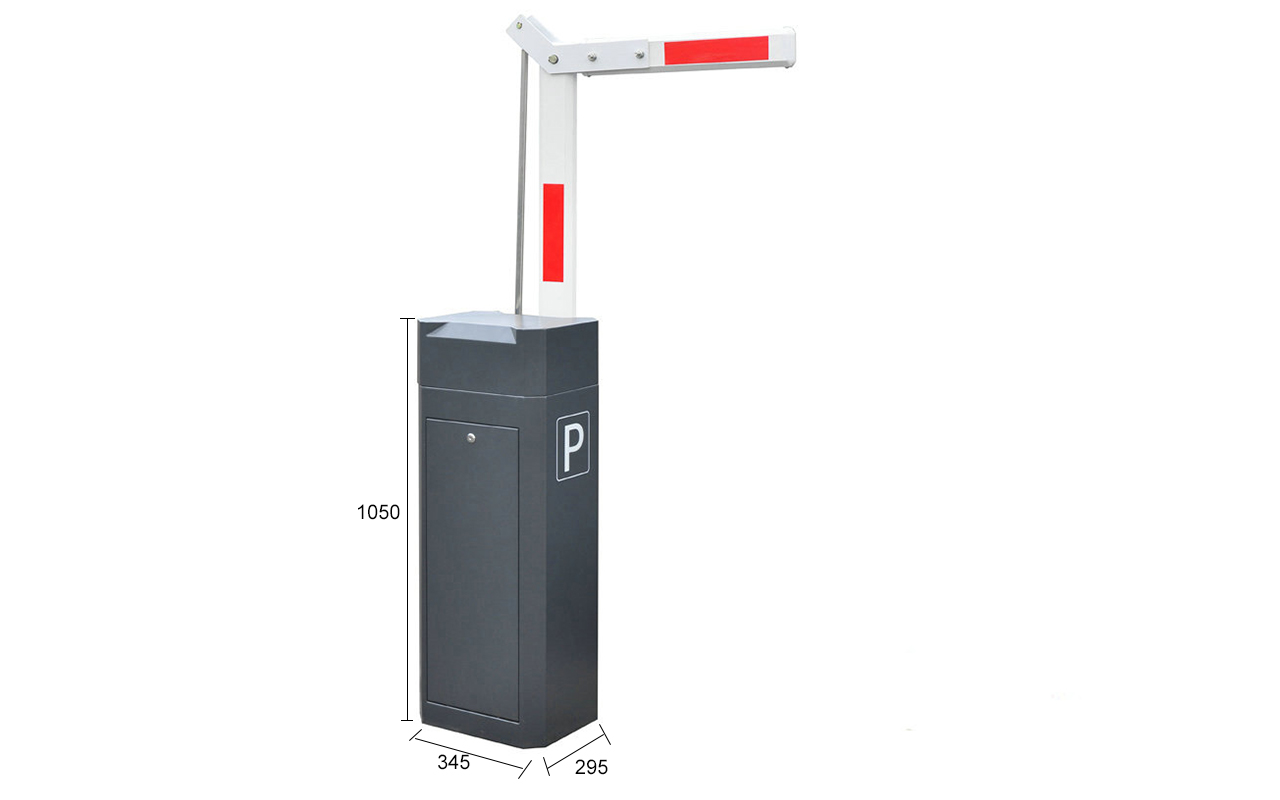 Barrier Boom Functions
1.The operation speed can be adjusted(1.2s to 6s).
2.Barrier gate up&down signal relay switch output.
3.R&G Traffic light relay switch signal output.
4.External loop detector signal anti-smashing interface.
5.Infrared sensor signal anti-smashing interface.
6.Count mode interface.
7.Arm swing out function,when the vehicle hit the barrier gate,the arm can be swing out to avoid further damage.
8.High-sensitivity arm auto reverse function(intensity can be adjusted).
9.Parking system interface.
10.RS485 communication interface.
11.Power off the backup battery interface.
Barrier Boom Features
1.Mechanical and electrical integration:quickly assembly,easy maintenance.
2.Molding production:high precision ,fast efficiency and guaranteed quality.
3.Worm-gear secondary variable speed transmission:motor wheel design,gate opening by manually when power off,no blocking,no oil leakage,large torque,low noise,can normally operation at the temperature of minus 45 degree,etc.
4.DC brushless motor design:low consumption,high efficiency,no overheat,wide speed adjustment.
5.Hall limit:automatically detects the limit when power on without debugging,detecting the motor speed at all times and running at constant speed.
6.Curved triple connecting rod structure,easy to adjust.
7.Arm direction quickly interchanged :interchanged according to different directions on construction site,reduce inventory and capital pressure.
8.Special DC brushless controller:use interrated chip drive,fast processing speed,large memory,powerful function;24Clow voltage power supply,adapt to global voltage.
How to choose Barrier boom
Barrier boom regulate the stream of car, control exit and entrance.
Barrier boom are installed at parking lot,security desks, governmental facilities, schools, banks, hospitals, universities, sports etc.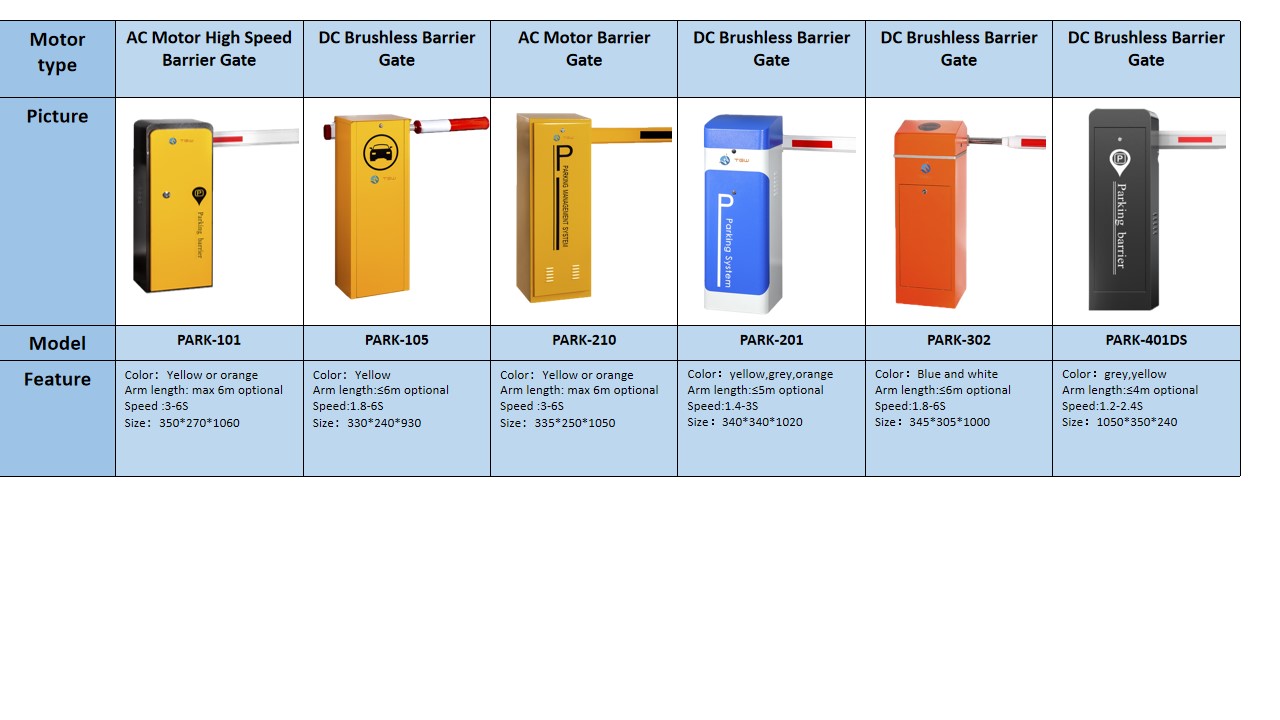 Company Advantages
1. Reliable raw materials: the raw materials of TGW camera icon android are all sourced from the suppliers who have established long term reliable cooperation with us. Their products are all certified.
2. The design concept: the design concept of TGW load cell is positioned high in our company. The design, in addition to the support of a team of talented designers, is also based on the market survey.
3. Well-selected materials: the raw materials of TGW Kindergarten Swing Turnstile is well-selected by our quality team, which contributes to the product of high quality and excellent property.
4. Confirmed design: the design of TGW Front & Inside View Camera has been confirmed by users, which combines both functionality and aesthetics and is carried out by a team of talents.
5. Innovative design concept: the design concept of TGW access control systems manufacturer is put forward and completed by a team of designers who are full of innovative design ideas. These ideas not only meet the industrial standards but cater to the market demands.
6. Customers are guaranteed the highest quality with our quality production facilities.
7. Customer opinions are seriously used to boost this product's quality.
8. Annual recertification audits verify that its quality standards are maintained.
9. It quality is demonstrated during a rigorous audit process.
10. The quality standards of this product are based on government and industry requirements.
11. With a focus on quality excellence, TGW Technology carries out strict quality control over every aspect including product design, production, processing, factory inspection, packaging, and transportation. Our commitment is to provide temperature measurement instruments which is qualified and is up to national standards.
12. TGW Technology aims to improve the intrinsic performance of products and guarantees SG009 to be safe, reliable, and eco-friendly. We do that by actively drawing on mature management experience at home and abroad and learning advanced manufacturing technology. Professional production equipment and quality inspection equipment are introduced as well.
13. TGW Technology is abundant in strength and strict in management. The production is carried out strictly according to national standards. Stringent quality inspection is implemented on the finished product before leaving the factory. All this is the strong guarantee for the high-quality and qualified License plate recognition system.
14. As a professional manufacturer, TGW Technology always insists on the concept to be market-oriented. We constantly improve the intrinsic performance of products by adopting new technology. This ensures the high quality of tripod access control.
Company Features
Shenzhen Tiger Wong Technology Co.,Ltd is a leading laundry machine manufacturer in China with many years of experience. We are renowned for being an industry specialist. Shenzhen Tiger Wong Technology Co.,Ltd has many years of experiences in the design, development, test, and manufacture laundry machine. We have become an expert in the industry. Shenzhen Tiger Wong Technology Co.,Ltd takes pride that we are the undisputed and reliable producer in designing and manufacturing laundry machine for many years.
So far, we have been gaining a large market share in America, Europe, Asia, and so on. Currently, we are finding new ways to establish cooperations with customers around the world. With a spectacular floor space, the factory owns sets of production facilities with advanced technology. This enables our factory to maintain monthly stable outputs with high quality. We have expanded overseas markets for our products including laundry machine. Now, our product is best-selling in China, America, and some Europen countries. We predict that the selling volume will continue to increase.
Our mission is to help customers create something amazing, a product that grabs the attention of their customers. Whatever customers make, we are ready, willing and able to help them differentiate their product in the marketplace. It's what we do for every one of our customers. Our goal is to help customers get products in perfect condition and in the most cost-effective way. This means helping them choose the right materials, right designs, and the right machinery that work for their specific application. We are fully aware of our responsibility to be a steward of a greener environment. We're proud to have instituted a company-wide program of environmental awareness and sustainability. We are constantly looking for ways to reduce energy, protect natural resources, and recycle or eliminate waste. We strive to understand the schedule and needs of customers. And we try to add value through our superior ability to manage and communicate throughout every project. Customer satisfaction has always been our main philosophy. As we continue to break through our business to achieve higher goals, we look forward to working with you.
Application of the Product
The Parking Lot Barrier Gate produced by TGW Technology can be used in many fields.
With professional service spirit, TGW Technology always provides customers with reasonable and efficient one-stop solutions.