Product information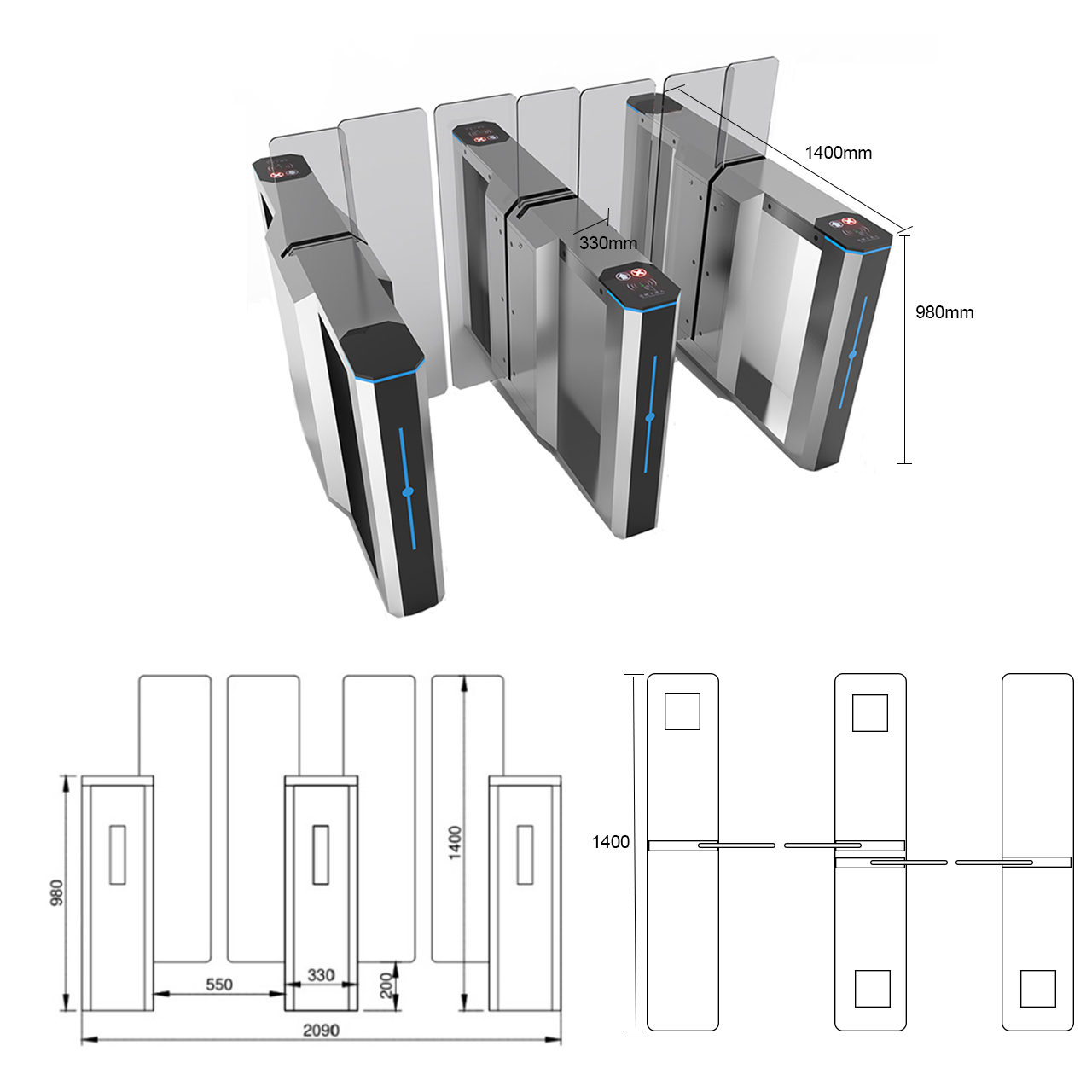 Hardware introduction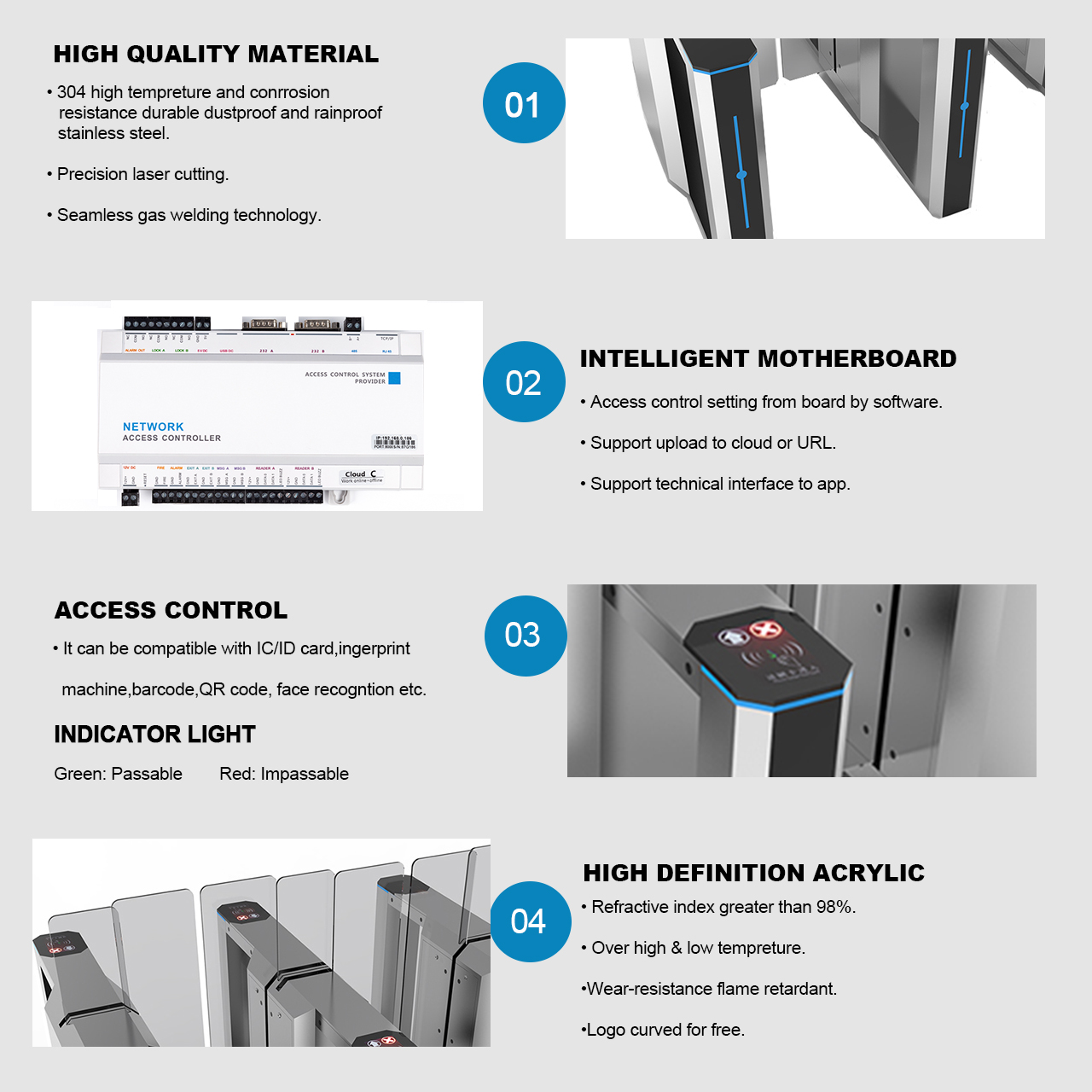 1. The working mode can be set through the button on the main panel.
2. Anti-collision,the object will automatically and slowly return to the original position after collision,to prevent the motor from being damaged
by external force collision.
3. Doors can be synchronized.
4. Automatic reset.Right turn is automatically cancelled if it is not passed within the scheduled time.(1-60s adjustable), the default time is 10s.
5. Compatible access control system, consumption system, ESD system, electronic ticketing system, etc.
6. One-way control or two-way control.
7. Two pairs of anti-collision infrared sensor,two pairs of alarm infrared sensor.
8. Each cabinet have one LED direction indicator.
9. The unit can be controlled and managed by remote control.
Turnstile access control method
Tripod Turnstile made of stainless steel has a modular design that allows to integrate different types of external
equipment: QR-code scanners, biometric readers, card readers, button,IR,coin acceptors etc.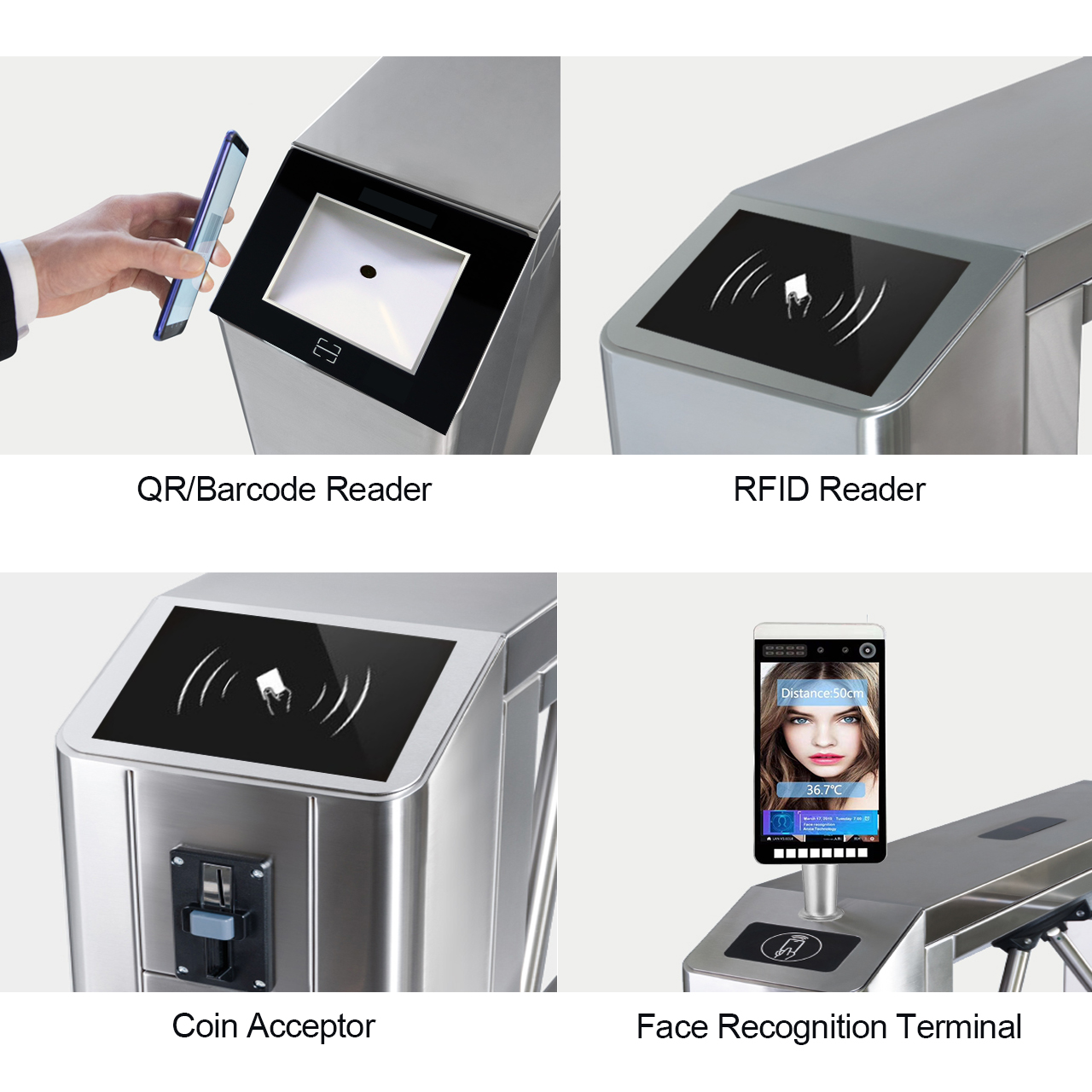 Turnstile Integrated system
1.Interface various kind of management system
2.Communicating and data interchange
3.Intergrate multi management software
4.We have strong R&D team to assist you development

How to choose turnstile
Overview form "How to choose a turnstile" will help to make a choice of equipment for access control organization at the entrance.
Turnstiles regulate the stream of people, control exit and entrance, protect from unauthorized persons access.
Turnstiles are installed at security desks, governmental facilities, schools, banks, hospitals, universities, sports and entertainment centers and other facilities.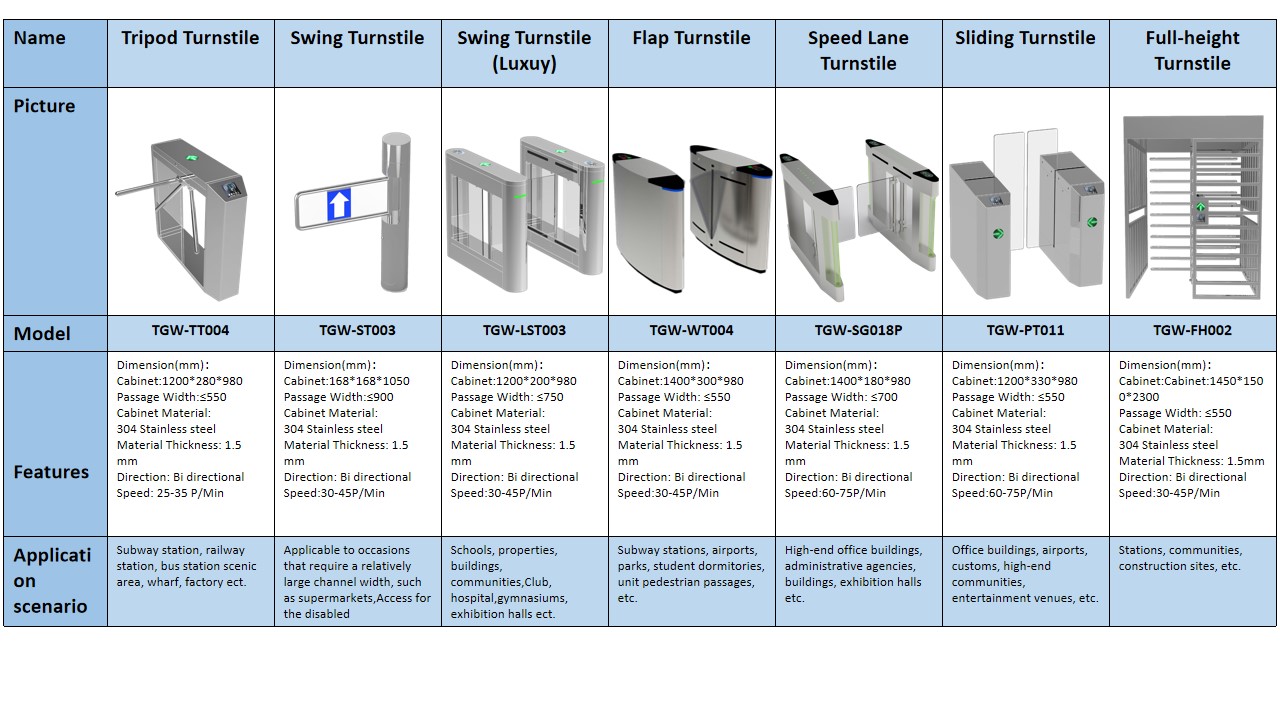 Company Advantages
1. The development of TGW animal u has taken different things into consideration. During the R&D stage, the electrical heating elements such as the thermal circuit breaker, electric clearance, and creepage distance between two electric conductors will be thought over by the developers.
2. TGW TT007 is constructed in accordance with international electrical requirements. It conforms to a series of certificates, including UL, SAA, CE, FCC, RoHS, BSI, and so on.
3. TGW ST005 conforms to the electrical safety standards. Its wires and cables, plug, switching power system, and electric components such as conductor and resistor are tested to comply with relevant standards.
4. The product uses less electricity than traditional incandescent and fluorescent bulbs, resulting in substantial energy cost savings.
5. The product has been tested to ensure it properly manages the heat so that the light output is properly maintained through the end of its rated life.
6. The product has a unique heat sink that provides the path for heat to travel from the light source to outside elements, which effectively improve the management of heat.
7. Due to the high-efficiency heat sinks, this product can quickly absorb and then dissipate the heat into the surrounding environment.
8. The product features high-efficiency thermal management that is the important factor for its longevity. Thus, it has stable performance compared to other lighting products.
9. The product can bring out recreational and social benefits. It provides a fun way for people to socialize with friends.
10. People say that using this product is able to significantly help reduce the incidences of colds and influenza, boosting immunity.
11. The product can help the body and mind adapt to stress and reduce the risk of depression and other mental disorders.
12. After participating in physical sports, people can benefit from it to promote muscle relaxation by helping reduce muscle tension and eliminate lactic acid.
Company Features
Shenzhen Tiger Wong Technology Co.,Ltd is domestically competitive in manufacturing and exporting facial recognition software companies. As an internationally famous manufacturer for facial recognition software companies, Shenzhen Tiger Wong Technology Co.,Ltd is reliable for its high quality. Shenzhen Tiger Wong Technology Co.,Ltd is highly reliable in supplying high quality facial recognition software companies.
We have our own product laboratories. It is equipped with the latest technologies, which allows the testing and release of our products with the best precision available. We have a well-equipped factory. Extensive investment is being continually made in the production lines and machines, which guarantee the reliability of all elements of our supply chain. We have our own manufacturing plant. It has been constructed exclusively for R&D trials, design of experiment, initial process development, as well as QC activities. We have a plant that has great manufacturing capacity. It allows us to produce a huge range of different batch sizes, depending on the requirements. We have our own factory. Covering a large area and being equipped with advanced production lines and high-end machines, it meets needs from the rapidly developing markets of facial recognition software companies.
Shenzhen Tiger Wong Technology Co.,Ltd aims to improve effectiveness and quality of products so as to sustain its profitability and competitiveness in business. Shenzhen Tiger Wong Technology Co.,Ltd aims to grow our company together with our stakeholders. Shenzhen Tiger Wong Technology Co.,Ltd puts people first in providing high quality products, technologies and services.
Application of the Product
The access control system ppt produced by our company is suitable for various occasions in industry.
Before developing a solution, we will fully understand the market situation and customer's needs. In this way, we can provide effective solutions for our customers.