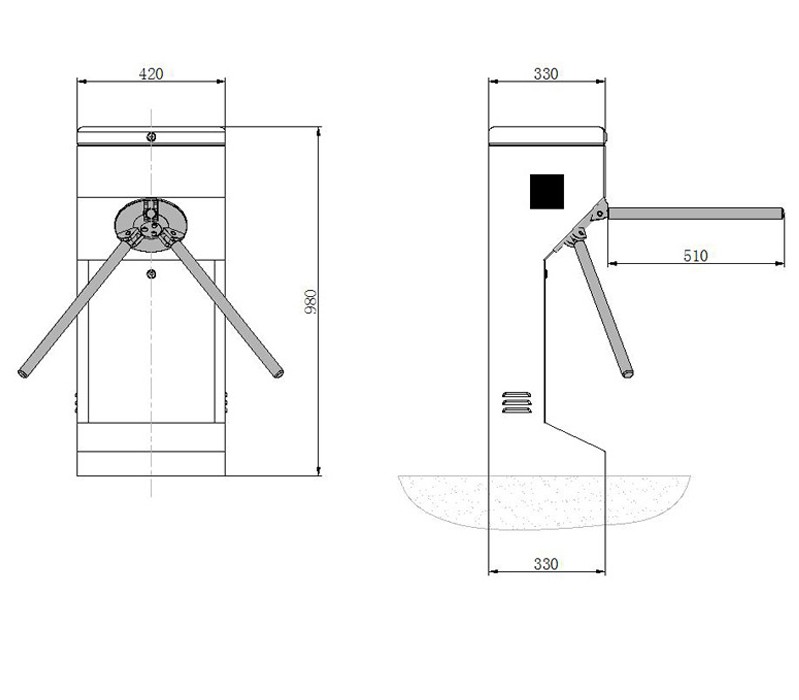 1. Anti-rust and Anti-corrosion
2. Automatic resent function, if doesn't pass through within the given time, the permission will be automatically cancelled and the arm will be restored
3. Intelligent motherboard, turnstiles can be configured to allow access in a single direction or bi-directionally.
4. Prevent trailing. After each pass, the arm is rotated 120 degrees to automatically lock.
5. Anti-collision, unable to push with external force when the arm is locked
6. Compatible with various control methods, including remote control, push buttons, IC or ID Card Reading Devices, etc.
7. Anti-Panic function. After the gate is powered off, the arm is automatically dropped to facilitate evacuation
8. Highlight LED indicator, indicate more eye-catching.
Company Advantages
1. TGW vehicle management system is designed to give strikingly intuitive user experiences.
2. TGW Application of the license plate recognition system is with a special appearance and functional design.
3. The design of TGW Choosing ALPR Solution and LPR camera is creative and targeted.
4. TGW face recognition algorithm V5.5 upgraded successfully!—Shenzhen TigerWong Technology Co. is designed in line with user needs.
5. The design of TGW vehicle number plate recognition is grounded in thorough research of the existing and target customers.
6. It has good elasticity and stretchable features. It is made of fabrics that are endowed with superior stretch and recovery.
7. It has a certain anti-static ability. It has passed relevant tests under the guidance of standards including AATCC 76, AATCC 84, BS EN 1149-1, DIN 54345-1, and GB/T 22042.
8. It has good deodorizing features. It has passes deodorization testing by various methods which include FTTS-FA-018 (Ammonia), ISO 17299-2 (Acetic acid), ISO 17299-3 (Method A Isovaleric acid), etc.
9. At present Shenzhen Tiger Wong Technology Co.,Ltd has independently developed into a brand named TGW specializing in turnstile company.
10. All of our SG003 comply with international quality standards and are greatly appreciated in a variety of different markets.
11. Shenzhen Tiger Wong Technology Co.,Ltd is a professional manufacturer and exporter that is concerned with the design,development and production of ai face recognition and temperature measuring devi and ai face recognition and temperature measuring devi.
12. In the security access control systems industry, TGW now is a leading manufacturer in the market.
Company Features
TGW is the dominant supplier with rich experience in producing temperature measurement terminal. With cutting-edge technology and professional staff equipped, TGW is proud to be the leading temperature measurement terminal supplier. TGW can offer one-stop shopping experience in temperature measurement terminal industry. TGW manufactures, produces and sells temperature measurement terminal as a dominant supplier. TGW is a dominant supplier integrating design, research and development, production, sales and service of temperature measurement terminal.
We have enforced a strict quality control management system. Under this system, all production processes are required to be inspected by corresponding QC teams. Located in a geographical advantageous place, the factory is so near to the main roads and highways, which enables us to provide competitive and efficient freight or shipment to customers. Our factory has set up comprehensive one-stop production facilities. These facilities have been certified many quality standards to ensure efficiency and safety. Also, the facilities provide a solid foundation for reliable monthly product outputs. Under the international ISO 9001 quality management system, the factory implements rigorous control over the production. All of the incoming materials and parts are required to be checked and tested to guarantee high quality.
We are committed to the highest standard of behavior and ethics. We treat our customers, suppliers, and each other with fairness, honesty, and respect. We try to deliver on expectations and to be the trusted one to design, produce, and deliver high-quality products for our customers and consumers and to provide outstanding service. Our vision is that we are the preferred company for our consumers, customers, employees, and investors. We aim to be a socially responsible company. We conduct responsible production. We strive to reduce energy use, waste, and carbon emission from our operations and transportation. We conduct our business in line with the highest ethical and operational standards. We focus on activities that deliver added value to partners and customers.
Application of the Product
Our tiso turnstiles meets the needs of multiple industries and fields.
TGW Technology always provides customers with reasonable and efficient one-stop solutions based on the professional attitude.