Hardware introduction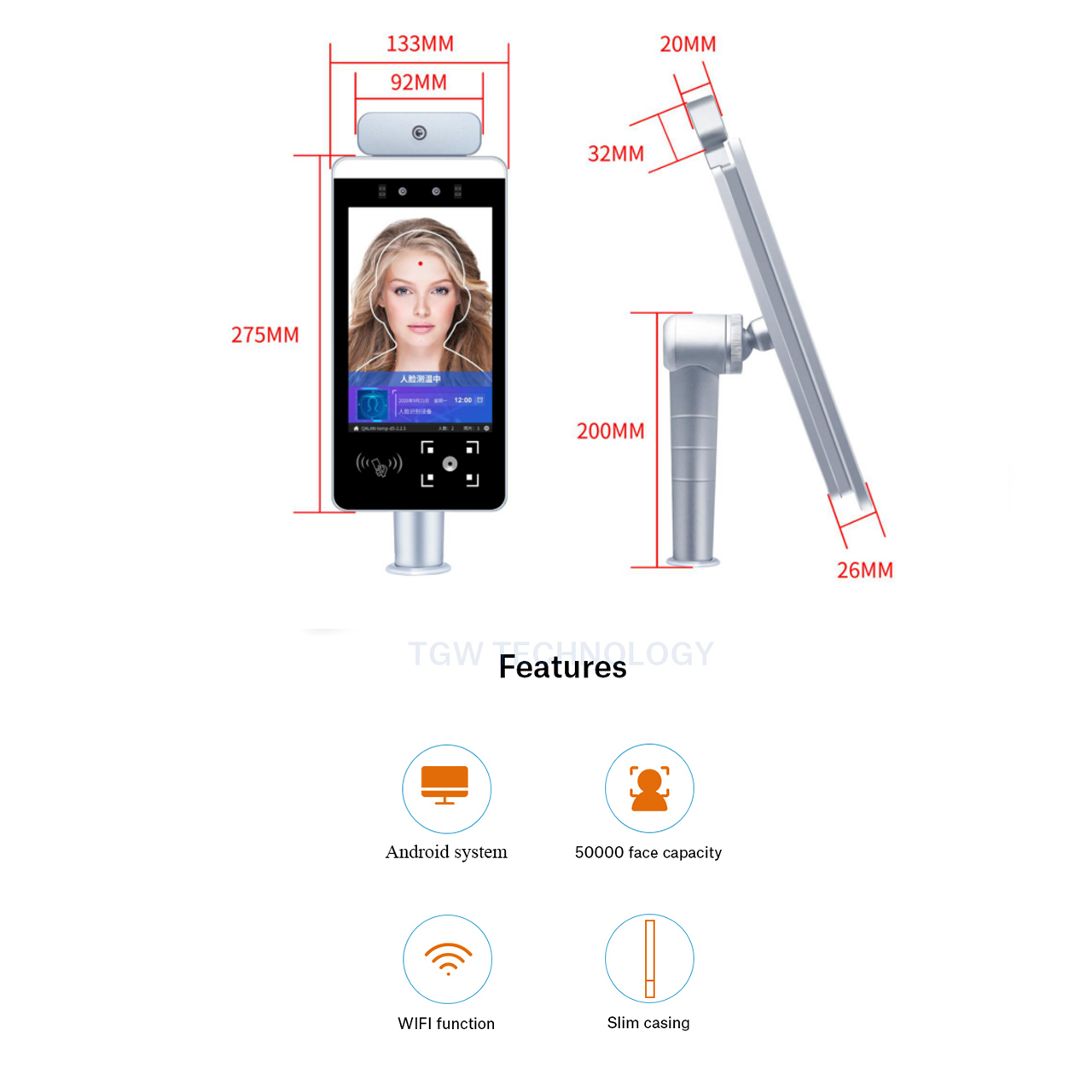 A high-performance dynamic temperature-measuring face recognition terminal, which is divided into gate installation and wall installation.
The terminal integrates the functions of off-line face recognition, temperature detection, mask recognition, identity verification, on-site face collection,
blacklist early-warning, photo taken after passing, active object detection. It adopts WDR HD face recognition camera,
which is fully adapted to harsh environment such as strong light, back light and weak light, with characteristics of fast recognition speed,
high accuracy and large list storage capacity.
Product details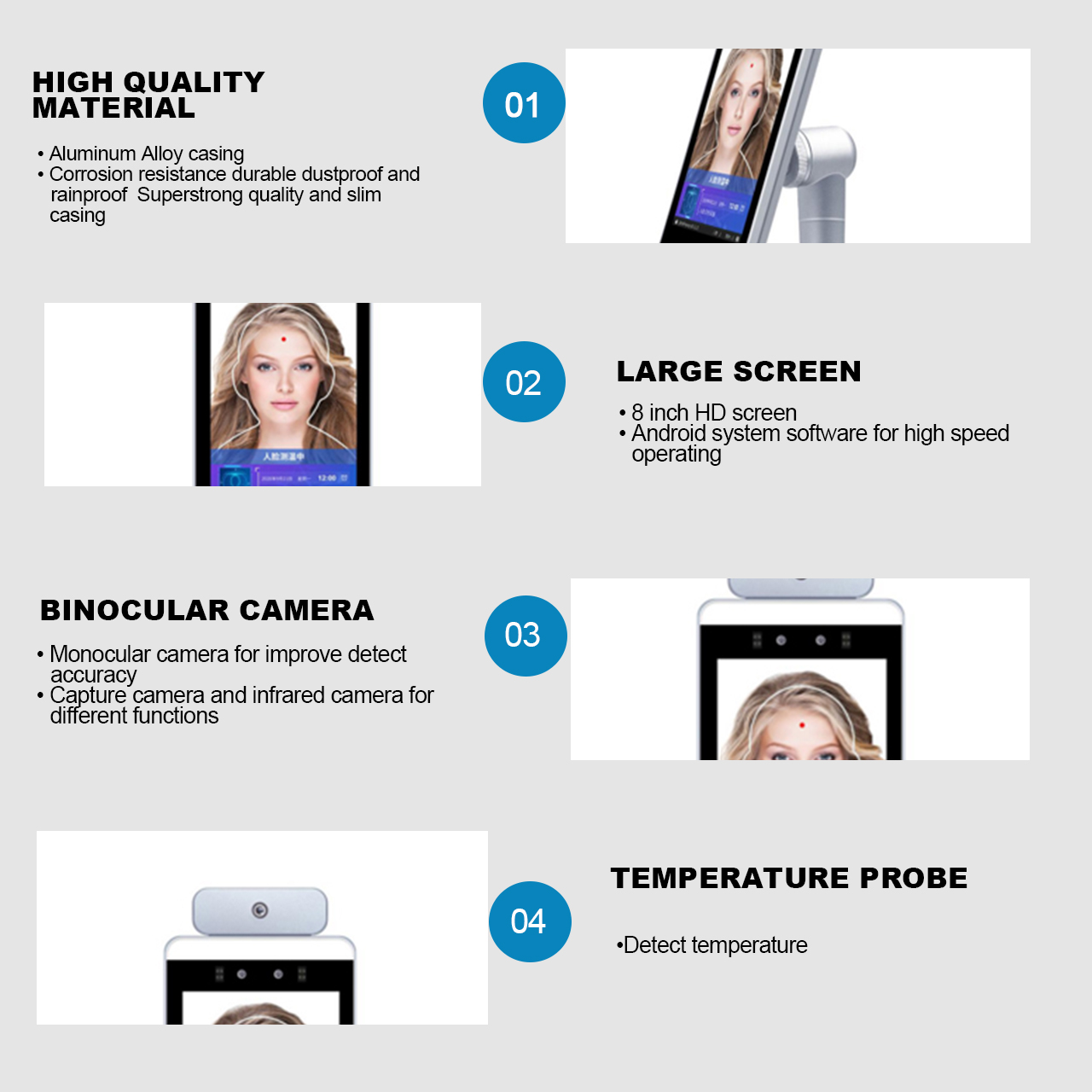 About temperature measurement face recognition terminal
1. Support the camera to capture the face to activate the device;
2. Adopt dynamic face detection and tracking recognition algorithm based on video stream;
3. Support local storage of 20,000 face libraries on the device;
4. When the face database is 3000, the accuracy of 1:N recognition is 99.7% under the condition that the false recognition rate is three out of ten thousand;
5. Fast recognition speed:
(A) Face tracking and detection takes about 20ms
(B) Face feature extraction takes about 200ms
(C) Face comparison takes 0.2ms (2000 people base, average value for multiple recognition), 0.5ms (10000 people base, average value for multiple recognition);
6. Binocular with infrared light camera;
7. Support on-site photo saving during face recognition or stranger detection;
8. Support interface docking in HTTP mode;
9. Support the deployment method of public network and local area network;
10. Support the comparison function of strangers' personal certificates;
11. Support human body temperature detection, support human body temperature measurement under indoor conditions;
12. Support external QR code.
A collection of features to meet your different needs

Advantages of temperature measuring face terminal
1.Real living body detecting
2.Recognition speed around 0.5ms
3.Recognition rate very high,recogntion rate up to 99.7%
4.Supppot recognize whole world race.
5.Storage capacity max 2-50k/person
6.Support language change for software
7.SDK/API interface avaible
8.Standalone use or with operate software
9.Very good heat dissipation and system stability
Application scenarios
It can be used with application management systems such as face-based site real-name management system, face-based access control attendance management system and visitor management system, which is perfect for complex application scenarios that require temperature monitoring, identity recognition and access control, such as communities, campuses, hospitals, scenic spots, hotels, shopping malls, office buildings, public places and construction sites. In terms of epidemic prevention and control, it effectively reduces the potential risks of large-area contact with human body during temperature measurement, shortens the temperature measurement time and improves the temperature measurement efficiency. At the same time, centralized management provides real-time data support for the screening and tracing of suspected patients and floating population, and provides a strong safety guarantee for the management under the above scenarios.
Company Advantages
· Tigerwong Parking Software complies with all standards of quality and safety. It has passed wires anti-aging test, circuit safety test, radiation test, etc.
· The healthy and environmentally friendly fabric will not cause the sensitive skin to flare up and become itchy, uncomfortable or even unbearable.
· For people who are someone who needs to carry their stuff for a long time, this product with ergonomically designed structure could be a great choice.
Company Features
· Shenzhen Tiger Wong Technology Co.,Ltd is a dynamic and fast-moving company specializing in manufacturing Automatic payment kisko. We have proven that we are one of the market leaders in China.
· Our factory has established a standardized sourcing system from a huge supplier network. This sourcing system requires all of the raw materials and auxiliary materials to be selected and purchased at very competitive prices and quality. Hence, we have been able to drastically reduce costs for clients.
· The brand positioning of Tigerwong Parking is to enable each team to serve customers with professional skills.
Application of the Product
face recognition terminal has a wide range of applications.
We will communicate with our customers to understand their situations and provide them with effective solutions.