What is ticket dispenser solution?
Ticket dispenser is the key equipment of the parking lot management system, generally refers to the management equipment of cards and barriers in the parking lot charging management system or ticketing system.
The main components of the ticket box include voice output module, LED or LCD display module, card management module, main control module, vehicle detection module and power supply module. The ticket box is an indispensable part of the parking lot and other ticketing intelligence, and is widely used in the management of various vehicle passages.
Hardware part introduction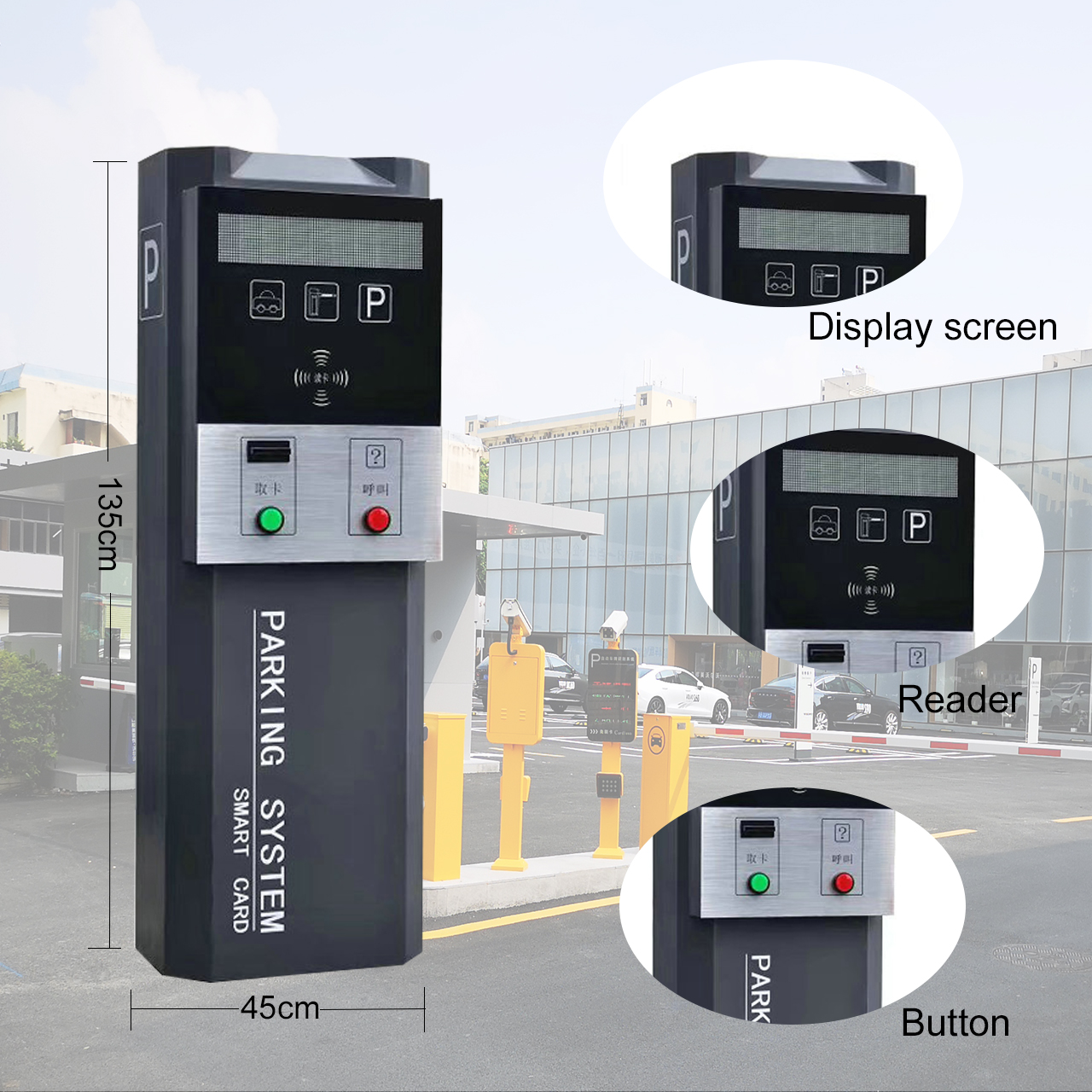 1. Unique manual release can stop the boom at any angle, Auto-reset when power on.
2. Bar can rise and fall on left/right sides by setting on the same machine.
3.One balance spring is suitable for all types of bars.
4. Unique remote controller, 3 buttons to control the barrier gate, safety and easy using.
5. Support the external and internal VEHICLE LOOP DETECTOR (optional).
6. Machine core can automatically adapt to low temperature.
Software part introduction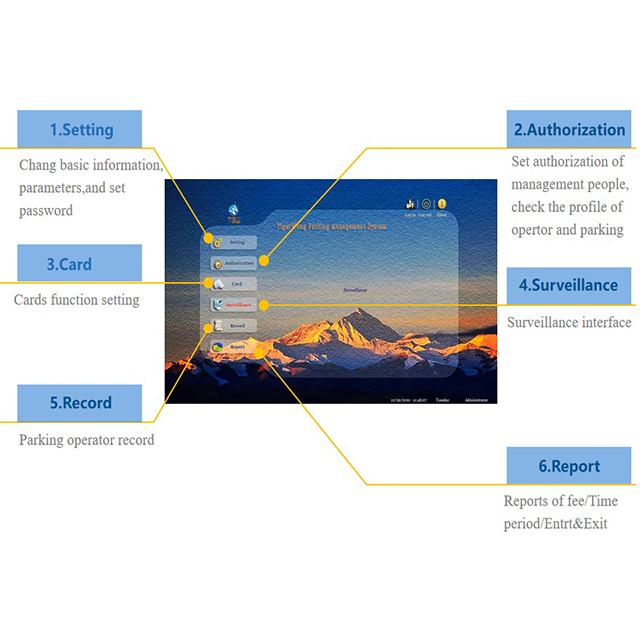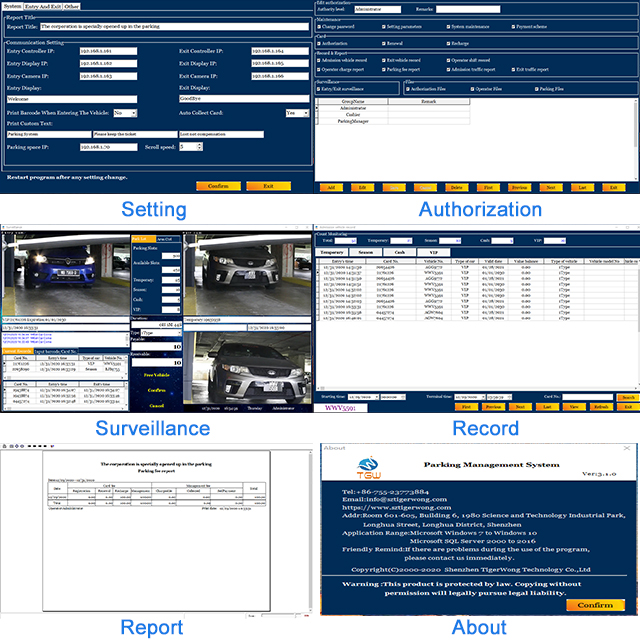 How does it work? Card Parking Composition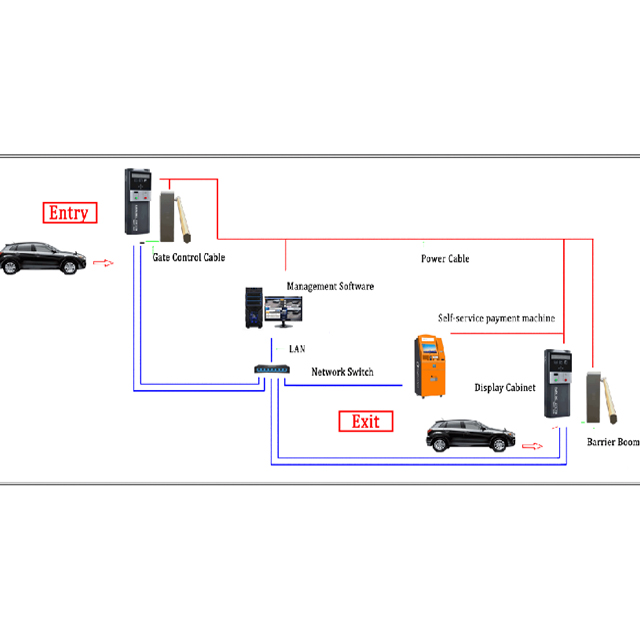 Process description:
Entrance:
Push Button and Take a Card.
Take the card and paste up it on the dispenser box to raise the barrier gate.
It must be waiting a minute that the barrier has alreadlly rose up.
Exit:
The vehicle begin go through the barrier and entry parking.
Keeping the card for exit.
Advantages of parking ticket dispenser
Advantages of parking lot entrance control ticket dispenser
* It can realize "one car spit out one card", "non-entry no longer spit out card"
* Intercom with the center and automatic counting and statistics function
* It can store 200 ISO standard proximity cards (with automatic card issuing machine)
* High-brightness LED Chinese characters are automatically displayed and turned over, and the remaining parking spaces are displayed
* Appearance size and color are optional
* Voice prompt, help intercom function
Advantages of parking lot exit control ticket dispenser
* Can realize "one car swallow one card"
* Intercom with the center and automatic counting and statistics function
* High-brightness LED Chinese characters automatic display, screen flip, charge amount display
* Appearance size and color are optional
* Charged voice prompt, help intercom function
Company Advantages
1. The safety of TGW gate access system is guaranteed. It has been tested with regards to lead and cadmium content by the third-party testing laboratory.
2. TGW air stream is strictly inspected. It is carried out by our QC team who checks its flammability, tension, corrosion resistance, and other performance characteristics.
3. TGW temperature face recognition terminal has undergone a range of comprehensive tests. It has been tested for tension, flammability, corrosion, wear & tear, and longevity.
4. TGW face recognition temperature measurement terminal has been passed various kinds of tests. It is tested for torque, tension, compression, flammability, resistance to corrosion and repeated and prolonged wear.
5. This product features a fast and accurate reaction to the writing or drawing. Its high level of pressure sensitivity makes the lines flow smoother.
6. Its surface is finely treated, making it highly resistant to scratches. The product is able to capture over thousands of writing or drawing with no surface wear.
7. This product is an input device which allows writing and drawing without the obstructions of a mouse, while at the same time, the writing and drawing can be stored in the computer.
8. This product has been widely applied in animation design, business terminal, and education sector mainly owing to its convenience and powerful functions.
9. One of our customers said:' This product is very quiet. I only hear the condensation unit or water drips if I'm next to the unit.
10. The product is cost-effective, efficient, and robust enough to handle the rigorous demands of the refrigeration industry such as food and beverage sector.
11. The product is used in a variety of industries such as the manufacturing of pharmaceuticals and the food and beverage and in making and sustaining ice rinks.
Company Features
Shenzhen Tiger Wong Technology Co.,Ltd is one of the few professional infrared imaging thermometer manufacturers with an independent R&D ability in China. Shenzhen Tiger Wong Technology Co.,Ltd has made achievements in the field of infrared imaging thermometer. Shenzhen Tiger Wong Technology Co.,Ltd has worked hard in infrared imaging thermometer industry for decades of years. Shenzhen Tiger Wong Technology Co.,Ltd is a infrared imaging thermometer product research and development company that has accumulated for many years of experience. Shenzhen Tiger Wong Technology Co.,Ltd is a specialized manufacturer and infrared imaging thermometer supplier with long history in the domestic infrared imaging thermometer industry.
Our employees feature versatility. They are quite qualified and professional in this field. Just because of their qualifications, they can always make the best use of materials resources, develop new technology, and give play to product efficacy. The comprehensive quality and ability level of our employees are high. They are well-educated about the domain-relevant know-how and profound and comprehensive understanding of our products. This advantage helps us better serve clients with targeted products. We have an open-minded management team. The decisions made by them are very progressive and creative, which helps promote the working efficiency to some extent. We have a professional production team who are supported by internal and external resources. Frequent internal training is held to improve workers' skills, and cutting-edge manufacturing technologies are introduced to support their work. With the expanded application of infrared imaging thermometer to different industries, we have developed more product ranges to serve specific applications. This is strong evidence of our R&D capability.
Customer trust is the driving force for excellence in Shenzhen Tiger Wong Technology Co.,Ltd. Our passion for the cause motivates us to fulfill our mission and pursue perfection of infrared imaging thermometer. Customer support is an important factor in TGW Technology success. TGW Technology aims to make our products and services a great success.
Application of the Product
The Smart Car Parking Ticket System produced by our company is widely used in various industries and fields.
TGW Technology can provide customers with one-stop solutions of high quality, and meet customers' needs to the greatest extent.