Hardware introduction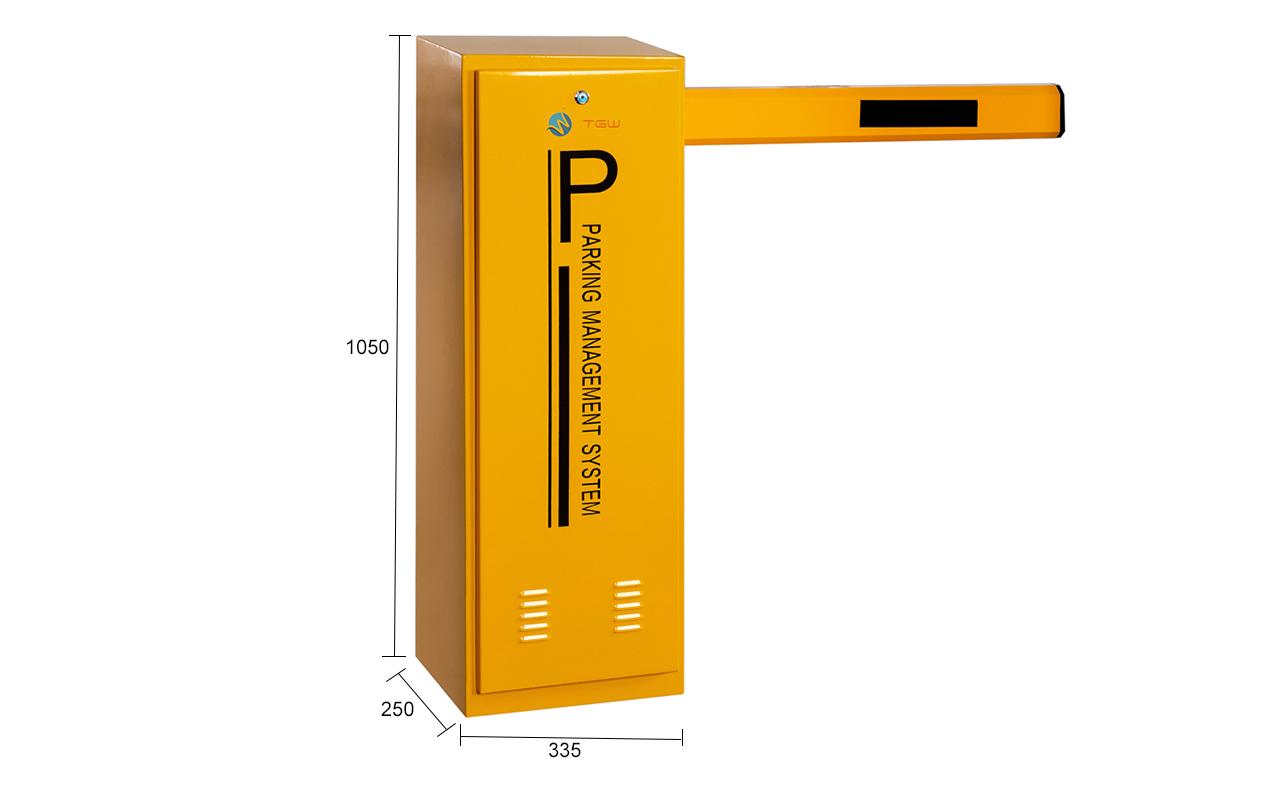 Barrier Boom Functions
1.The operation speed can be adjusted(3s to 6s).
2.Barrier gate up&down signal relay switch output.
3.R&G Traffic light relay switch signal output.
4.External loop detector signal anti-smashing interface.
5.Infrared sensor signal anti-smashing interface.
6.Count mode interface.
7.Arm swing out function,when the vehicle hit the barrier gate,the arm can be swing out to avoid further damage.
8.High-sensitivity arm auto reverse function(intensity can be adjusted).
9.Parking system interface.
10.RS485 communication interface.
11.Power off the backup battery interface.
Barrier Boom Features
1.Mechanical and electrical integration:quickly assembly,easy maintenance.
2.Molding production:high precision ,fast efficiency and guaranteed quality.
3.Worm-gear secondary variable speed transmission:motor wheel design,gate opening by manually when power off,no blocking,no oil leakage,large torque,low noise,can normally operation at the temperature of minus 45 degree,etc.
4.DC brushless motor design:low consumption,high efficiency,no overheat,wide speed adjustment.
5.Hall limit:automatically detects the limit when power on without debugging,detecting the motor speed at all times and running at constant speed.
6.Curved triple connecting rod structure,easy to adjust.
7.Arm direction quickly interchanged :interchanged according to different directions on construction site,reduce inventory and capital pressure.
8.Special DC brushless controller:use interrated chip drive,fast processing speed,large memory,powerful function;24Clow voltage power supply,adapt to global voltage.
How to choose Barrier boom
Barrier boom regulate the stream of car, control exit and entrance.
Barrier boom are installed at parking lot,security desks, governmental facilities, schools, banks, hospitals, universities, sports etc.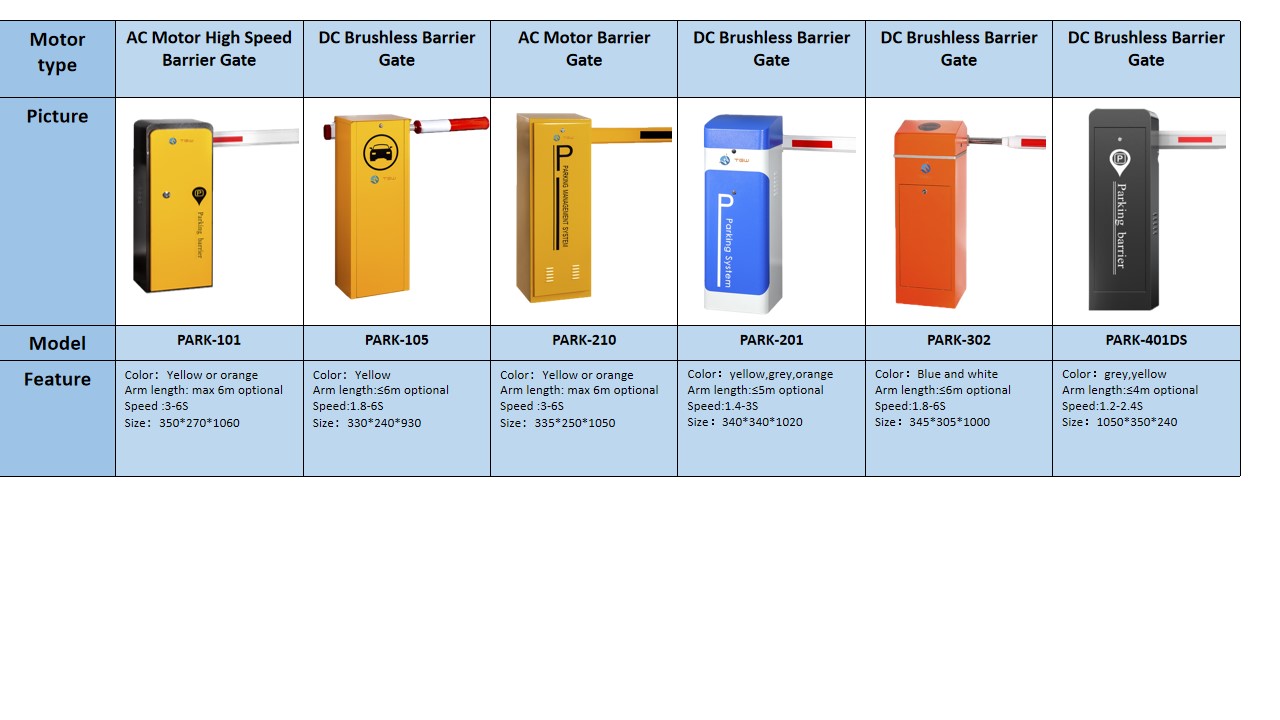 Company Advantages
1. different types of measuring instruments is manufactured based on high-quality materials, and is carefully designed by professionals. It is of moderate softness and is fit to the foot to provide a comfortable wearing experience.
2. Parking Lot Ticket Machine is manufactured based on light materials. It can effectively reduce the burden on the feet and provide a more comfortable wearing experience.
3. By virtue of superior materials, Ticket Dispenser not only has good softness and elasticity, but also has the function of reducing odor.
4. By virtue of excellent materials, Parking software has good softness and elasticity. It is not easy to deform and is long-lasting in durability.
5. alpr, designed ergonomically, effectively disperses the pressure of the forefoot and the heel to balance the force on the various parts of feet, which increases the comfort and balance stability of the human body.
6. The product is built to last for long during operation. It is able to withstand erosion, corrosion, fatigue, creep, and thermal shock throughout its life.
7. The product stands out for its durability. It can work continuously without a break and work for long without any major wear and tear.
8. The product features the desired stiffness. It is resistant to different failure modes thanks to its mechanical properties such as yield strength and hardness.
9. Being functional, comfortable and aesthetically attractive, this product would be an essential part of the human life. - Said one of our customers.
10. This product will contribute to the functionality and utility of every inhabited space, including commercial settings, residential environments, as well as outdoor recreational areas.
11. This product has not only a unique design but also fulfils the basic needs–and sometimes more–of practical, useful furniture. - Said one of our customers.
Company Features
TGW has been aiming at designing, manufacturing, developing and sales of car dash camera for years. Concentrating on the development of car dash camera industry, TGW's effort on developing popular products finally paid off. Aiming at different needs of customers, we strictly control the quality of car dash camera to win the trust of our clients. With the mutual supports from our outstanding technicians and sales team, TGW successfully create our own brand in the car dash camera market.
Shenzhen Tiger Wong Technology Co.,Ltd includes a set of skilled designers, sales team and so on. Shenzhen Tiger Wong Technology Co.,Ltd respects talents, people-oriented, and brings together a group of experienced management and technical abilities. Shenzhen Tiger Wong Technology Co.,Ltd incorporates innovative technologies at home and abroad from the creation of car dash camera. Shenzhen Tiger Wong Technology Co.,Ltd has a set of product layout elites with abundant market experience.
Our service team at TGW Technology will answer your questions promptly, efficiently and responsibly. TGW Technology respects the client's right to confidentiality. TGW products has met the market demand at home and abroad. The customer service team at TGW Technology always listens to customers' needs carefully and objectively.
Application of the Product
TGW Technology's manual boom barrier is widely used in various industries and fields.
We understand the actual situation of the market, and then combine the needs of customers. In this way, we develop the most suitable solutions for customers and effectively meet their needs.