Company Advantages
· The whole production of Tigerwong Parking auto parking system is completed by the combination of sophisticated equipment and professional staff.
· This product is hypoallergenic. The comfort layer and the support layer are sealed inside a specially-woven casing that is made to block allergens.
· Trusted by customers, turnstile barrier gate is famous for its high quality and excellent reliability.
What is LPR(License Plate Recognition) Technology?
License plate recognition(ANPR/ALPR/LPR) is one of the important components in modern intelligent transportation parking systems, and it is widely used.
Based on technologies such as digital image processing, pattern recognition, and computer vision, it analyzes the vehicle images or video sequences taken by the camera
to obtain the unique license plate number of each car to complete the recognition process.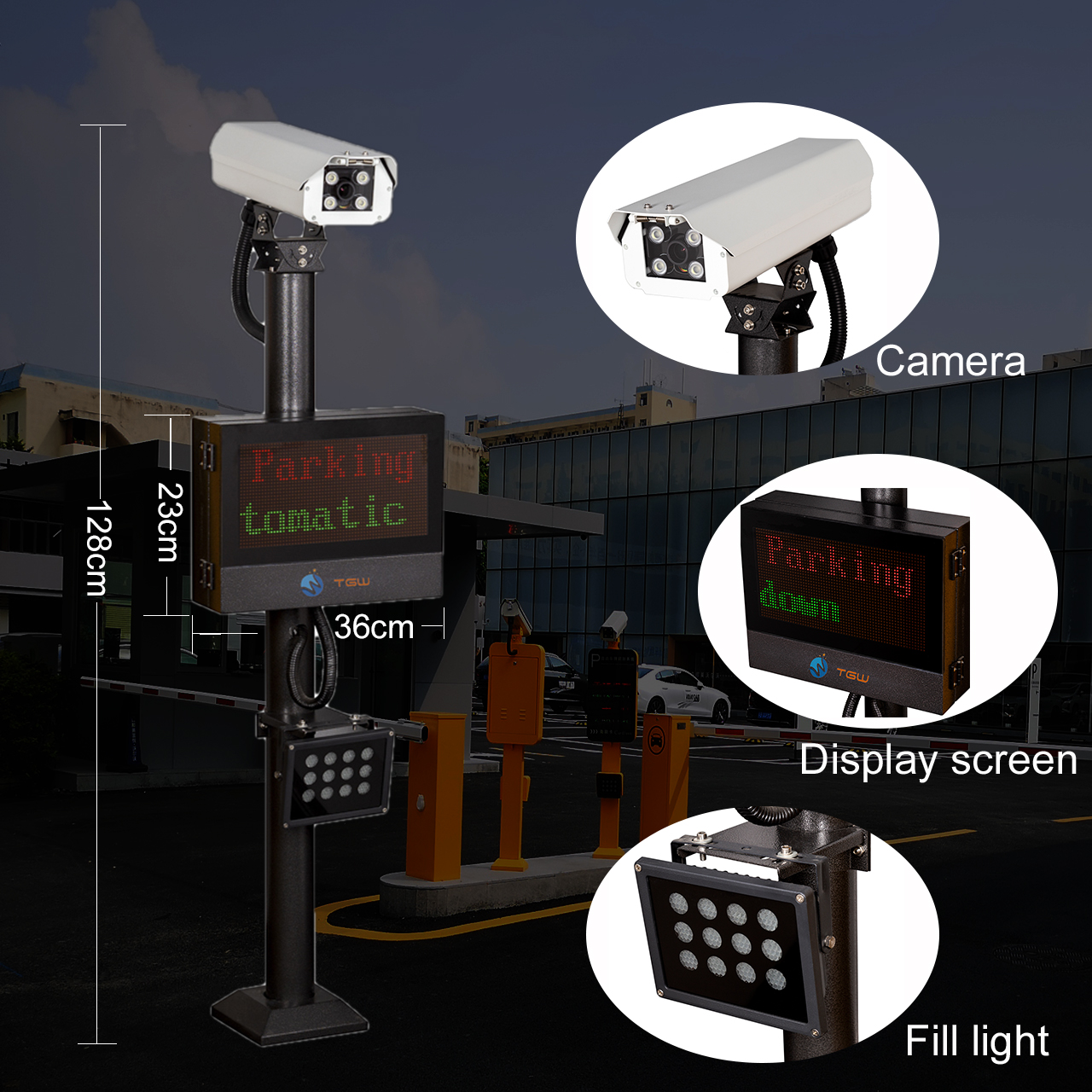 Hardware part introduction
1.Functions and features of each component
1) Camera: it mainly captures pictures, which are sent to the software for recognition. There are two ways to trigger the camera to capture pictures.
One is that the camera itself has a head-detection function, and the other is that the car is triggered by the loop coil when vehicle pass to capture the picture.
2) Display screen: you can customize the display contents of the display screen.
3) Column: the column and the appearance of the product are formed by cold-rolled iron sheet, strong and waterproof.
4) Fill light: With an automatic light sense < 30Lux, the light will be automatically opened according to the surrounding environment of the project site, and will remain
bright until the supplementary light detects that the surrounding environment becomes brighter, and the light sense will be automatically closed when it is greater than 30Lux.
Software part introduction
ALPR workflow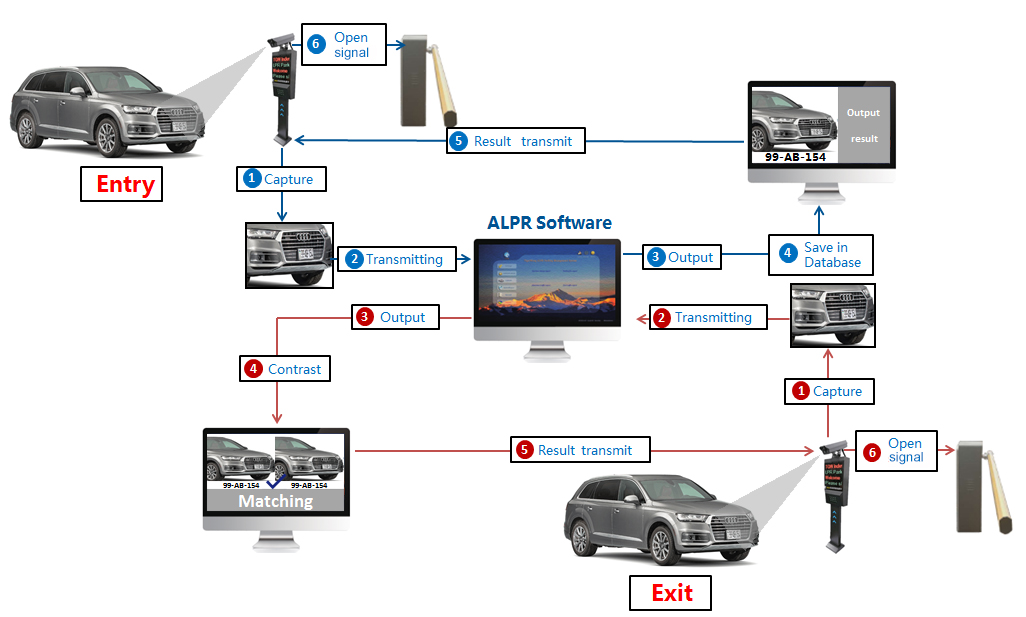 Process description:
Entry: the license plate recognition camera captures an image by means of vehicle head detection or loop coil trigger, and the image is transmitted to the software.
The software algorithm recognizes the image, writes the recognition result into the database and returns it to the camera, and the camera sends the switch signal to
barrier switch.
Exit: the license plate recognition camera captures an image by means of vehicle head detection or loop coil trigger, and the image is transmitted to the software.
The software algorithm recognizes the image, outputs the recognition result and compares it with the entrance recognition result in the database. The comparison is
successful and the result is returned to the camera.
ALPR software interface-multiple languages
Software function introduction
1) The recognition module is built into the parking lot software, which can recognize the license plates of
123 countries and regions and output the results.
2) Parking software, which can manage the whole parking lot from entrance and exit to charging.
3) Set permissions for operators who manage parking lots.
4) Set the charging rules of the parking lot,input them into the system and charge them automatically.
5) Monitor the movement of vehicles in and out.
6) Keep a record of vehicle movements.
7) Form the report summary of vehicle access management, fee management and parking management.
8) The best solution of a set of parking software is to manage the parking lot with one in and one out. It can
also be used for two in and two out.If beyond this range, it may affect the efficiency of management or cause
the situation of stagnation, which also depends on the actual use of computers and the amount of vehicles.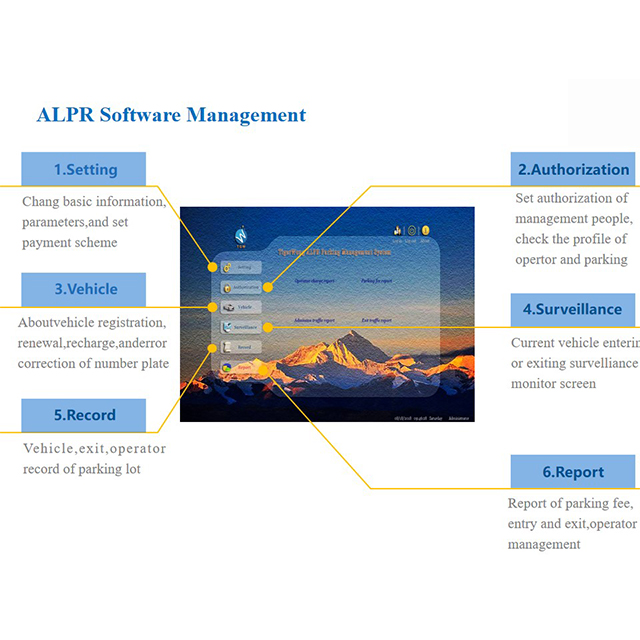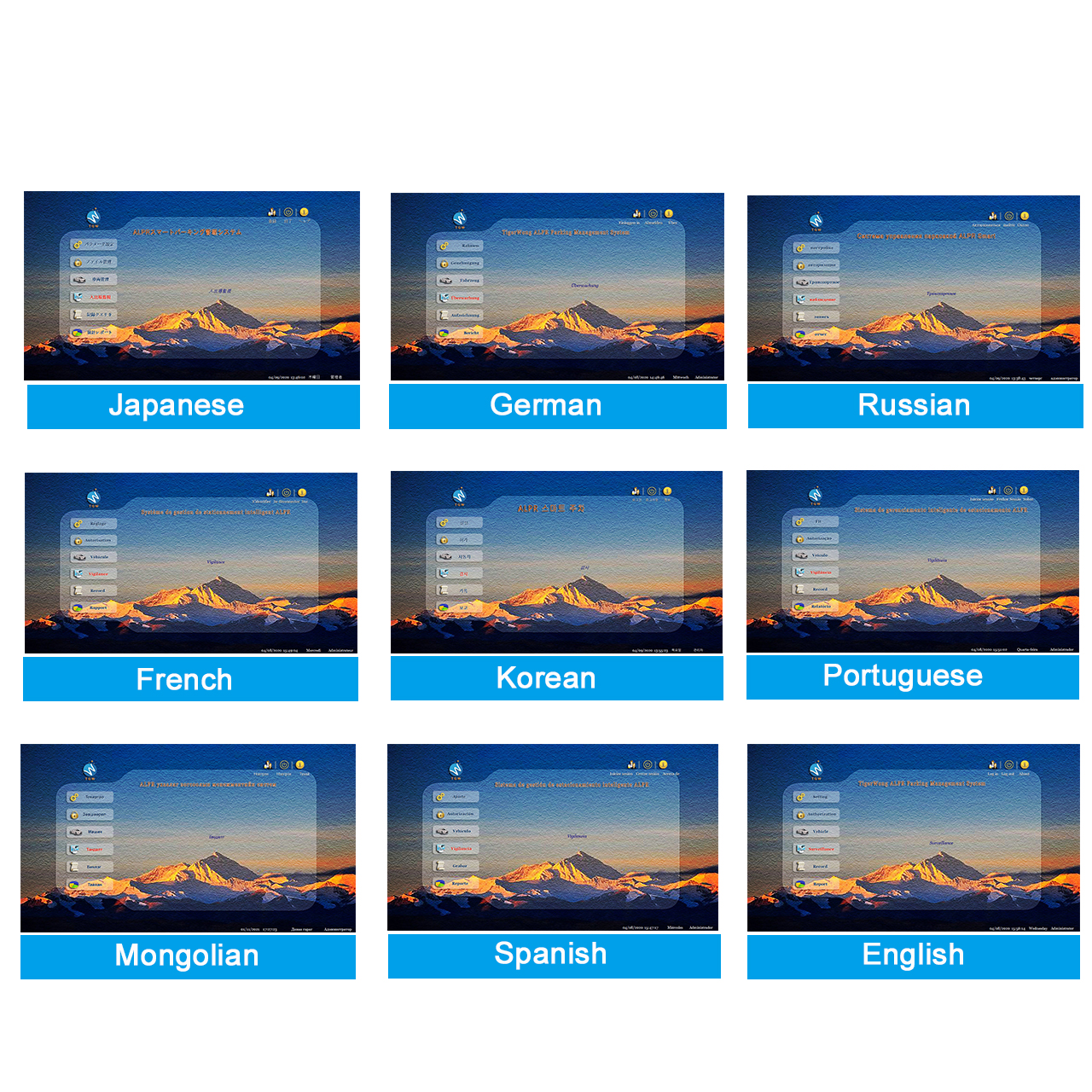 Expanding applications
Expanding application of license plate recognition:
The license plate recognition of parking lot is applied to the entrance and exit of parking lot by the way of license plate recognition.Based on the function of recognition and output of license plate, any project that needs to obtain license plate information can be used in combination with our software. The application places mainly include gas station, car wash shop, vehicle management, intelligent weighing, intelligent charging, payment system for vehicle entry and exit, etc.In order to make more customers benefit from the application of license plate recognition, taigewang has specially customized upload software, which can provide customers with the data of license plate, picture of license plate, time of entry and exit and so on from our software system.Docking is also very simple, only three steps.
Simple introduction to upload software:
1. Parameter setting interface 2. Recognition and vehicle picture interface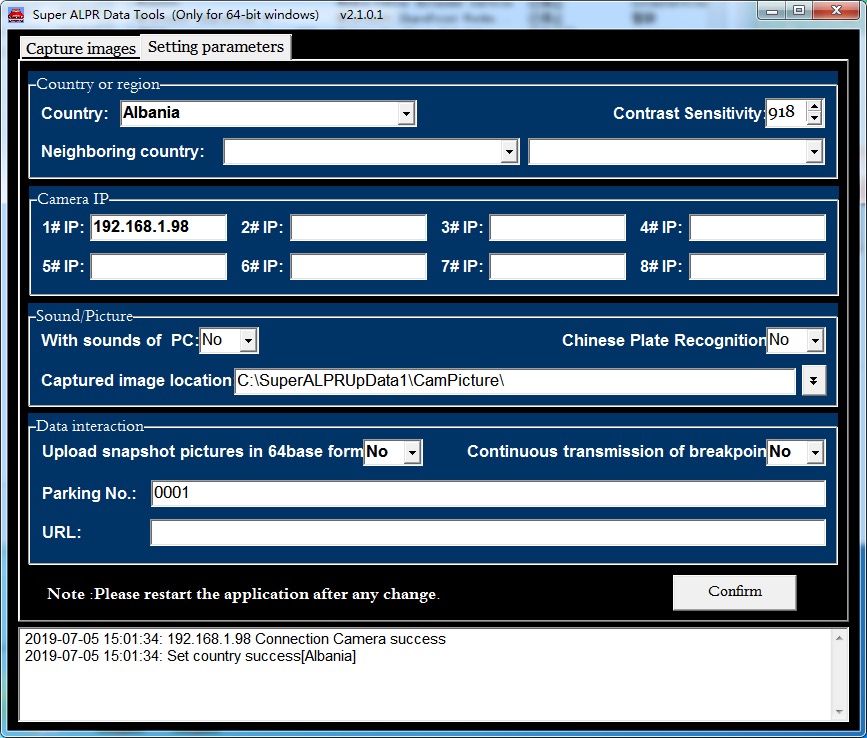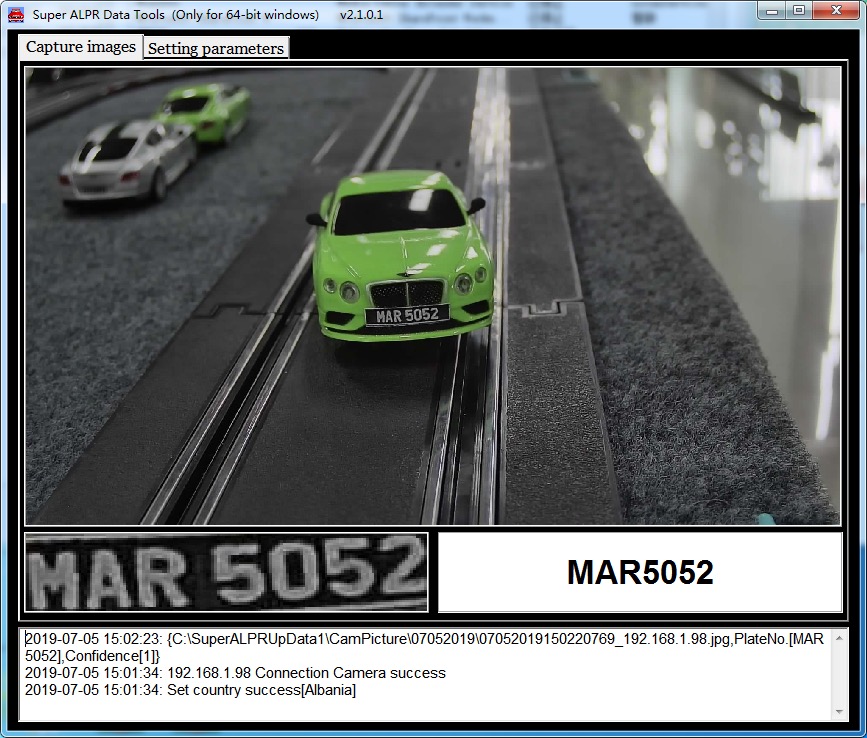 3. Uploading software and docking three steps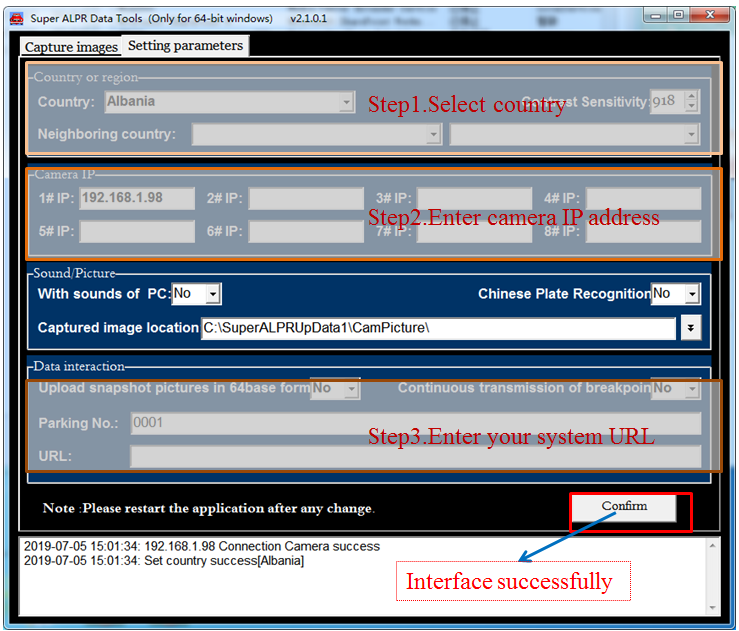 ALPR advantage
License plate recognition parking system is a a reliable, accurate and cost effective car park management solution.

It is widely used in many places,including supermarkets,

retail parks, hotels, hospitals and leisure centers.

Reduce labor cost and management difficulty of parking lot system,Improve vehicle traffic efficiency.

Ticketless/ card less parking lot management. Increased security and Parking access automation.

Prevent car theft and prevent "ticket/card loss"
Nine models of hardware
Company Features
· After years of effort, Tigerwong Parking now is an influential swipe card access systems company.
· Tigerwong Parking is a renowned brand that focuses on the characteristic of swipe card access systems. Through Tigerwong Parking Technology, our customer service team always reveal a sincere and honest attitude towards our customers.
· Our successful principle is making the workplace a place of peace, joy, and happiness. We create a harmonious environment for each of our employees so that they can freely exchange creative ideas, which eventually contributes to innovation. Get info!
Product Details
We are confident about the exquisite details of home security.
Application of the Product
Tigerwong Parking Technology's home security can be used in multiple industries.
We always focus on meeting customers' needs and we are dedicated to providing customers with comprehensive and excellent solutions.
Product Comparison
Tigerwong Parking Technology's home security has more advantages over similar products in terms of technology and quality.
Enterprise Advantages
Our company pays attention to the product quality and technological innovation. Therefore, we introduce advanced quality control equipment and establish a professional talents team of high quality and strong ability. All that provides strong support for long-term development.
With the active spirit, our company can provide you with professional and efficient services to solve your worries.
Tigerwong Parking Technology follows the enterprise spirit of 'integrity, dedication, and responsibility'. In the business operation, our company pays great attention to quality and reputation. We continuously strengthen the scientific management of our enterprise, and rely on talents and technological advantages to improve the scientific and technological content of new products. And we spare every effort to create a first-class brand and become a respected industry leader!
Tigerwong Parking Technology, built in has established a good reputation in the society with years' experience in industry.
Our company's sales network has spread to many provinces, cities and autonomous regions in China. In addition, the products are also exported to Southeast Asia, Australia, North America and other countries and regions.