Hardware introduction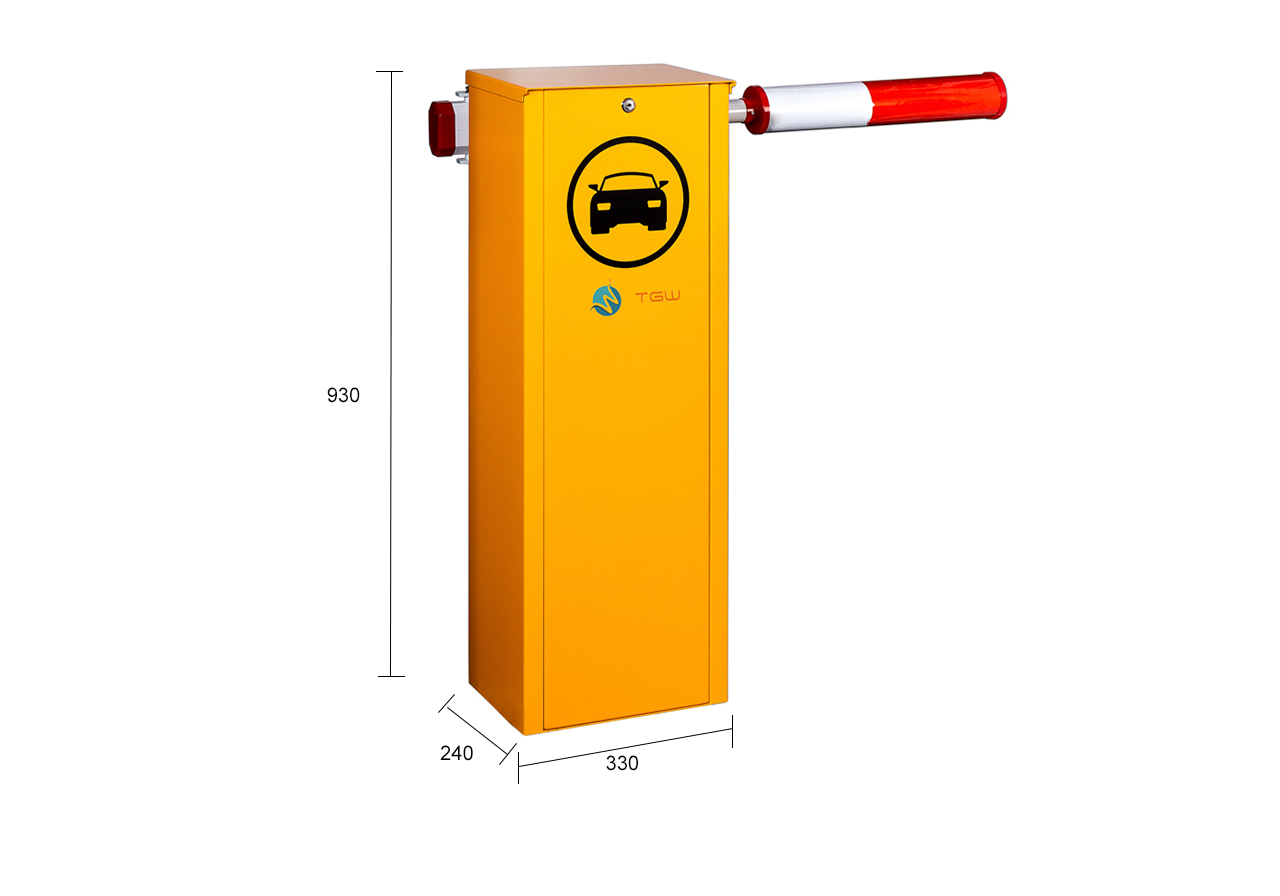 Barrier Boom Functions
1.The operation speed can be adjusted(1.8s to 6s).
2.Barrier gate up&down signal relay switch output.
3.R&G Traffic light relay switch signal output.
4.External loop detector signal anti-smashing interface.
5.Infrared sensor signal anti-smashing interface.
6.Count mode interface.
7.Arm swing out function,when the vehicle hit the barrier gate,the arm can be swing out to avoid further damage.
8.High-sensitivity arm auto reverse function(intensity can be adjusted).
9.Parking system interface.
10.RS485 communication interface.
11.Power off the backup battery interface.
Barrier Boom Features
1.Mechanical and electrical integration:quickly assembly,easy maintenance.
2.Molding production:high precision ,fast efficiency and guaranteed quality.
3.Worm-gear secondary variable speed transmission:motor wheel design,gate opening by manually when power off,no blocking,no oil leakage,large torque,low noise,can normally operation at the temperature of minus 45 degree,etc.
4.DC brushless motor design:low consumption,high efficiency,no overheat,wide speed adjustment.
5.Hall limit:automatically detects the limit when power on without debugging,detecting the motor speed at all times and running at constant speed.
6.Curved triple connecting rod structure,easy to adjust.
7.Arm direction quickly interchanged :interchanged according to different directions on construction site,reduce inventory and capital pressure.
8.Special DC brushless controller:use interrated chip drive,fast processing speed,large memory,powerful function;24Clow voltage power supply,adapt to global voltage.
How to choose Barrier boom
Barrier boom regulate the stream of car, control exit and entrance.
Barrier boom are installed at parking lot,security desks, governmental facilities, schools, banks, hospitals, universities, sports etc.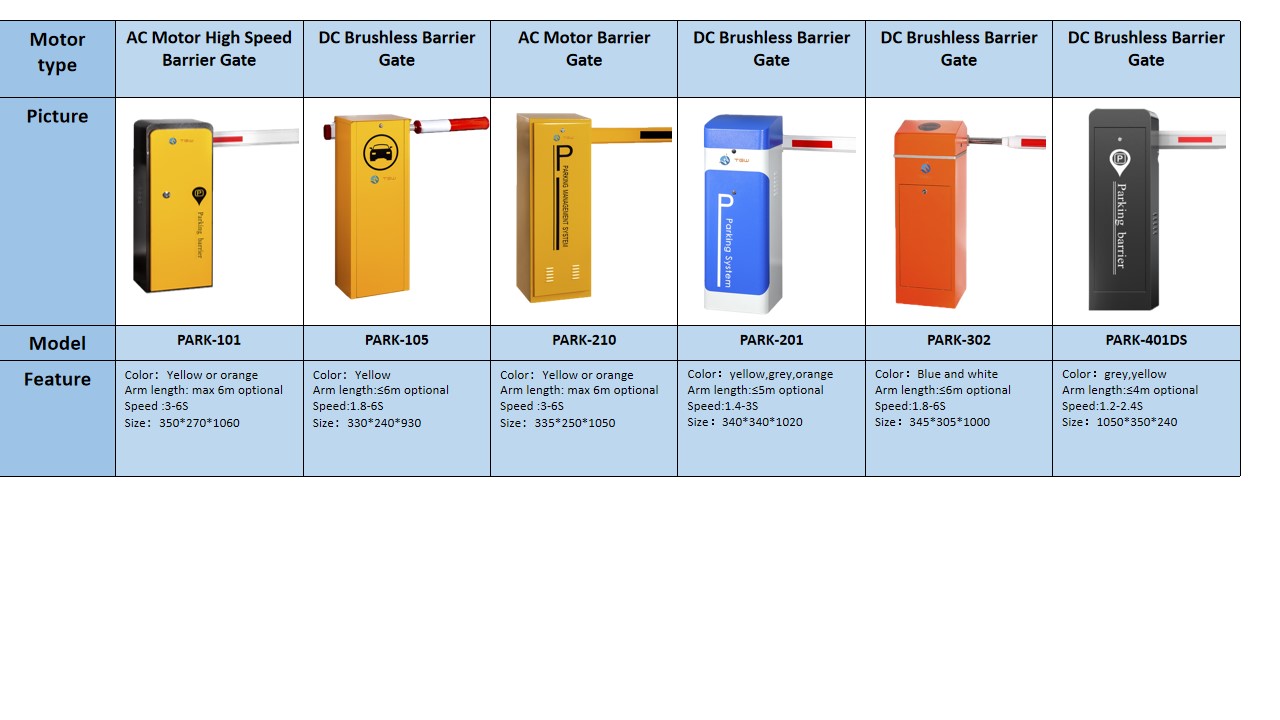 Company Advantages
1. TGW License plate recognition company is designed by the experienced staff who has many years of experiences in designing.
2. TGW turnstile entrance gates is strongly supported by our experienced and professional team.
3. The stylish TGW sliding gate supplier is designed by our design experts.
4. In order to ensure its compliance with industry set quality norms, the product has to be examined by our quality experts before delivery.
5. It is rigorously tested on various parameters of quality to ensure high durability.
6. The quality of the product is assured as we are a reputed manufacturer in the industry.
7. This product makes work easier and reduces the need for employing many people. This has led to a reduction in human labor costs.
8. People can invest in this product that can increase production efficiency and lower fixed costs such as time cost and labor cost.
9. Investing in this product may seem like a costly investment at the moment, but in the long run, it is worth it. It can be used to increase production and save valuable time.
10. The time of production will significantly be reduced if people have this product. It will help people complete task in a short time.
11. Because of its continuous use, fewer technicians are needed for operation and oversight, which significantly helps cut overall labor expenses.
Company Features
Shenzhen Tiger Wong Technology Co.,Ltd is a prominent company which focuses on excellent motorcycle camera. As an excellent company in the field of motorcycle camera, Shenzhen Tiger Wong Technology Co.,Ltd's customers are all over the world. Shenzhen Tiger Wong Technology Co.,Ltd is a dominant company which mainly manufacturing excellent motorcycle camera. Shenzhen Tiger Wong Technology Co.,Ltd has been focused on excellent quality of motorcycle camera for many years.
motorcycle camera are produced by the highest technology of TGW. TGW tries its best to guarantee the quality of motorcycle camera. TGW is more advanced technically than other enterprises.
Shenzhen Tiger Wong Technology Co.,Ltd pays attention to train our staff from time to time for new technology. In Shenzhen Tiger Wong Technology Co.,Ltd, every staff should keep improving themselves so as to make greater contributions to company. All of our staff must know our motorcycle camera well before they start their jobs.
Application of the Product
The boom barrier installation produced by TGW Technology can be used in many fields.
TGW Technology always adheres to the service concept of 'meeting customer needs'. And we are committed to providing customers with a one-stop solution that is timely, efficient and economical.