Product information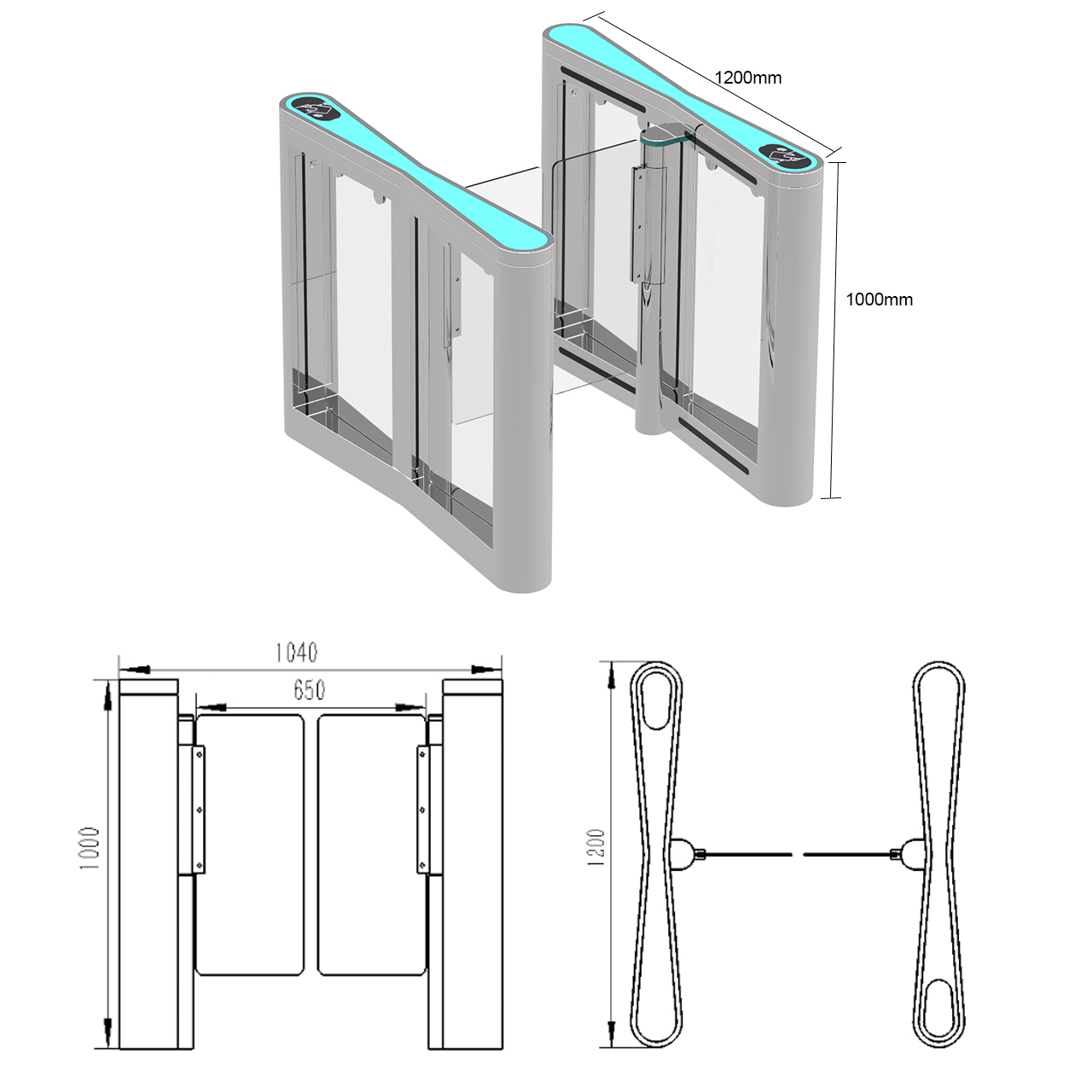 Hardware introduction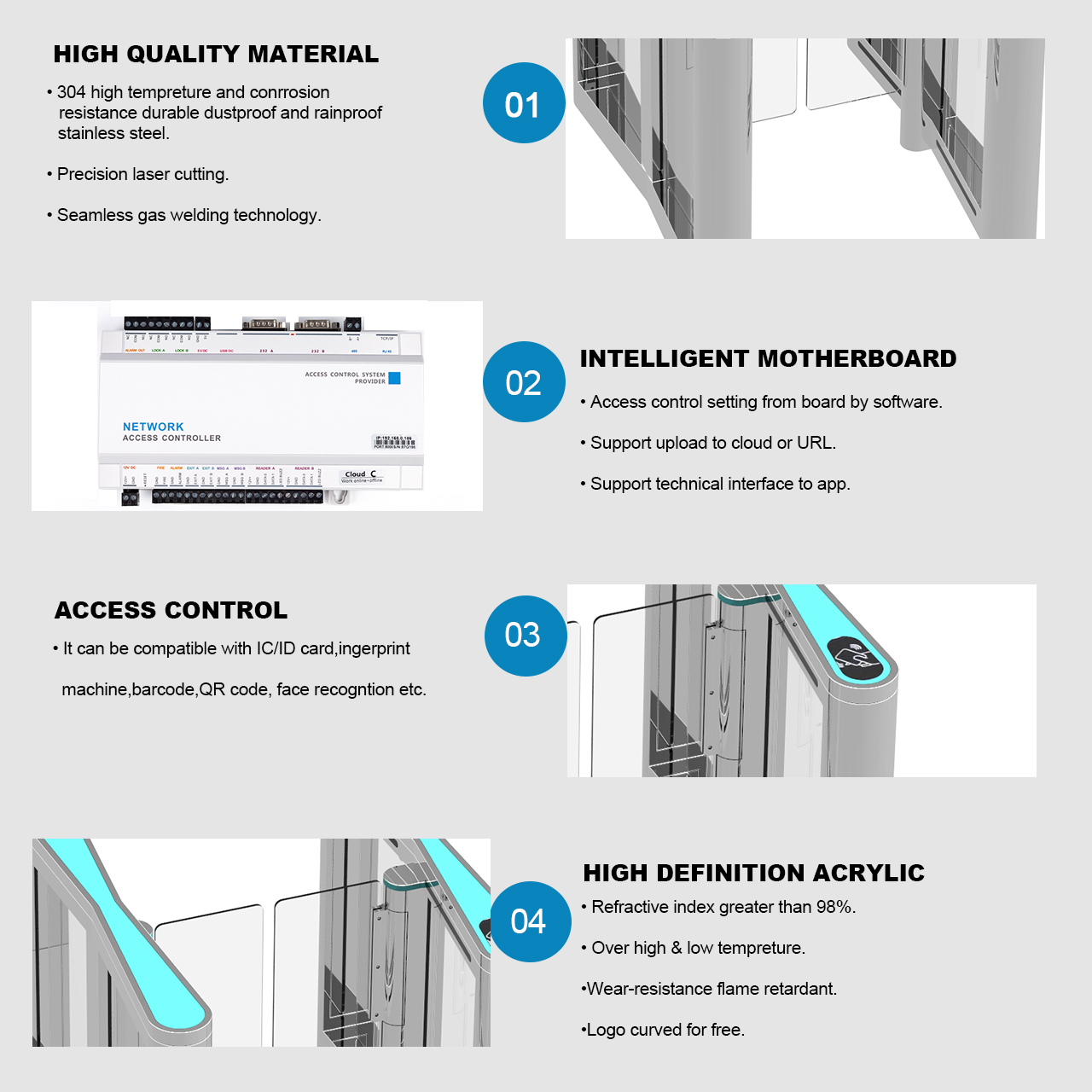 1. The working mode can be set through the button on the main panel.
2. Anti-collision,the object will automatically and slowly return to the original position after collision,to prevent the motor from being damaged
by external force collision.
3. Doors can be synchronized.
4. Automatic reset.Right turn is automatically cancelled if it is not passed within the scheduled time.(1-60s adjustable), the default time is 10s.
5. Compatible access control system, consumption system, ESD system, electronic ticketing system, etc.
6. One-way control or two-way control.
7. Two pairs of anti-collision infrared sensor,two pairs of alarm infrared sensor.
8. Each cabinet have one LED direction indicator.
9. The unit can be controlled and managed by remote control.
Turnstile access control method
Tripod Turnstile made of stainless steel has a modular design that allows to integrate different types of external
equipment: QR-code scanners, biometric readers, card readers, button,IR,coin acceptors etc.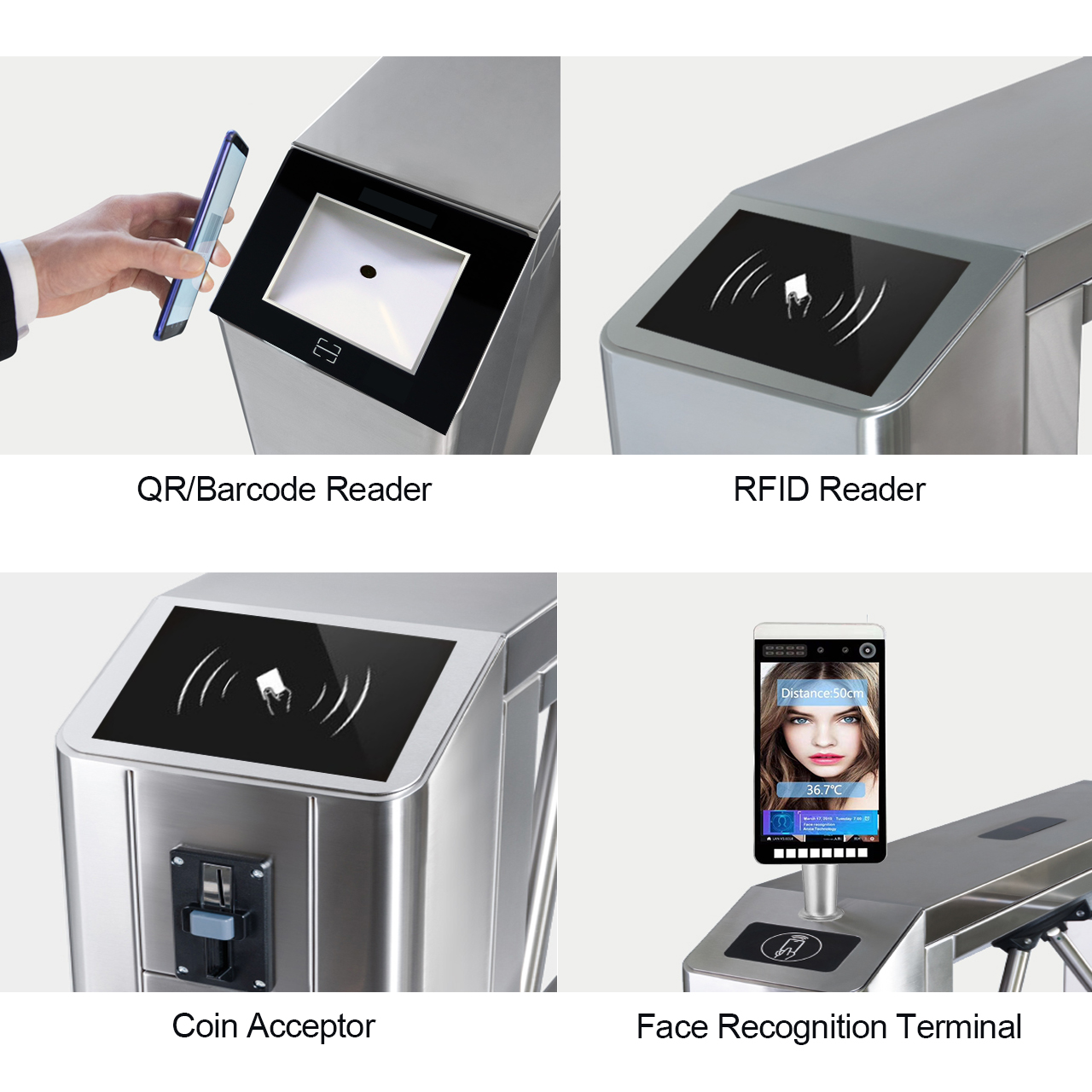 Turnstile Integrated system
1.Interface various kind of management system
2.Communicating and data interchange
3.Intergrate multi management software
4.We have strong R&D team to assist you development

How to choose turnstile
Overview form "How to choose a turnstile" will help to make a choice of equipment for access control organization at the entrance.
Turnstiles regulate the stream of people, control exit and entrance, protect from unauthorized persons access.
Turnstiles are installed at security desks, governmental facilities, schools, banks, hospitals, universities, sports and entertainment centers and other facilities.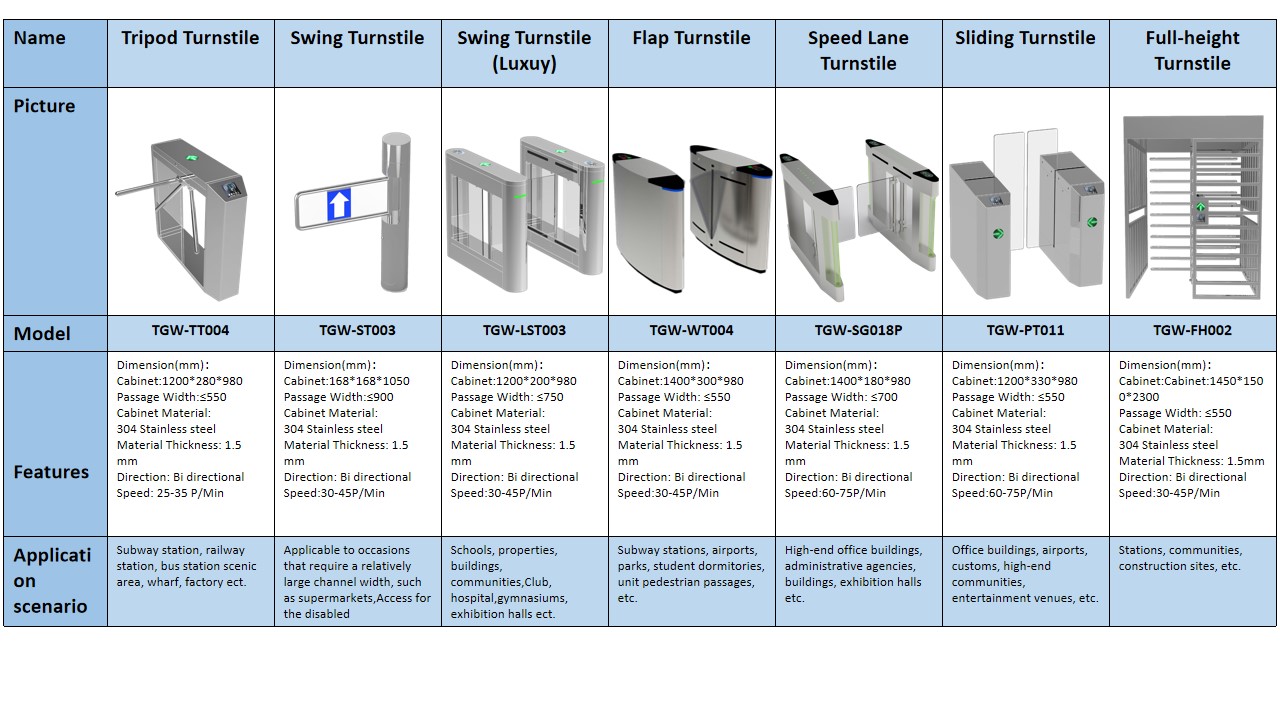 Company Advantages
1. Regarding the quality management of TGW security turnstile gate, it is demanded to pass through the extremely harsh quality control and inspection required for gift and crafts.
2. TGW Ticket Printing Machine has been manufactured in strict accordance with the requirements of international quality standards for gifts and crafts, and its quality can be guaranteed because it has passed through many quality certifications.
3. TGW Portable mobile temperature screener :long-distance infrared temperature measurement by:Shenzhen TigerWong Technology Co. is manufactured by means of both machines and manual labor. Especially some detailed and sophisticated parts or workmanship, are manually finished by our professional workers who have years of experience in handmade crafts.
4. TGW TT007 is scrutinized under complete gifts and crafts quality management system, consisting of pre-production inspection, during production inspection and final random inspection.
5. It can be regarded as a green source of energy. All of its metal ingredients, including cadmium and mercury, as well as the electrolyte, poses no harm to the environment.
6. The product is safe and non-toxic. Its metals ingredients such as lead and mercury do not exceed the safety limit.
7. The product guarantees high safety and security. It will not have spontaneous combustion or burn when it is squeezed or impacted.
8. This product has a high-rate discharge capability. The resistance of contact face between electrodes and electrolyte is lowered to a certain level, which enhances its electric performance.
9. There will be a shift to a reduced workforce if manufacturers adopt this product. It can maintain high efficiency while reducing costs.
10. With many administrative and support functions, it reduces reduced the need for many less-skilled workers. This definitely helps manufacturers remain competitive in the industry.
11. Because the product can greatly increase productivity, increases manufacturers' flexibility by letting them add and subtract contract workers.
12. Using this product, manufacturers can shift more investment in R&D, product design, or advertising, instead of competing with others in improving productivity.
Company Features
Shenzhen Tiger Wong Technology Co.,Ltd has an excellent park management software manufacturing capability in the industry. Shenzhen Tiger Wong Technology Co.,Ltd, with a focus on the production and research and development of park management software, has a good reputation at home and abroad. As a large producer of park management software, Shenzhen Tiger Wong Technology Co.,Ltd is one of the very best in China.
We've built strong strategic partnerships with our customers and establish a solid customer base, giving our access to more customers from every corner of the globe. We have built a unique highly-skilled R&D team composed of professors and experienced technicists. They play a key role in the research and development of our products and meet the challenge needs of our customers. We have a team of skilled workers. They understand the importance of keeping business running and know how costly and disruptive downtime can be.
We only supply superior park management software together with good service. TGW advocates the corporate culture in the company to improve staff cohesion. Many customers are satisfied with the professional service provided by TGW. TGW has been following the national standards to provide the best service and park management software for customers. TGW is consistent in providing high quality.
Application of the Product
Automatic Turnstile Gate of TGW Technology has very extensive application in different scenarios.
TGW Technology is committed to providing customers with high-quality as well as one-stop, comprehensive and efficient solutions.