Company Advantages
1. TGW TRIPOD TURNSTILE—anpr is designed by a professional team of designers who are strictly hired by our company.
2. The distinctive design of TGW Leica Camera comes from our professional design team.
3. TGW How to improve the recognition accuracy of license plate recognition system—Shenzhen TigerWong Technology Co. uses high-quality raw materials and adopts advanced production technology.
4. The product is durable. The electronic components and the insulated housing are manufactured with high-quality materials to guarantee it can be used for decades.
5. The product has a strong resistance to corrosion. Non-corrosive materials are used to enhance the product's capability to withstand rust, moisture, and chemical liquids.
6. The product has a robust and strong structure. Constructed with quality metal or plastic frame, it is not easy to deform and crack.
7. This product provides consistent performance and is widely used by customers.
8. The offered product is used in various industrial applications.
9. This product finds its application in varied areas.
Hardware introduction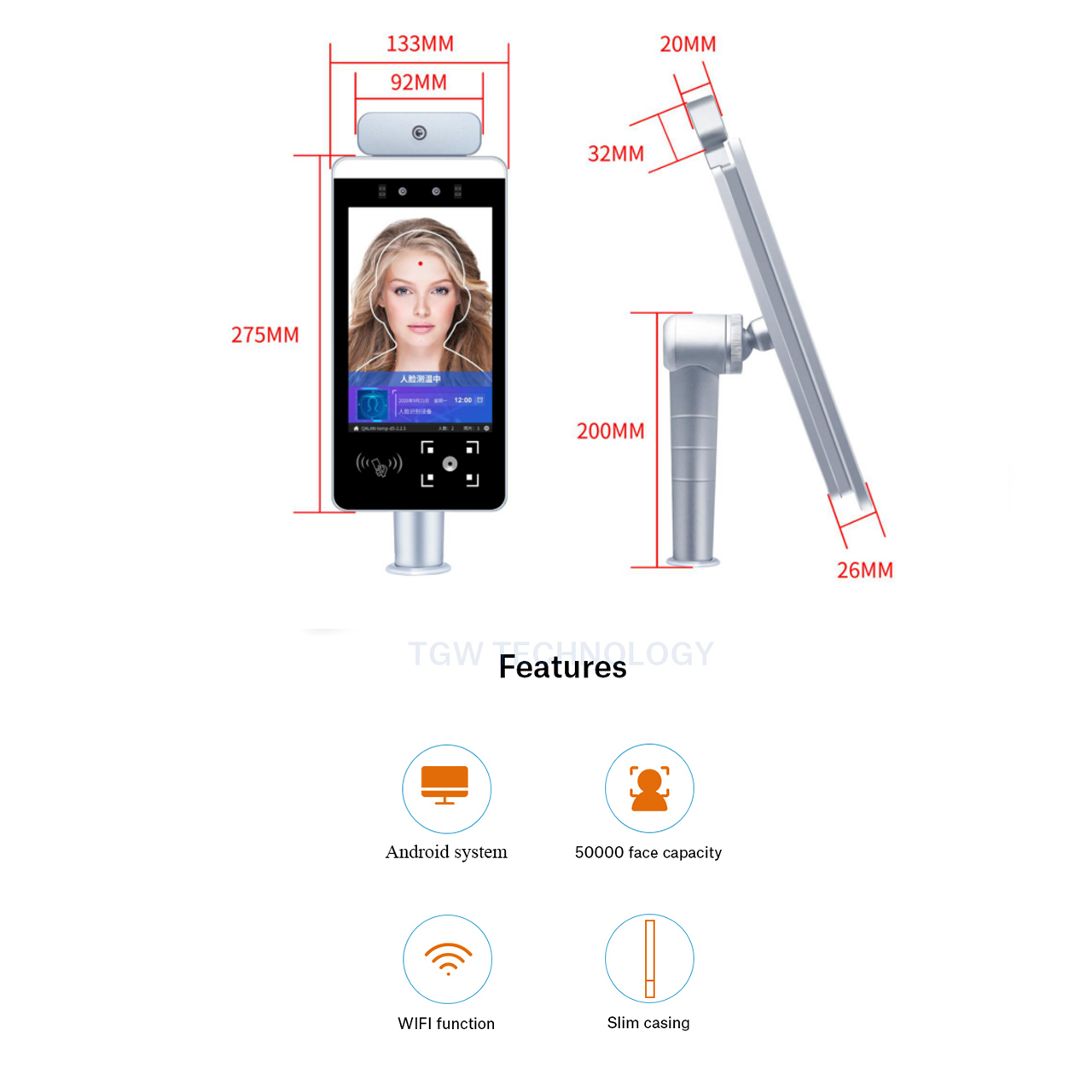 A high-performance dynamic temperature-measuring face recognition terminal, which is divided into gate installation and wall installation.
The terminal integrates the functions of off-line face recognition, temperature detection, mask recognition, identity verification, on-site face collection,
blacklist early-warning, photo taken after passing, active object detection. It adopts WDR HD face recognition camera,
which is fully adapted to harsh environment such as strong light, back light and weak light, with characteristics of fast recognition speed,
high accuracy and large list storage capacity.
Product details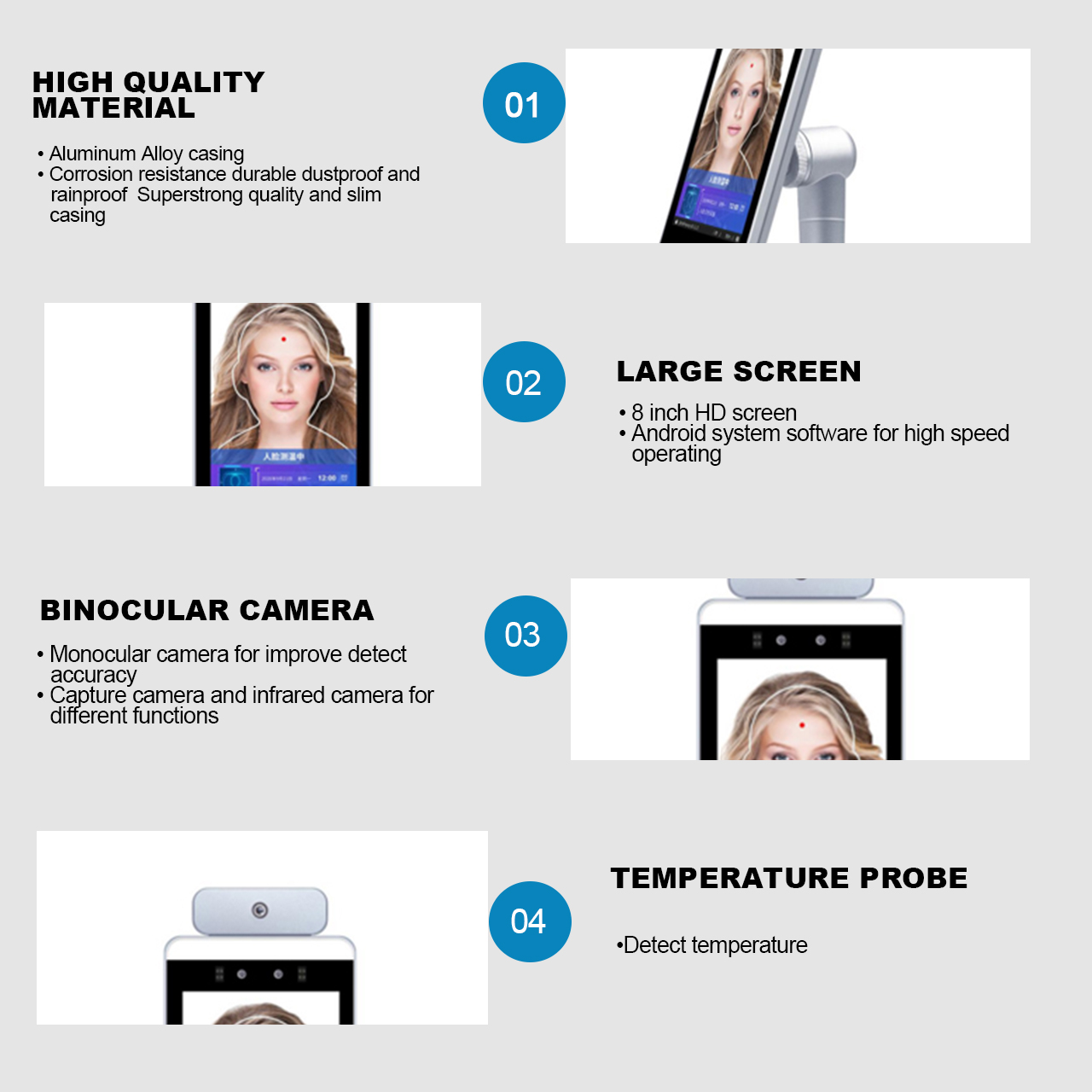 About temperature measurement face recognition terminal
1. Support the camera to capture the face to activate the device;
2. Adopt dynamic face detection and tracking recognition algorithm based on video stream;
3. Support local storage of 20,000 face libraries on the device;
4. When the face database is 3000, the accuracy of 1:N recognition is 99.7% under the condition that the false recognition rate is three out of ten thousand;
5. Fast recognition speed:
(A) Face tracking and detection takes about 20ms
(B) Face feature extraction takes about 200ms
(C) Face comparison takes 0.2ms (2000 people base, average value for multiple recognition), 0.5ms (10000 people base, average value for multiple recognition);
6. Binocular with infrared light camera;
7. Support on-site photo saving during face recognition or stranger detection;
8. Support interface docking in HTTP mode;
9. Support the deployment method of public network and local area network;
10. Support the comparison function of strangers' personal certificates;
11. Support human body temperature detection, support human body temperature measurement under indoor conditions;
12. Support external QR code.
A collection of features to meet your different needs

Advantages of temperature measuring face terminal
1.Real living body detecting
2.Recognition speed around 0.5ms
3.Recognition rate very high,recogntion rate up to 99.7%
4.Supppot recognize whole world race.
5.Storage capacity max 2-50k/person
6.Support language change for software
7.SDK/API interface avaible
8.Standalone use or with operate software
9.Very good heat dissipation and system stability
Application scenarios
It can be used with application management systems such as face-based site real-name management system, face-based access control attendance management system and visitor management system, which is perfect for complex application scenarios that require temperature monitoring, identity recognition and access control, such as communities, campuses, hospitals, scenic spots, hotels, shopping malls, office buildings, public places and construction sites. In terms of epidemic prevention and control, it effectively reduces the potential risks of large-area contact with human body during temperature measurement, shortens the temperature measurement time and improves the temperature measurement efficiency. At the same time, centralized management provides real-time data support for the screening and tracing of suspected patients and floating population, and provides a strong safety guarantee for the management under the above scenarios.
Company Features
Shenzhen Tiger Wong Technology Co.,Ltd has been in the ST004 sector for several years. Shenzhen Tiger Wong Technology Co.,Ltd has always been focusing on the R&D and production of ST004. Shenzhen Tiger Wong Technology Co.,Ltd has a large-scale factory for ST004. Shenzhen Tiger Wong Technology Co.,Ltd is dedicated to the manufacturing and R&D of ST004. Focusing on the evolution and creation of ST004, Shenzhen Tiger Wong Technology Co.,Ltd is known in this industry.
We have a team responsible for exports and distribution. They have years of experience in developing ST004 markets. This team helps oversee the distribution of our products to our customer base all over the world. We have a team of highly trained and educated professionals. They explore and push the boundaries of new technological frontiers that drive productivity, quality and cost savings. We have a professional Quality Assurance team. The team works closely with suppliers to develop quality agreements, support new product launches and ensure ongoing product quality and continuous improvement. We are collectively proud of our success in the ST004 industry, having consistently won a series of industry awards. Some of our supplier and industry awards include the Supplier Award for Service Excellence and the Packaging and Labelling Innovation Excellence Award.
Accurate market positioning of TGW Technology allows you the highest return on investment. TGW Technology will provide excellent service and so maximize the benefits for our customers. TGW Technology gives full play to its superiority and is well welcomed by most of the customers.
Product Details
TGW Technology strives excellent quality by attaching great importance to details in the production of Tablet Temperature Face Recognition.
Application of the Product
The Tablet Temperature Face Recognition produced by TGW Technology can be used in many fields.
TGW Technology insists on providing customers with comprehensive solutions based on their actual needs, so as to help them achieve long-term success.
Product Comparison
The Tablet Temperature Face Recognition mainly promoted by TGW Technology have been further improved in the past through the technical improvement, which is reflected in the following aspects.
Enterprise Advantages
TGW Technology runs a scientific and rigorous management team and has an excellent talents team. The team members are courageous to challenge and struggle.
TGW Technology is committed to providing excellent pre-sales and after-sales services based on the service concept of 'sincerity-based management, customers first'.
TGW Technology adheres to the business philosophy of 'detail determines quality and integrity continues market'. We always strive for survival by quality and achieve development through reputation. And the benefit is gained from management. We are committed to providing effective solutions for customers at home and abroad.
Our company was founded in And it has been years since we first started our business.
TGW Technology expands the sales network to all parts of the country, which promotes us to greatly improve social influence.