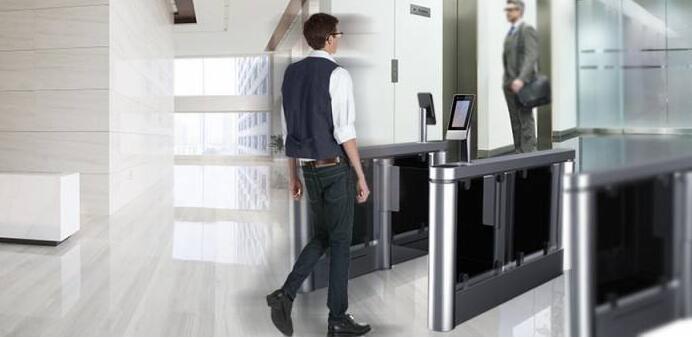 Product model: TGW-FR005 ( Face+IC/ID recognition wall-mounted type)
The Face Recognition Terminal is a biological recognition passage entrance access control device that integrates card reading and face identification. It's based on TCP/IP network communication. The terminal device is centralized managed by Internet and it can remotely control the turnstile gates to open and close, meanwhile it can implement data synchronous backup with the management platform.
This terminal device can be compatible with human-card authentication scenario (1:1), human-face authentication scenario (1: N), and it could be switched between 1:1 and 1: N according to the users' requirements.
Company Advantages
1. TGW TRIPOD TURNSTILE—anpr is the result of many years of development and refinement of production methods and technology.
2. TGW turnstile security system is finely processed by our experience production team using the latest advanced equipment.
3. TGW alpr companies is made from high-quality materials in a sophisticated manufacturing facility.
4. Every aspect of the product, such as performance, durability, usability, and so on, has been carefully tested and inspected during the production and before shipment.
5. The product meets the international standards in all respects, such as performance, durability, usability, and so on.
6. The product is quality-assured as it has passed the international certifications, such as the ISO certificate.
7. The product is guaranteed to be superior in quality, stable in performance, and long in service life.
8. The implementation of the quality management system ensures the product meets the international standards.
9. This product enhances energy conservation. Use of this product will minimize the exploitation of natural resources, thereby achieving sustainable development.
10. The product offers protection of persons against injury as a result of contact with live parts; it has thus managed to dramatically lower the number of accidents, if not fires.
11. When use this product, it is more convenient to sell a commodity as there is no need to spend extra costs on marketing.
12. With customizable printing and shape, this product can always make an item beautifully packaged and be attractive to the audience.
13. This product makes it easier to distinguish and identify goods. Therefore, it is worth investing to make the goods stand out from the competition.
Company Features
Shenzhen Tiger Wong Technology Co.,Ltd is a large-scale enterprise which has it own flap barrier production bases. TGW enjoy the 'cross-country' reputation, and its image is deeply rooted in customer's heart in the flap barrier industry. Shenzhen Tiger Wong Technology Co.,Ltd has accumulated a good reputation and image in flap barrier market. Shenzhen Tiger Wong Technology Co.,Ltd is an excellent supplier in China and has undertaken many flap barrier production tasks for years.
Shenzhen Tiger Wong Technology Co.,Ltd has independently researched and developed several new flap barrier that take leading positions both at home and abroad Shenzhen Tiger Wong Technology Co.,Ltd occupies the large flap barrier market share in China. Shenzhen Tiger Wong Technology Co.,Ltd has made technological breakthroughs in developing Shenzhen Tiger Wong Technology Co.,Ltd has successfully developed flap barrier, including
We put emphasis on customers. We ensure that all aspects of our company will put the customers' satisfaction first. We insist on integrity. That is, to comply with ethical standards in our business activities, to demonstrate respect for our customers and employees, and to promote responsible environmental policies. Aiming at adding value for our customers, our company will always develop cost-effective product solutions to help customers achieve their goals. Customer focus is important for our company. In the future, we will always deliver customer satisfaction by listening to and exceeding customer expectations. Our company understands the global nature of today's manufacturing and we are ready to support customers' needs. Our products and service will always be custom-tailored to meet these needs.
Application of the Product
vehicle management system of TGW Technology can be used in various scenarios in different fields.
With rich manufacturing experience and strong production strength, TGW Technology is able to provide professional solutions according to customers' actual needs.