Hardware introduction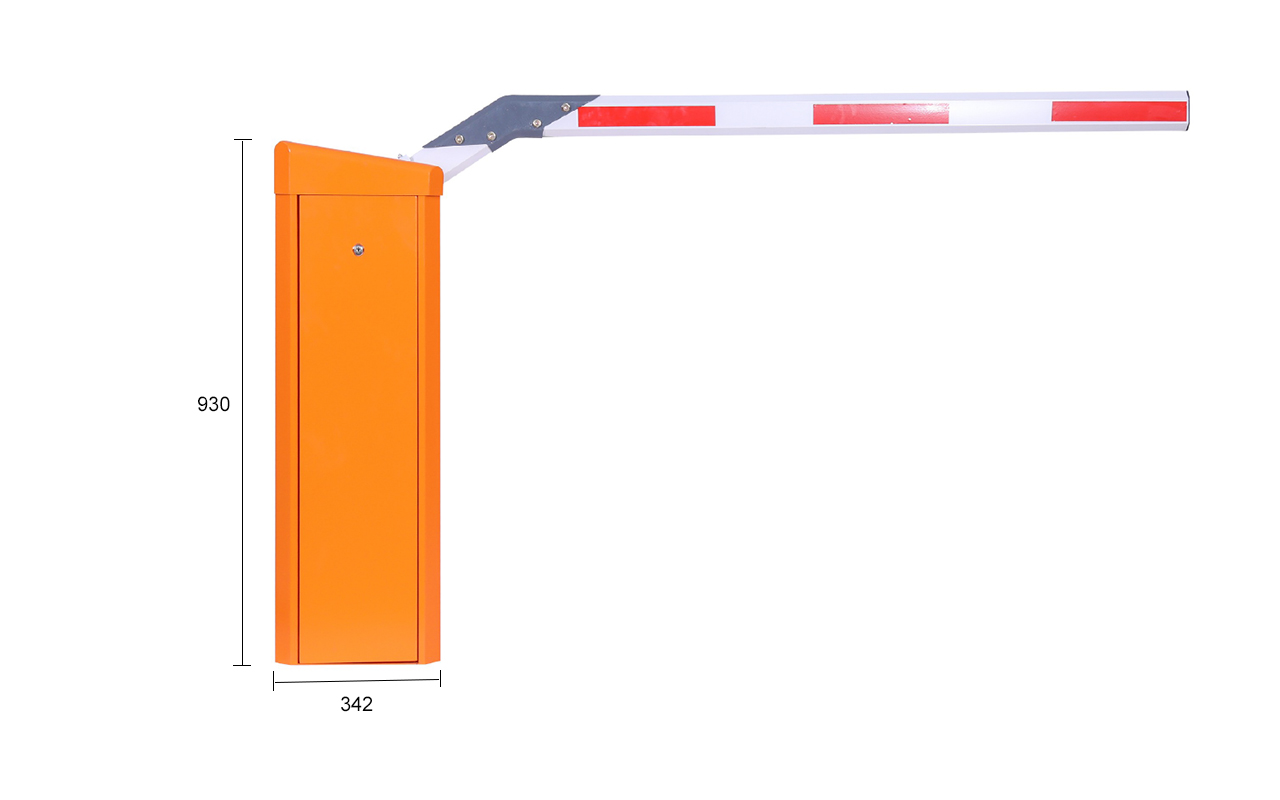 Barrier Boom Functions
1.No clutch desigh,gate quickly opening by manually when power off,and can be self-locked.
2.Use double tension balance spring device,easy to adjust and disassemble.
3.A variety of input and output modes can be selected,normally open/close are optional.
4.Opening/closing speed can be adjusted.
5.Barrier gate up&down signal relay switch output.
6.Infrared sensor signal anti-smashing interface.
7.R&G Traffic light relay switch signal output.
8.External loop detector signal anti-smashing interface.
9.Count mode interface
10.Arm open priority anti-smashing function.
11.Barrier with anti-collision protection function.
12.Delay closed selection function.
13.High-sensitivity arm auto reverse function(intensity can be adjusted)
14.Parking system interface.
15.RS485 network communication control open&close interface.
16.Digital display for the speed control and fault code,judged the fault timely.
17.Power off the backup battery interface.
.
Barrier Boom Features
1.Mechanical and electrical integration:quickly assembly,easy maintenance.
2.Molding production:high precision ,fast efficiency and guaranteed quality.
3.Worm-gear secondary variable speed transmission:motor wheel design,gate opening by manually when power off,no blocking,no oil leakage,large torque,low noise,can normally operation at the temperature of minus 45 degree,etc.
4.Servo motor design:low consumption,high efficiency,no overheat,wide speed adjustment.
5.Hall limit:automatically detects the limit when power on without debugging,detecting the motor speed at all times and running at constant speed.
6.Curved triple connecting rod structure,easy to adjust.
7.Arm direction quickly interchanged :interchanged according to different directions on construction site,reduce inventory and capital pressure.
8.Special Servo motor controller:use interrated chip drive,fast processing speed,large memory,powerful function;24V low voltage power supply,adapt to global voltage.
How to choose Barrier boom
Barrier boom regulate the stream of car, control exit and entrance.
Barrier boom are installed at parking lot,security desks, governmental facilities, schools, banks, hospitals, universities, sports etc.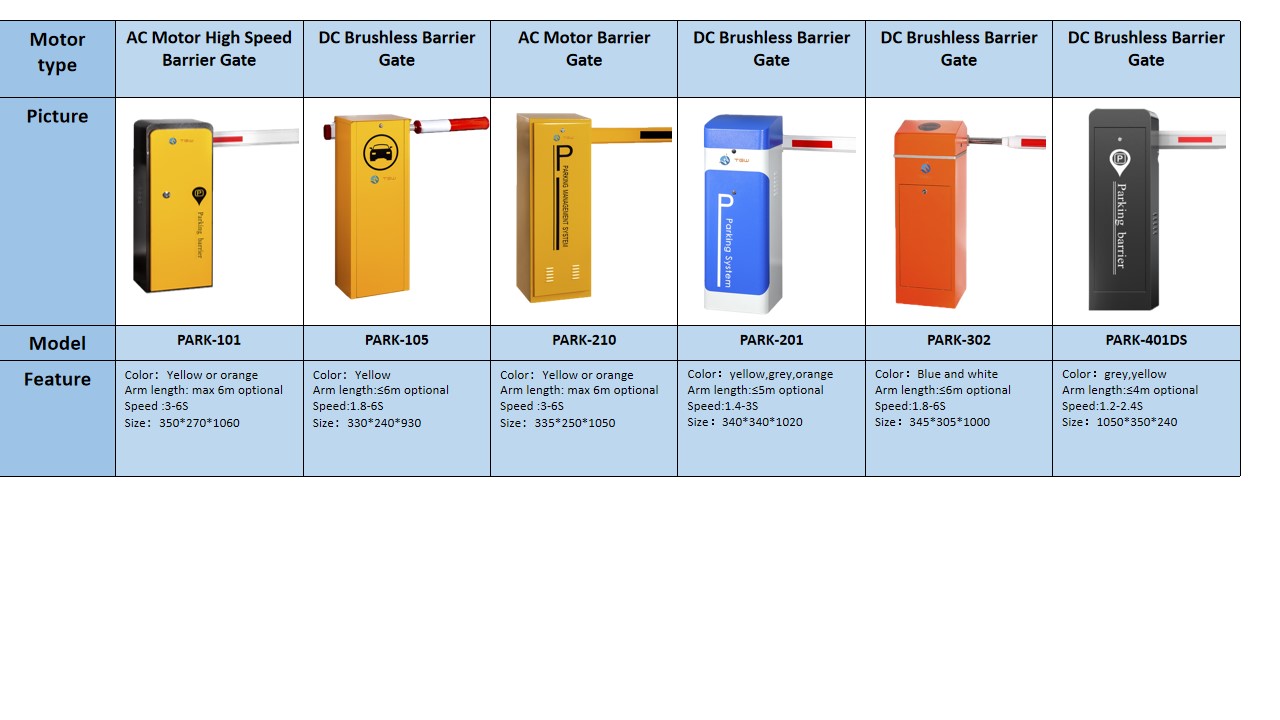 Company Advantages
1. The design of TGW car dash camera is presented by a team of designers by adopting the creative and modern design concept. It is which was recognized by the market.
2. The production technology of TGW Canada is constantly updated, and thus production efficiency is guaranteed. Thanks to the adoption of high technology, its quality is ensured.
3. Innovative design team: TGW parking sensor is elaborately designed by an innovative design team. This team has learned the industry know-how and are equipped with the latest design ideas in the industry.
4. The flexibility of this kind of product is very fine and it is very light with the characters of deformation resistance and long service life.
5. This kind of product enjoys the characters of light material, high strength, high-temperature resistance and a kind of ultra-thin.
6. The material of this kind of product with high-quality has high transparency and a certain of fine flexibility with various sizes.
7. The screen of this product under different pressure from the stylus is very sensitive to capture what users are writing, making sure that their work appears easily.
8. The product is very easy to use. All that users have to do is to write directly on the screen using the stylus, synchronously transferring what they are writing onto the screen.
9. The product doesn't only just make users feel good. It has shown that in some ways it is superior when it comes to learning, creativity, and productivity.
Company Features
Shenzhen Tiger Wong Technology Co.,Ltd has become a leading multinational manufacturer in number plate recognition software. Shenzhen Tiger Wong Technology Co.,Ltd has developed into a leading number plate recognition software producer. Shenzhen Tiger Wong Technology Co.,Ltd is one of the major entities focused on number plate recognition software production.
Our products sell well all over the world. They stretch across the globe including Asia, Europe, the Middle East, and Africa, North America and South America. Our products are sold all over the world. This global footprint combines local expertise with an international network, bringing our products to a more diverse range of specialist markets. Our company has a senior management team. It is comprised of experienced and well-trained talents that support our portfolios, and empower our customers and colleagues. People are at the heart of our company. They use their industry insight, comprehensive portfolio of events, and digital resources to create products such as number plate recognition software that enable businesses to flourish.
TGW brand commits to the wonderful vision of being a competitive number plate recognition software manufacturer. TGW brand will make a further step to develop the quality of service. Providing the highest quality number plate recognition software has been what TGW strives to do. Shenzhen Tiger Wong Technology Co.,Ltd now has won the recognition of more customers due to its high quality service.
Application of the Product
Car Parking Barrier Gate has a wide range of applications.
With the concept of 'customers first, services first', TGW Technology always focuses on customers. And we try our best to meet their needs, so as to provide the best solutions.