Hardware introduction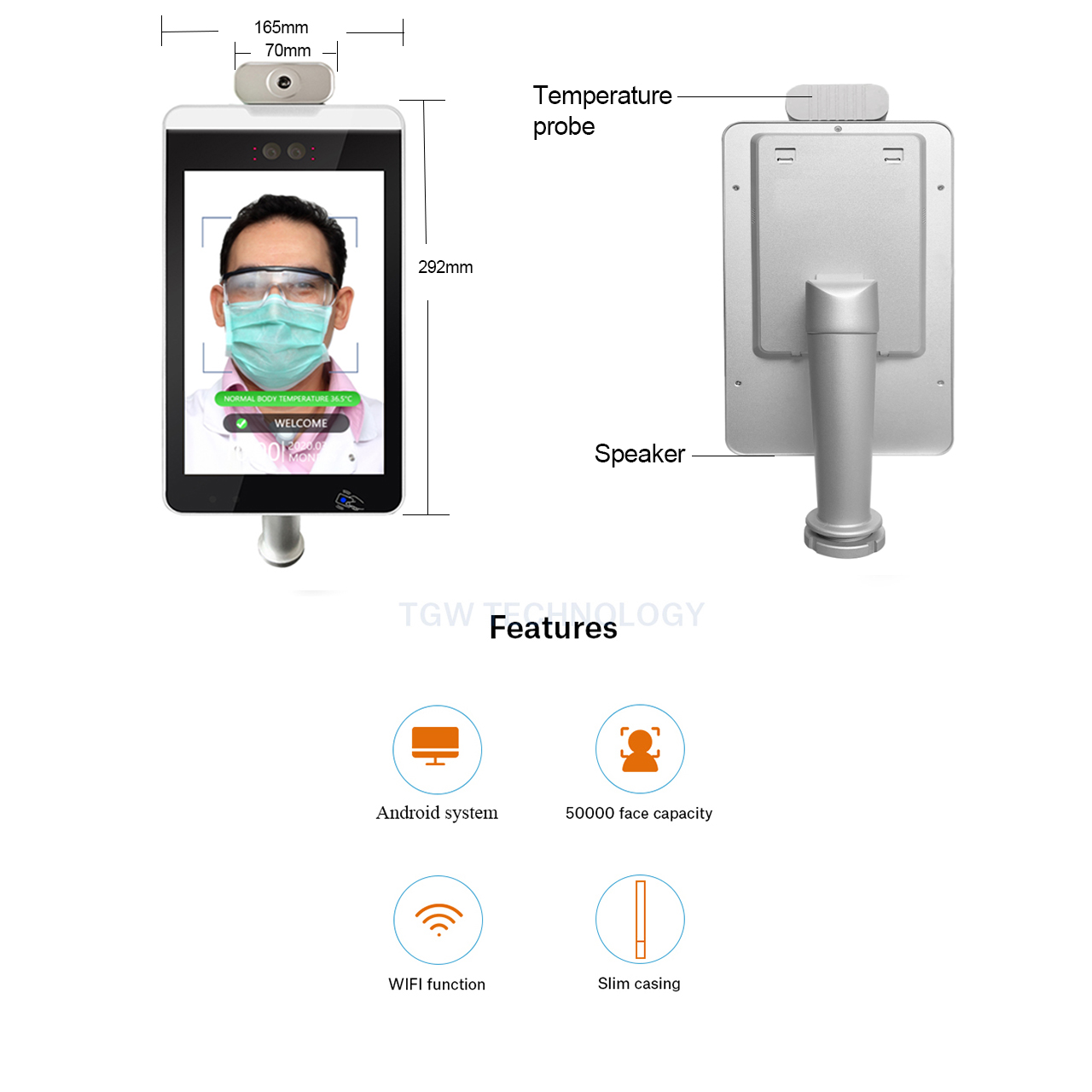 A high-performance dynamic temperature-measuring face recognition terminal, which is divided into gate installation and wall installation.
The terminal integrates the functions of off-line face recognition, temperature detection, mask recognition, identity verification, on-site face collection,
blacklist early-warning, photo taken after passing, active object detection. It adopts WDR HD face recognition camera,
which is fully adapted to harsh environment such as strong light, back light and weak light, with characteristics of fast recognition speed,
high accuracy and large list storage capacity.
Product details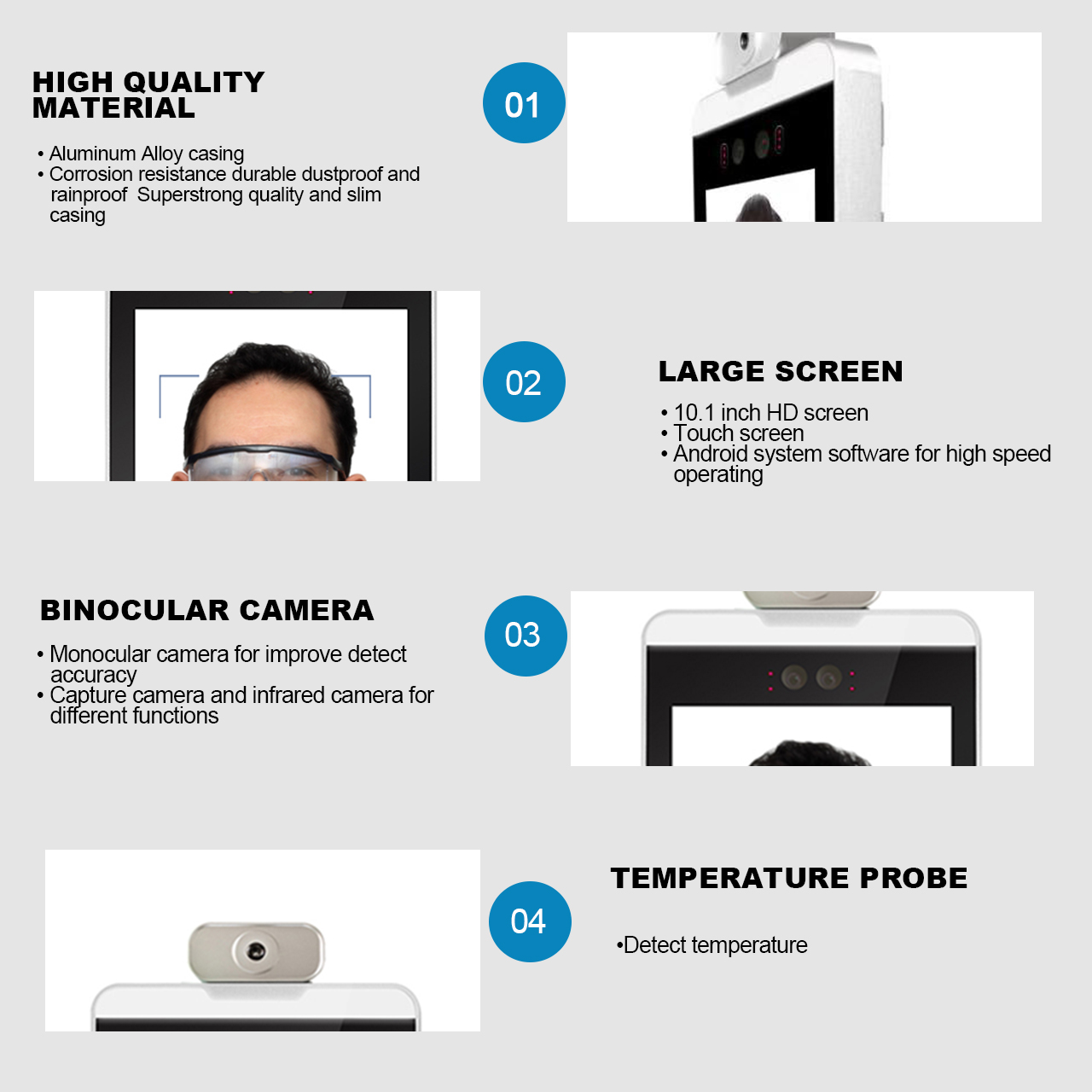 About temperature measurement face recognition terminal
1.10.1-inch IPS full-view LCD display,touch screen.
2.Industrial-class appearance, waterproof and dustproof design which is stable and reliable.
3.Supports 10000 face database. The 1: 1 comparison recognition rate is more than 99.7%, the 1: N comparison recognition rate is more than 96.7%@0.1%.
misrecognition rate, and the live detection accuracy rate is 98.3%@1% misrejection rate. Face recognition pass speed is less than 1 second.
4.Supports accurate face recognition and comparison while wearing a mask.
5.Using industrial-grade binocular wide dynamic camera, night infrared and LED dual photo flood lamp.
6.Supports human body temperature detection and temperature display. The best temperature detection distance is 0.5 meters.
The longest distance at which body temperature can be measured is 1 meter. The measurement error is plus or minus 0.5 ℃.
7.It only takes a few seconds for detection, and supports automatic alarm for body temperature abnormality.
8.Attendance temperature measurement data is exported in real time.
9.Supports various peripheral expansions such as ID card reader, fingerprint reader, IC card reader,QR code reader, etc.
10.The documentation is complete and supports secondary development.
11.Support system level, APP offline level, APP + background network level multiple API docking.
A collection of features to meet your different needs

Advantages of temperature measuring face terminal
1.Touch screen,real living body detecting
2.Recognition speed around 0.5ms
3.Recognition rate very high,recogntion rate up to 99.7%
4.Supppot recognize whole world race.
5.Storage capacity max 2-50k/person
6.Support language change for software
7.SDK/API interface avaible
8.Standalone use or with operate software
9.Very good heat dissipation and system stability
Application scenarios
It can be used with application management systems such as face-based site real-name management system, face-based access control attendance management system and visitor management system, which is perfect for complex application scenarios that require temperature monitoring, identity recognition and access control, such as communities, campuses, hospitals, scenic spots, hotels, shopping malls, office buildings, public places and construction sites. In terms of epidemic prevention and control, it effectively reduces the potential risks of large-area contact with human body during temperature measurement, shortens the temperature measurement time and improves the temperature measurement efficiency. At the same time, centralized management provides real-time data support for the screening and tracing of suspected patients and floating population, and provides a strong safety guarantee for the management under the above scenarios.
Company Advantages
· TGW camera is manufactured by adhering to international industry standards.
· The product is breathable. The perforated design helps keep the humidity and temperature in an appropriate range while allowing free airflow.
· This product can greatly reduce the production costs of the business owners. Because it has a positive impact on production efficiency, it can help save costs on the operation.
Company Features
· Shenzhen Tiger Wong Technology Co.,Ltd adopts the most advanced technology to manufacture high quality
· Shenzhen Tiger Wong Technology Co.,Ltd focuses on the development of R&D objects for automatic number plate recognition cameras.
· We always adhere to the "integrity, quality, and service". We will continue to innovate new approaches to improve our service capabilities and strive hard to provide valuable and timely responses to any problems.
Application of the Product
thermal imaging thermometer of TGW Technology can play a role in various industries.
We listen carefully to customer's requests and provide targeted solutions based on the bottleneck of customer. Therefore, we can help our customers to better solve problems.