Company Advantages
· Tigerwong Parking smart face recognition temperature device is manufactured using innovative tools and equipment as per the latest market trends & styles.
· It is ideal for indoor and outdoor lighting from an economic perspective. According to the news, using LED lights greatly reduces electricity consumption and generates billions in energy savings.
· This offered product has gained huge popularity from customers for these premium features.
What is LPR(License Plate Recognition) Technology?
License plate recognition ( ANPR/ALPR/LPR ) is one of the important components in modern intelligent transportation parking systems, and it is widely used.
Based on technologies such as digital image processing, pattern recognition, and computer vision, it analyzes the vehicle images or video sequences taken by the camera
to obtain the unique license plate number of each car to complete the recognition process.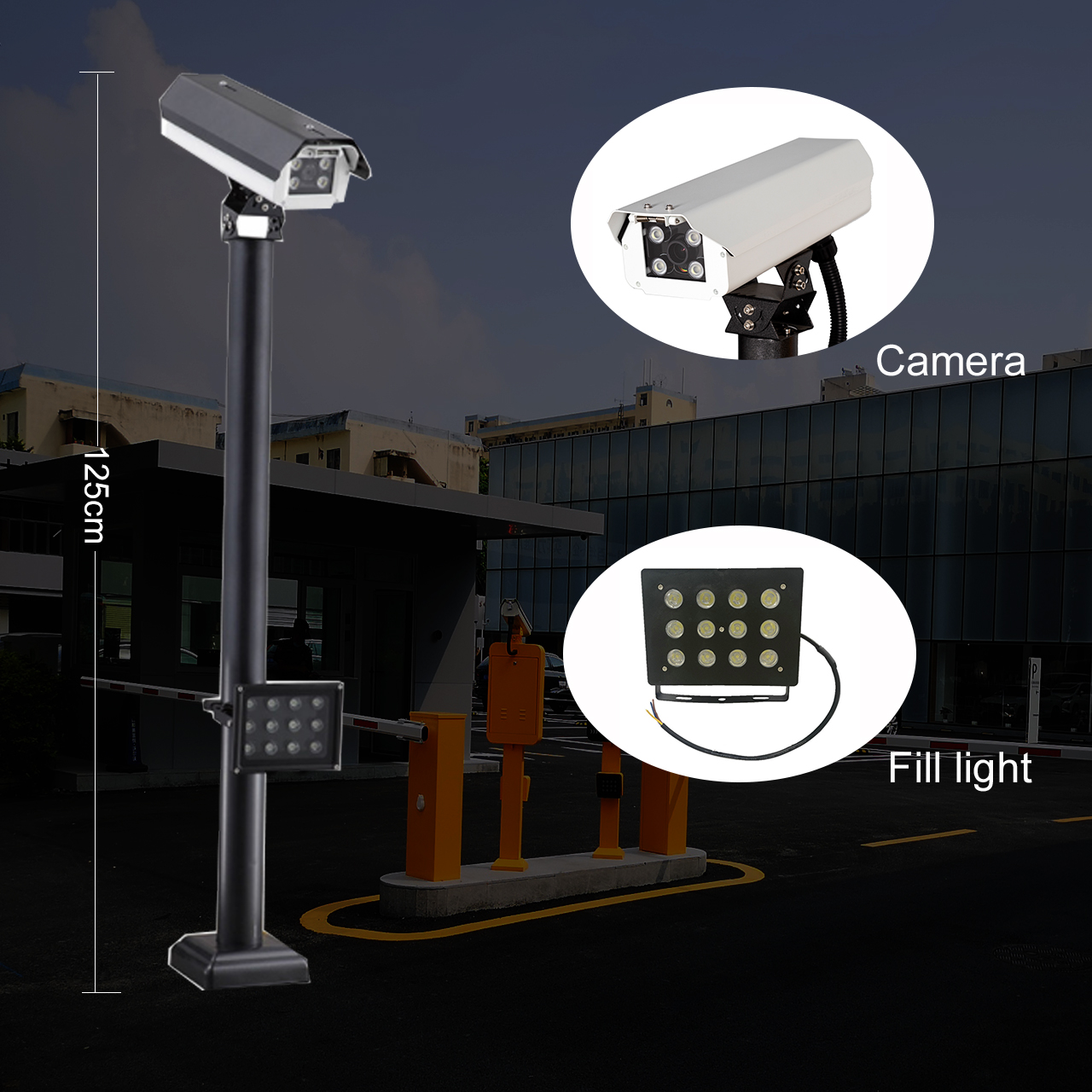 Hardware part introduction
1.Functions and features of each component
1) Camera : it mainly captures pictures, which are sent to the software for recognition. There are two ways to trigger the camera to capture pictures.
One is that the camera itself has a head-detection function, and the other is that the car is triggered by the loop coil when vehicle pass to capture the picture .
2) Column : the column and the appearance of the product are formed by cold-rolled iron sheet, strong and waterproof.
3) Fill light : With an automatic light sense < 30Lux, the light will be automatically opened according to the surrounding environment of the project site, and will remain
bright until the supplementary light detects that the surrounding environment becomes brighter, and the light sense will be automatically closed when it is greater than 30Lux.
Software part introduction
ALPR workflow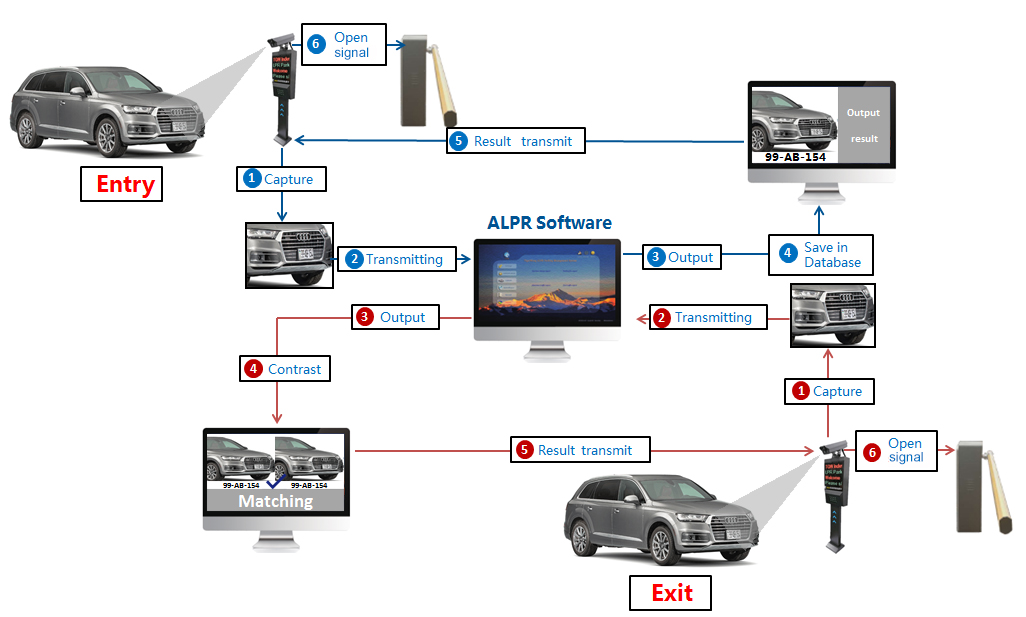 Process description:
Entry: the license plate recognition camera captures an image by means of vehicle head detection or loop coil trigger, and the image is transmitted to the software.
The software algorithm recognizes the image, writes the recognition result into the database and returns it to the camera, and the camera sends the switch signal to
barrier switch.
Exit: the license plate recognition camera captures an image by means of vehicle head detection or loop coil trigger, and the image is transmitted to the software.
The software algorithm recognizes the image, outputs the recognition result and compares it with the entrance recognition result in the database. The comparison is
successful and the result is returned to the camera.
ALPR software interface-multiple languages
Software function introduction
1) The recognition module is built into the parking lot software, which can recognize the license plates of
123 countries and regions and output the results
2) Parking software , which can manage the whole parking lot from entrance and exit to charging.
3) Set permissions for operators who manage parking lots.
4) Set the charging rules of the parking lot,input them into the system and charge them automatically.
5) Monitor the movement of vehicles in and out.
6) Keep a record of vehicle movements.
7) Form the report summary of vehicle access management, fee management and parking management.
8) The best solution of a set of parking software is to manage the parking lot with one in and one out. It can
also be used for two in and two out.If beyond this range, it may affect the efficiency of management or cause
the situation of stagnation, which also depends on the actual use of computers and the amount of vehicles.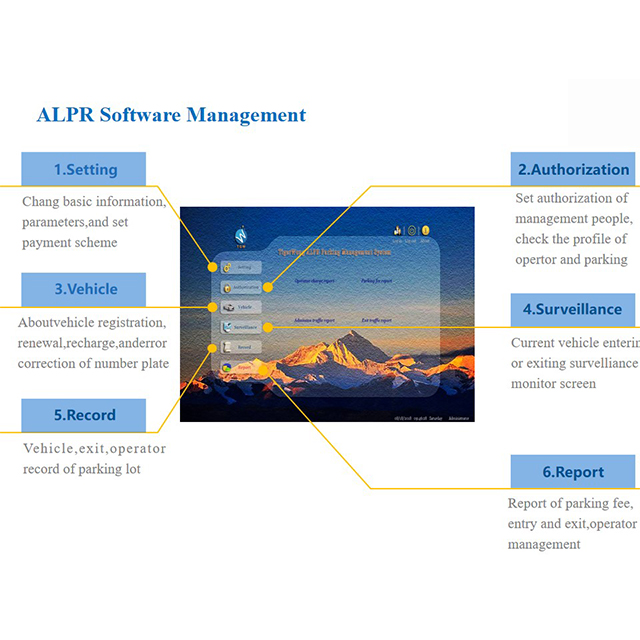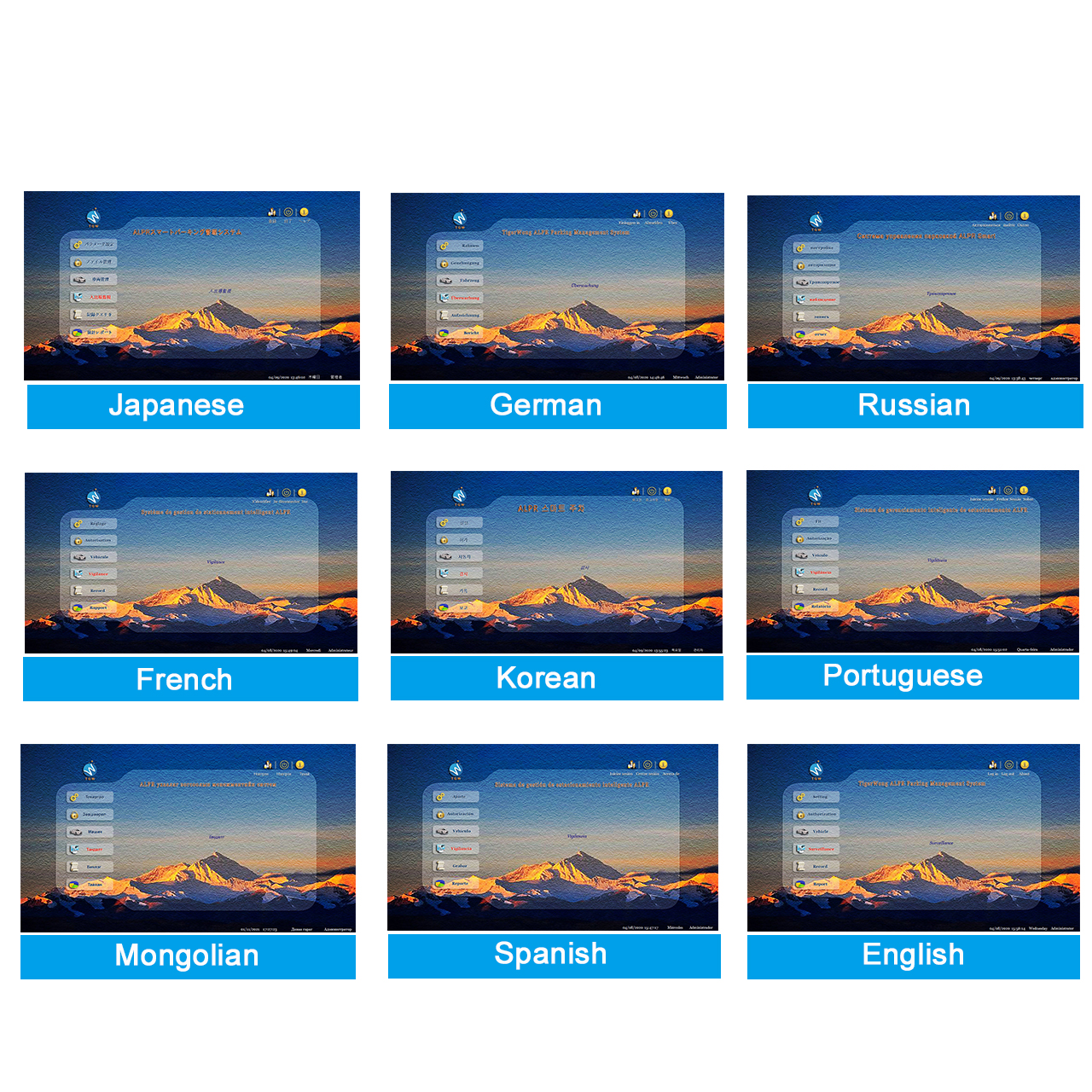 Expanding applications
Expanding application of license plate recognition:
The license plate recognition of parking lot is applied to the entrance and exit of parking lot by the way of license plate recognition.Based on the function of recognition and output of license plate, any project that needs to obtain license plate information can be used in combination with our software. The application places mainly include gas station, car wash shop, vehicle management, intelligent weighing, intelligent charging, payment system for vehicle entry and exit, etc. In order to make more customers benefit from the application of license plate recognition, taigewang has specially customized upload software, which can provide customers with the data of license plate, picture of license plate, time of entry and exit and so on from our software system. Docking is also very simple, only three steps.
Simple introduction to upload software:
1. Parameter setting interface 2. Recognition and vehicle picture interface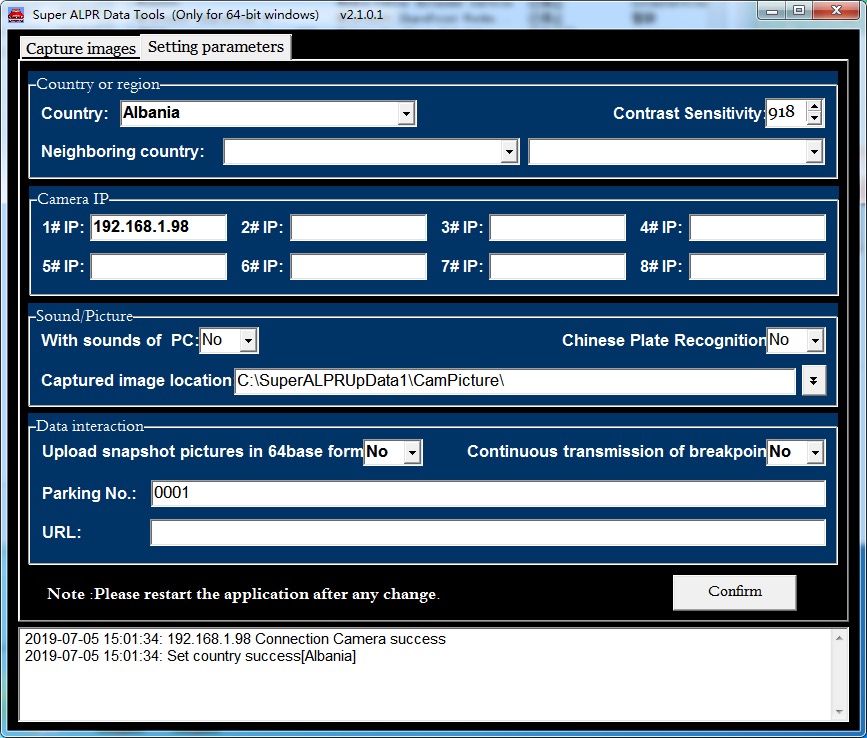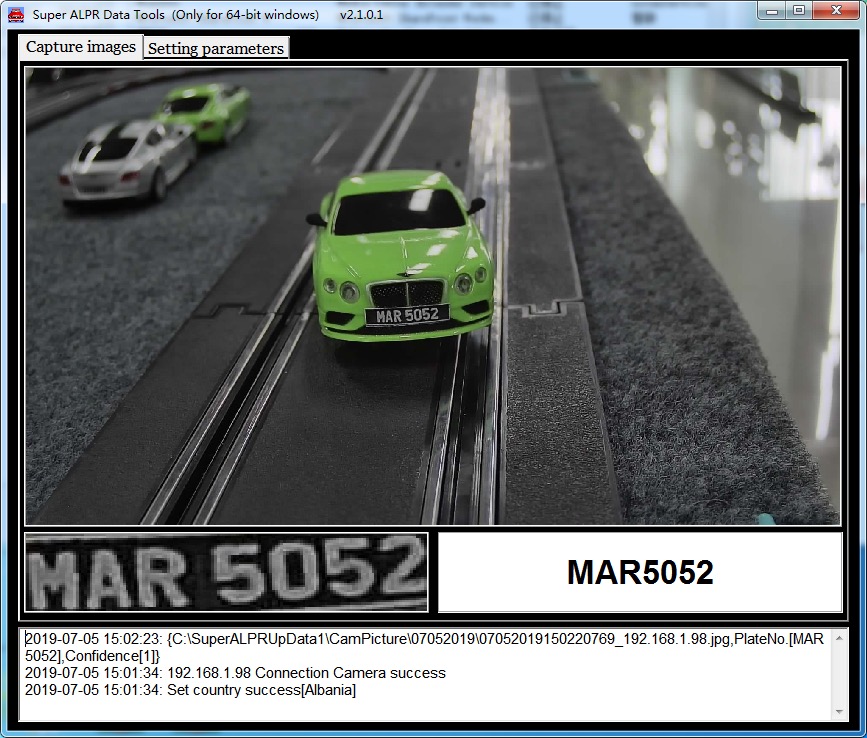 3. Uploading software and docking three steps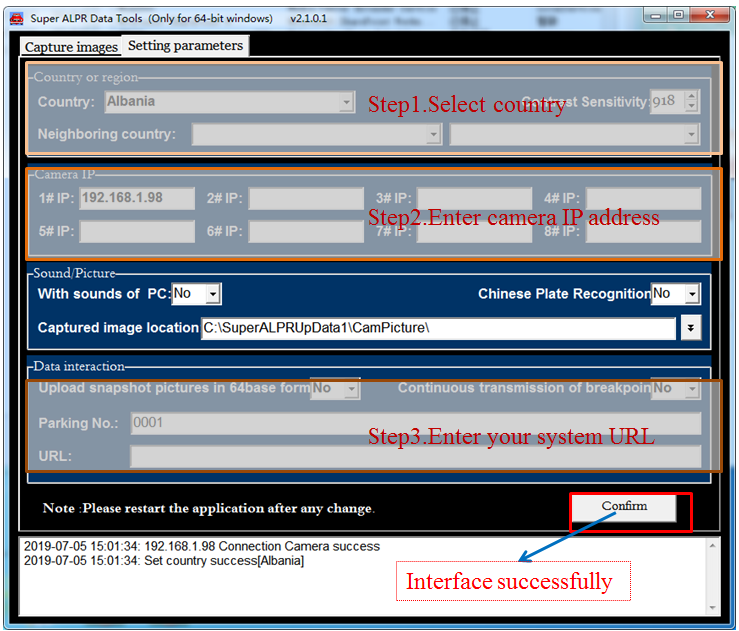 ALPR advantage
License plate recognition parking system is a a reliable, accurate and cost effective car park management solution.

It is widely used in many places,including supermarkets, retail parks, hotels, hospitals and leisure centers.

Reduce labor cost and management difficulty of parking lot system,Improve vehicle traffic efficiency.

Ticketless/ card less parking lot management. Increased security and Parking access automation.

Prevent car theft and prevent "ticket/card loss"
Nine models of hardware
Company Features
· Founded in China, Shenzhen Tiger Wong Technology Co.,Ltd is a company focusing on the development and manufacture of Vehicle Scanning System. We have been deeply engaged in the industry for many years.
· Tigerwong Parking Technology owns its own factory building and advanced production equipment. Tigerwong Parking Technology has mature production process, excellent production team and strict quality control system.
· Our constant and sincere efforts will always go to ensure high quality and on time delivery. The effective flow and cost awareness of each phase is critical to our success. These factors ensure that the right goods are ultimately suitable for each buyer's quantity - and are purchased at the best price. Check now!
Product Details
With a focus on product's quality, our company pursues perfection in every detail.
Application of the Product
The License Plate Recognition Parking Guidance produced by our company can be applied to different fields and scenarios. So the different requirements of different people can be satisfied.
Tigerwong Parking Technology could customize comprehensive and efficient solutions according to customers' different needs.
Product Comparison
We demand ourselves in the production of License Plate Recognition Parking Guidance with stricter standards. Based on this, we ensure that our products have advantages over the general products in the following aspects.
Enterprise Advantages
Tigerwong Parking Technology has a group of quality professionals, which provides strong support for corporate development.
Our company always insists on the idea that service comes first. We are committed to fulfilling customers' needs for service by providing the most cost-effective solutions in logistics service.
Tigerwong Parking Technology's mission is to provide quality products for customers. We run the business with a focus on services and integrity. We strive to become a leading enterprise in the industry by giving full play to our advantages.
Tigerwong Parking Technology was founded in We have accumulated rich industry experience during the development.
Our products are sold well at home and abroad.