[ILLUSTRATION OMITTED] 50 percent of grocery shoppers are looking for a convenient store experience that would enable them to checkout more quickly--like the self-scan checkout. We show, how self-scanning provides benefits for both, retailers and shoppers. Supermarket shopping has always been a complicated search for products, critical browsing for special offers and, finally, a long wait at congested cash lines.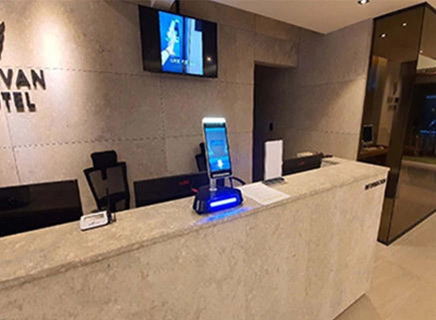 We should help shoppers to save time for the good things in life rather than to spend it in a supermarket queue. [ILLUSTRATION OMITTED] Self-checkout means shorter lines and happier customers. It reduces the need for manned checkouts, which in turn reduces labour costs.
Studies show that ten percent of shoppers who leave a store without making a purchase cite 'checkout waiting time' as the determining factor in their decision not to buy. More importantly, when forced to wait in line for more than four minutes, customer satisfaction levels fall below 80 percent. Irritated customers at the end of their tether, employees who don't have the time to provide customer-friendly service--thanks to new self-scanning solutions we can change today's shopping nightmare into a friendly environment, where customers appreciate rapid checkout and benefit from information tailored to their individual needs.
When a supermarket customer enters the store, she--once authenticated by her loyalty card--will be equipped with an ergonomically designed scanning device. This process has been fully automated. The scanning devices are locked in charging slots of a dispenser, where they are automatically prepared for the next customer.
Provided the system is properly designed, there are fully-charged devices available at all times. Visual signs on a screen and at the dispenser slot indicate which . device was assigned to the customer in question.

Of course, each customer can attach her device to a special holder on the shopping cart and start shopping--safely and conveniently. [ILLUSTRATION OMITTED] While shopping, the customer herself scans all items she wants to purchase. The self-scanning device has a large display in full VGA resolution, which provides both a good overview of the application and a flicker-free, clear image.
The menu navigation also enables easy, error-free operation even for inexperienced users: if an item is scanned by mistake, all the customer needs to do is press the 'minus' key. Similarly, if you want to buy multiple items of the same product, just press the 'plus' key to increase the quantity. While shopping, the current total of the scanned goods will be displayed by default.
Therefore customers are in better control of their spending budget. When this feature was introduced, supermarket operators were afraid that sales would drop as customers would be more aware of the price they have to pay. But to the contrary, sales went up as customers tended to spend closer to their budget limit.
Finding a specific product in a shop can be cumbersome. Self-scanning software with a built-in product locator can be of great help, especially for new and infrequent customers. Self-service shopping can be an all-around satisfying experience for every shopper.
You want more detailed information on a product, for example its nutrition facts? You are looking for a new dish and need some clues about the wine to serve tonight? You have to keep to a specific diet?
The scanning device provides extensive tips and assistance. And effective cross-selling is even easier: after all, the device also provides current information on promotions or combined special offers. For instance, if a customer buys a bottle of merlot, a suitable camembert will be recommended to him that is also on special offer.
Those additional functions can also mean higher sales to retailers, improved customer satisfaction and, as a result, enhanced customer loyalty--happy customers always come back. At the checkout the most important advantage of self-scanning becomes apparent. Shoppers no longer need to present their purchase on the conveyor belt, which can be a nightmare with a shopping trolley crammed-full--they simply hand the scanning device back to the dispenser.
Now the amount linked to the scanned purchase of the customer is immediately transferred by WiFi or USB-Interface to the cash system. This could be a conventional cash register or, even better, a self-checkout payment machine. [ILLUSTRATION OMITTED] Especially during peak periods, the run on checkouts means not only long waiting times for shoppers; it is also a challenge to retailers who need to deploy their staff to ensure they could deal with the masses.
It goes without saying that maintaining a high level of customer satisfaction has always been a very hard work, particularly in such labour-intensive phases. Thanks to self-paying kiosks, long queues in front of checkouts can be a thing of the past. Innovative self-checkout payment machines separate the payment from the scanning process to facilitate smooth processing in the checkout area.
Using a conventional system, the probability of mistakes at checkout go up during peak times, especially when returning change to customers paying with cash, a task which calls for high attention. Accordingly, payment machines not only save time. By separating payment process from the scanning they prevent employees from making such mistakes due to fatigue or reduced concentration.
The customer-friendly system and appealing design make self-checkout payment machines easy to be operated for all different kinds of user including casual shoppers. A graphical user interface, enhanced by audio and video clips, guide customers through each step of the payment process. Customers save time using self-service Shopping--and retailers have some added benefits.
Payment machines lead to an increased percentage of card payments. Less cash means less cash handling, which has always been costly. Retailers may deploy their staff more flexibly, especially during particularly brisk phases of business, thus enhancing the level of customer service.
Thanks to the new solutions everyone will save time for the important things in life. BY ANDREAS MULLER, DIRECTOR OF RESEARCH AND DEVELOPMENT, HOFT & WESSEL AG, BUSINESS UNIT SKEYE