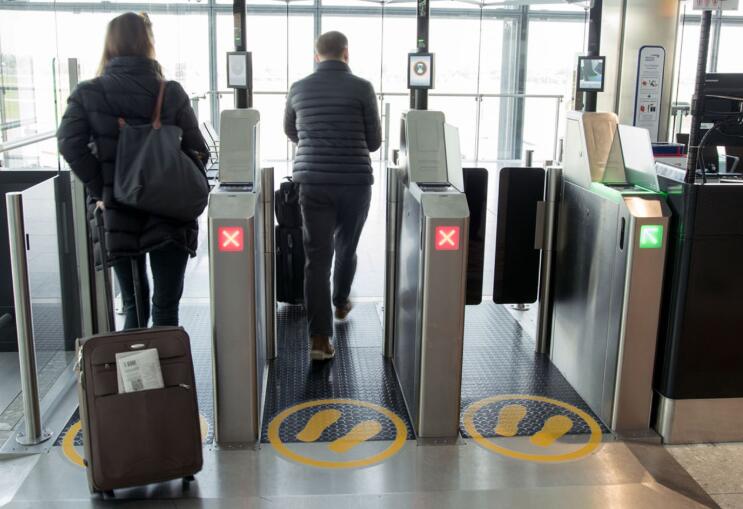 Product model: TGW-FR006 ( Binocualr face recognition wall-mounted type)
The Face Recognition Terminal is a biological recognition passage entrance access control device that integrates card reading and face identification. It's based on TCP/IP network communication. The terminal device is centralized managed by Internet and it can remotely control the turnstile gates to open and close, meanwhile it can implement data synchronous backup with the management platform.
This terminal device can be compatible with human-card authentication scenario (1:1), human-face authentication scenario (1: N), and it could be switched between 1:1 and 1: N according to the users' requirements.
Company Advantages
1. TGW number plate recognition software has passed a wide range of tests. They are Chemical Testing, Electrical Safety Testing, Environmental Testing, Mechanical Safety Testing, Performance & Endurance Testing, etc.
2. The design of TGW WT008 is fastidious. It involves an array of regulatory compliance considerations, including electrical safety, electromagnetic compatibility (EMC) and chemical composition of materials.
3. TGW portable body temperature scanner is carefully designed. It is an outcome with essential considerations such as spacing and insulation requirements, supply connections, component requirements, and performance test criteria.
4. TGW best facial recognition software reaches the general standards of electrical appliances. IEC 60335-1, IEC 60335-2-X, IEC 62133-1, IEC 62301, etc. are the basic standards governing the requirements placed on this product.
5. The product dehydrates the food effectively within a short time. The heating elements in it heat up quickly and circulate the warm wind around inside.
6. The product is able to withstand high temperature. Especially its inner parts such as food trays are not subject to deformation or crack during the hot dehydrating process.
7. The product has the advantage of energy saving. Its inner driving components are designed to operate under low power mode.
8. Shenzhen Tiger Wong Technology Co.,Ltd has established world-class quality standards and extremely stringent process quality control requirements for Shenzhen TGW Technology Co..
9. Along the way, Shenzhen Tiger Wong Technology Co.,Ltd has transformed itself into a competitive company with facial identification terminal as its core business.
10. Shenzhen Tiger Wong Technology Co.,Ltd has a reasonable management system, which can effectively achieve sustainable and steady development of the company.
11. CARD DISPENSER-TGW is more economical and practical than similar products in the industry.
12. Promising application prospect and tremendous market potential can be seen from metro turnstile.
Company Features
TGW offers higher quality turnstile barrier gate in this industry which expects much. TGW is a famous brand for the first-rate turnstile barrier gate and superb service. TGW is a globally distinguished brand dedicated to the development and manufacturing of turnstile barrier gate.
We have an experienced project management team that acts as the role of our business success. Their manufacturing management expertise ensures quick turnaround times and excellent quality for our turnstile barrier gate. We have a design team good at flexible designs. Combining their years of experience and expertise, they can design turnstile barrier gate that are adaptable to customers' requirements. Our production facilities are configured with a reasonable layout. This advantage enables us to reduce operating costs, maintenance costs and guarantees fast production and delivery. We have a team of manufacturing members who contribute to our business success. Utilizing various processing technologies, they can manufacture products including turnstile barrier gate at the highest level within the lead time.
The urge for sustainable development promotes us to readjust the industrial structure to achieve cyclic and low carbon development. Under this, we will finely handle all wastewater, waste gases, and waste residue to produce less pollution. To achieve sustainable development, we implement the plan of three wastes treatment, including wastewater, waste gases, and waste residue during the production processes. When promoting green, cyclic, and low-carbon development becomes a trend, we act flexibly to this change. We readjust the production structure to a greener way and seek more forms of waste conversion to reduce pollution.
Application of the Product
The recognition system software produced by TGW Technology is widely used in many industry sectors.
With many years of practical experience, TGW Technology is capable of providing comprehensive and efficient one-stop solutions.