Hardware introduction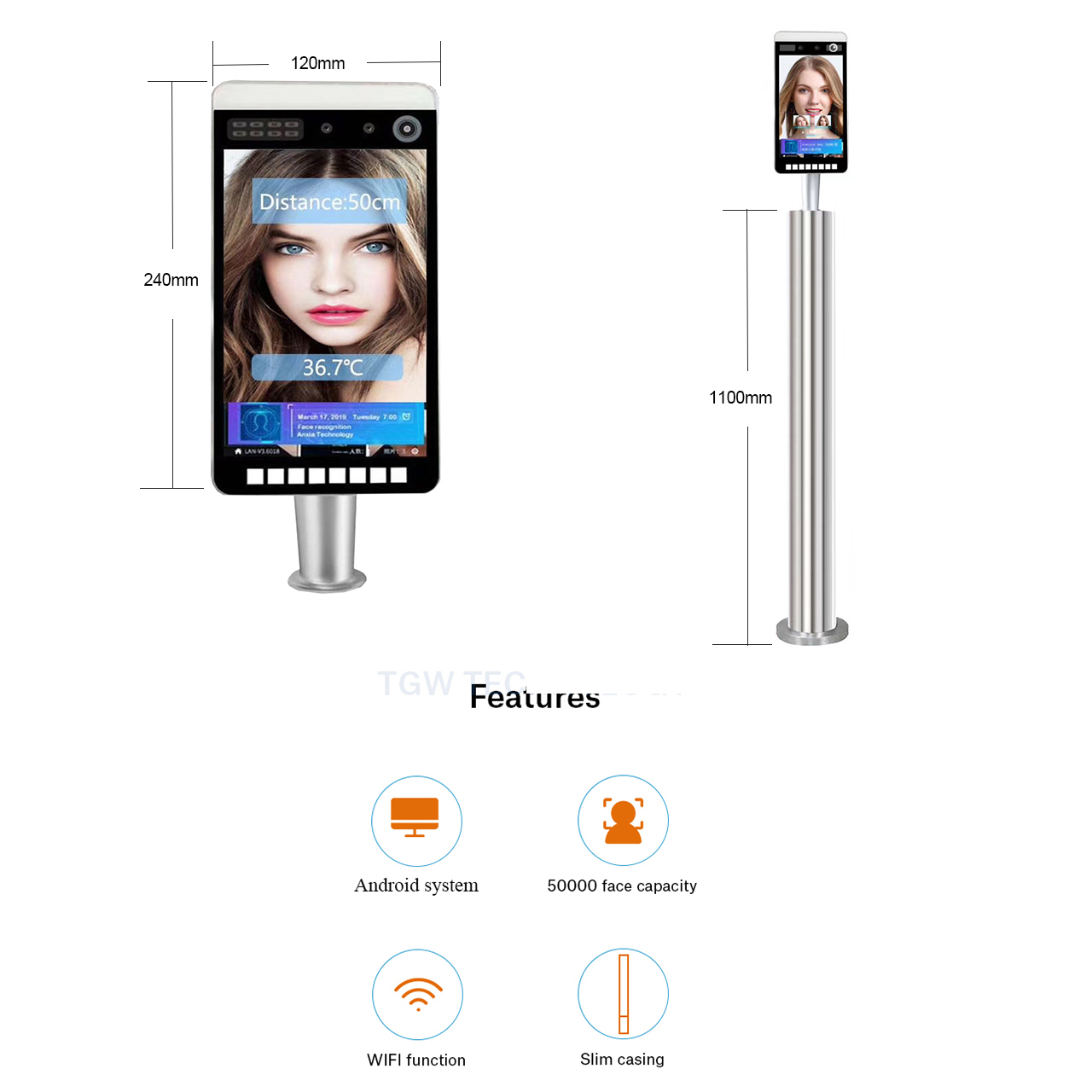 A high-performance dynamic temperature-measuring face recognition terminal, which is divided into gate installation and wall installation.
The terminal integrates the functions of off-line face recognition, temperature detection, mask recognition, identity verification, on-site face collection,
blacklist early-warning, photo taken after passing, active object detection. It adopts WDR HD face recognition camera,
which is fully adapted to harsh environment such as strong light, back light and weak light, with characteristics of fast recognition speed,
high accuracy and large list storage capacity.
Product details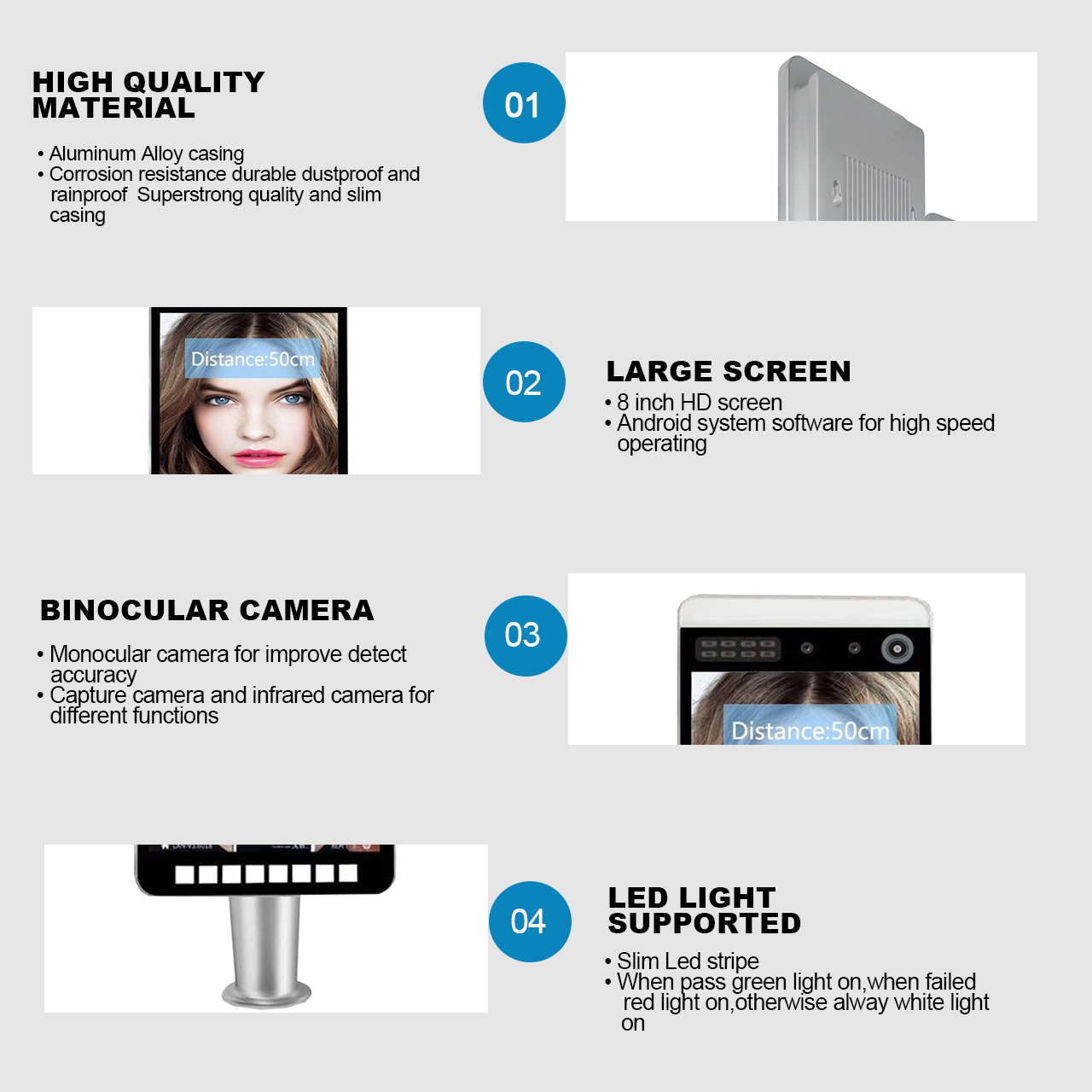 About temperature measurement face recognition terminal
1.8-inch IPS full-view LCD display.
2.Industrial-class appearance, waterproof and dustproof design which is stable and reliable.
3.Supports 30000 face database. The 1: 1 comparison recognition rate is more than 99.7%, the 1: N comparison recognition rate is more than 96.7%@0.1%
misrecognition rate, and the live detection accuracy rate is 98.3%@1% misrejection rate. Face recognition pass speed is less than 1 second.
4.Supports accurate face recognition and comparison while wearing a mask.
5.Using industrial-grade binocular wide dynamic camera, night infrared and LED dual photo flood lamp.
6.Supports human body temperature detection and temperature display. The best temperature detection distance is 0.5 meters.
The longest distance at which body temperature can be measured is 1 meter. The measurement error is plus or minus 0.5 ℃.
7.It only takes a few seconds for detection, and supports automatic alarm for body temperature abnormality.
8.Attendance temperature measurement data is exported in real time.
9.Supports various peripheral expansions such as ID card reader, fingerprint reader, IC card reader,QR code reader, etc.
10.The documentation is complete and supports secondary development.
11.Support system level, APP offline level, APP + background network level multiple API docking.
A collection of features to meet your different needs

Advantages of temperature measuring face terminal
1.Real living body detecting
2.Recognition speed around 0.5ms
3.Recognition rate very high,recogntion rate up to 99.7%
4.Supppot recognize whole world race.
5.Storage capacity max 2-50k/person
6.Support language change for software
7.SDK/API interface avaible
8.Standalone use or with operate software
9.Very good heat dissipation and system stability
Application scenarios
It can be used with application management systems such as face-based site real-name management system, face-based access control attendance management system and visitor management system, which is perfect for complex application scenarios that require temperature monitoring, identity recognition and access control, such as communities, campuses, hospitals, scenic spots, hotels, shopping malls, office buildings, public places and construction sites. In terms of epidemic prevention and control, it effectively reduces the potential risks of large-area contact with human body during temperature measurement, shortens the temperature measurement time and improves the temperature measurement efficiency. At the same time, centralized management provides real-time data support for the screening and tracing of suspected patients and floating population, and provides a strong safety guarantee for the management under the above scenarios.
Company Advantages
1. The design of TGW portable body temperature scanner adopts 3D design technology. This is done by using a special program, such as Matrix 3D Jewelry Design Software.
2. The creation of TGW Automatic Car parking management consists of several stages: ideas, 3D design, a jewelry prototype, metal jewelry casting, setting, polishing, and finishing.
3. TGW tripod turnstile has to undergo the following production procedures combining traditional techniques: cutting and forming, wax carving, soldering, welding, crafting, setting, polishing, and assembling.
4. The manufacture of TGW car backup camera involves several stages. These include prototype design, cutting and forming metal, soldering, casting, polishing, and final assembling.
5. TGW Supermarket Swing Turnstile is professionally designed. It is carried out by our designers who understand the potentials and pitfalls of the specific jewelry materials and how jewelry works in relation to the body.
6. The product does not retain odor. The breathable perforated design allows airflow and can effectively avoid produce of any smell.
7. The product is odor-free. Made of moisture-wicking materials, it is able to eliminate any odor by allowing the air to permeate freely.
8. The product is odor-free. The stink remover agent used in it has effectively got rid of even the worst chemicals odors or bacteria-caused smell.
9. The product prevents odor. Processed by antibacterial and stink remover agents, it can effectively kill odor-causing bacteria and eliminates foot and shoe odor.
10. The product is antibacterial and deodorant. It is treated with antibacterial and stink remover agents which can effectively eliminate smell caused by germs.
11. With its foreseeable development prospects, this product is worth expanding over the market.
12. This product matches with the latest development of the industry and meets the demands of customers.
13. The product is widely demanded due to its distinctive features.
14. The product has gained much acceptance and popularity in the field.
Company Features
Since establishment, Shenzhen Tiger Wong Technology Co.,Ltd has accumulated rich experience in developing and manufacturing quality reverse camera. We are a well-known manufacturer and exporter in China. Shenzhen Tiger Wong Technology Co.,Ltd is a professional manufacturer and exporter of reverse camera, concerned with the design, development, and production for many years. Shenzhen Tiger Wong Technology Co.,Ltd gradually takes the lead in the domestic markets by virtue of its advantages of quality reverse camera.
We invest in the most modern technologies to ensure our reverse camera manufacturing processes remain state-of-the-art. We have a large inventory of reverse camera in stock at competitive prices, and we are known for our fast, courteous service. TGW Technology professionals have always been very deliberate about the quality of our materials to ensure the promised performance of our products. At Shenzhen Tiger Wong Technology Co.,Ltd, we are singularly focused on the customer's experience whether in purchase experience or user experience. TGW reverse camera have become the smart choice for customers seeking quality, affordable products that deliver years of reliable performance.
We are committed to the green production approach. To reduce carbon footprint and pollution, we will introduce green and sustainable manufacturing machines to help us achieve this goal. We are making efforts to reduce our negative environmental impact during production. We have brought in energy-efficient manufacturing facilities, hoping to cut carbon footprint and reduce pollution. We endeavor to play an active role in reducing the negative impact on the environment. During production, we encourage less energy consumption and less pollution relying on newly introduced high-efficient manufacturing machines.
Application of the Product
TGW Technology's Thermal Face Recognition has been widely used in many industries.
TGW Technology always gives priority to customers and services. With a great focus on customers, we strive to meet their needs and provide optimal solutions.