Company Advantages
1. TGW licence plate recognition camera is manufactured according to applicable international standards.
2. By using advanced technology in the production, TGW face scanner thermometer has a delicate surface finish.
3. The appearance design of TGW parking control systems is getting better thanks to the constant effort of our innovative design team.
4. The product is highly efficient in heat dissipation. With its powerful cooling system, it can maintain a proper working temperature.
5. The product is highly responsive. Thanks to its advanced control system, it can respond in a short time without any delay.
6. The product has the advantage of good heat dissipation. Its latest cooling system enables adequate airflow, which makes it not accumulate too much heat.
7. The product features the desired operation safety. During its operation, it is not prone to electrical hazards such as short circuit and current leakage.
8. The product is known for its remarkable energy efficiency. It can maximize its energy utilization to adapt to different working modes.
9. The high quality of car park ticketing system will secure their leading status in the market place.
10. SG002 from TGW is the best seller in the market.
11. turnstile gate price has more advantages compared to other competing products.
What is LPR(License Plate Recognition) Technology?
License plate recognition(ANPR/ALPR/LPR) is one of the important components in modern intelligent transportation parking systems, and it is widely used.
Based on technologies such as digital image processing, pattern recognition, and computer vision, it analyzes the vehicle images or video sequences taken by the camera
to obtain the unique license plate number of each car to complete the recognition process.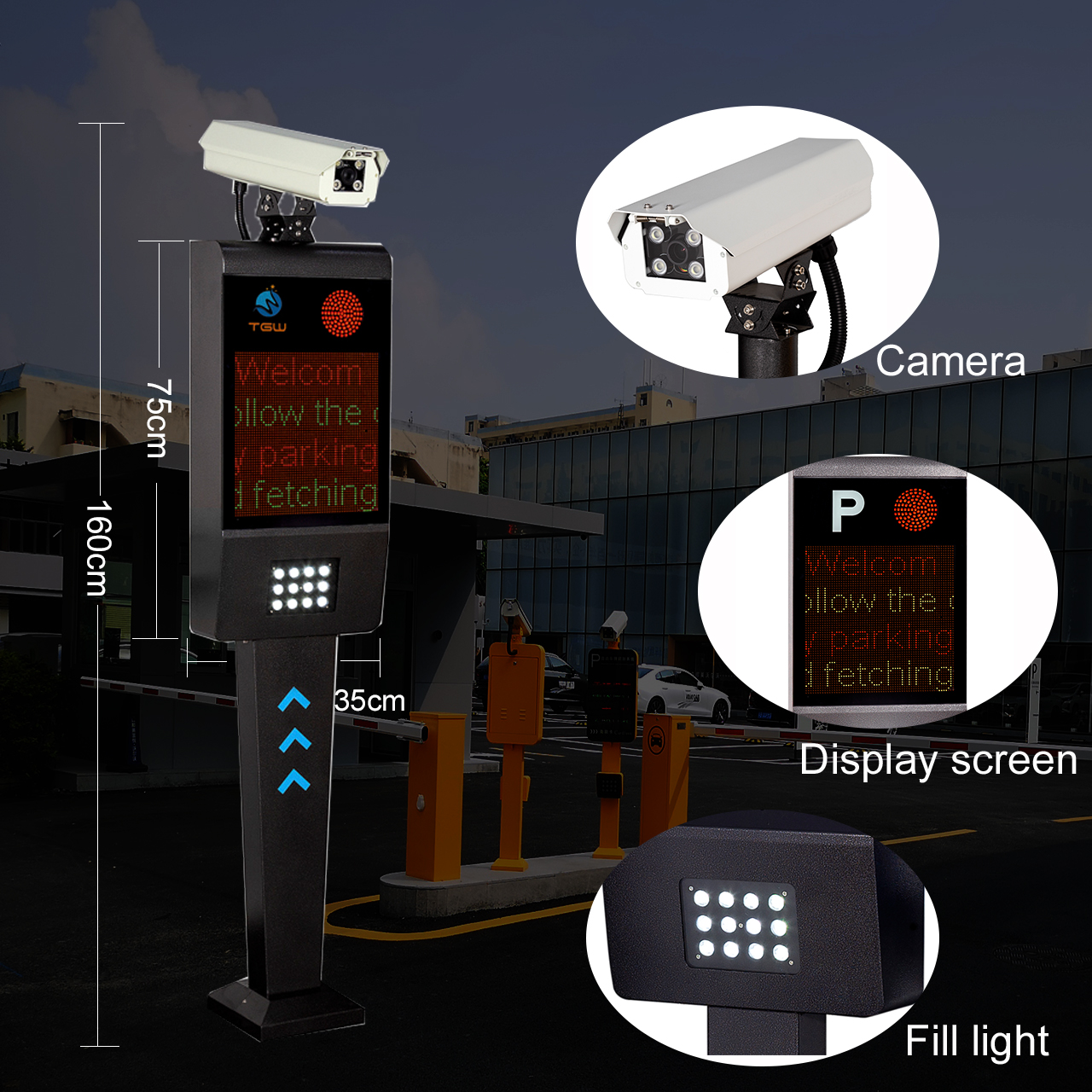 Hardware part introduction
1.Functions and features of each component
1) Camera: it mainly captures pictures, which are sent to the software for recognition. There are two ways to trigger the camera to capture pictures.
One is that the camera itself has a head-detection function, and the other is that the car is triggered by the loop coil when vehicle pass to capture the picture.
2) Display screen: you can customize the display contents of the display screen.
3) Column: the column and the appearance of the product are formed by cold-rolled iron sheet, strong and waterproof.
4) Fill light: With an automatic light sense < 30Lux, the light will be automatically opened according to the surrounding environment of the project site, and will remain
bright until the supplementary light detects that the surrounding environment becomes brighter, and the light sense will be automatically closed when it is greater than 30Lux.
Software part introduction
ALPR workflow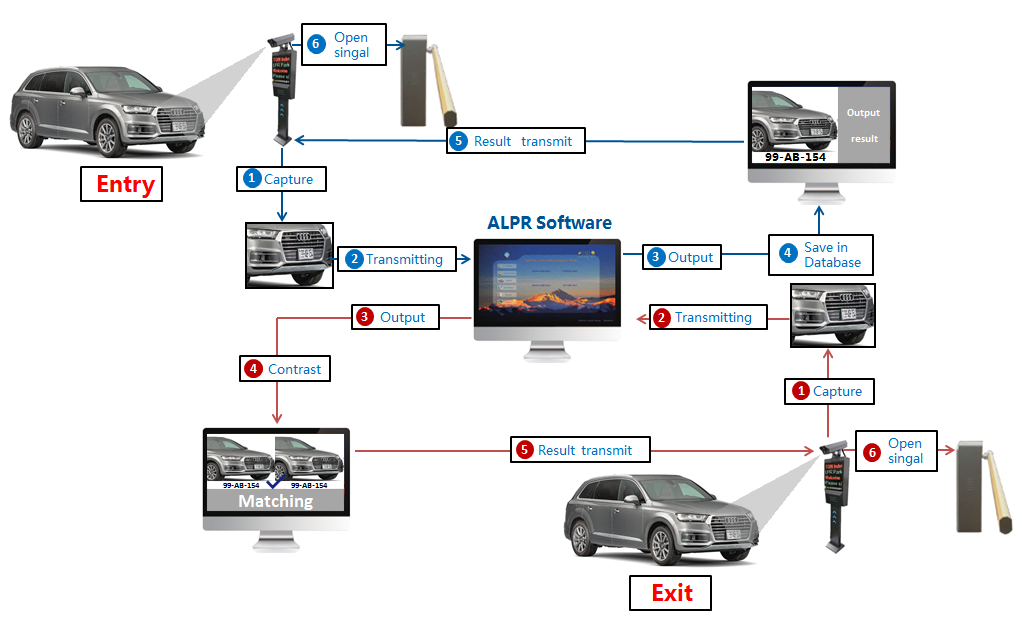 Process description:
Entry: the license plate recognition camera captures an image by means of vehicle head detection or loop coil trigger, and the image is transmitted to the software.
The software algorithm recognizes the image, writes the recognition result into the database and returns it to the camera, and the camera sends the switch signal to
barrier switch.
Exit: the license plate recognition camera captures an image by means of vehicle head detection or loop coil trigger, and the image is transmitted to the software.
The software algorithm recognizes the image, outputs the recognition result and compares it with the entrance recognition result in the database. The comparison is
successful and the result is returned to the camera.
ALPR software interface-multiple languages
Software function introduction
1) The recognition module is built into the parking lot software, which can recognize the license plates of
123 countries and regions and output the results.
2) Parking software, which can manage the whole parking lot from entrance and exit to charging.
3) Set permissions for operators who manage parking lots.
4) Set the charging rules of the parking lot,input them into the system and charge them automatically.
5) Monitor the movement of vehicles in and out.
6) Keep a record of vehicle movements.
7) Form the report summary of vehicle access management, fee management and parking management.
8) The best solution of a set of parking software is to manage the parking lot with one in and one out. It can
also be used for two in and two out.If beyond this range, it may affect the efficiency of management or cause
the situation of stagnation, which also depends on the actual use of computers and the amount of vehicles.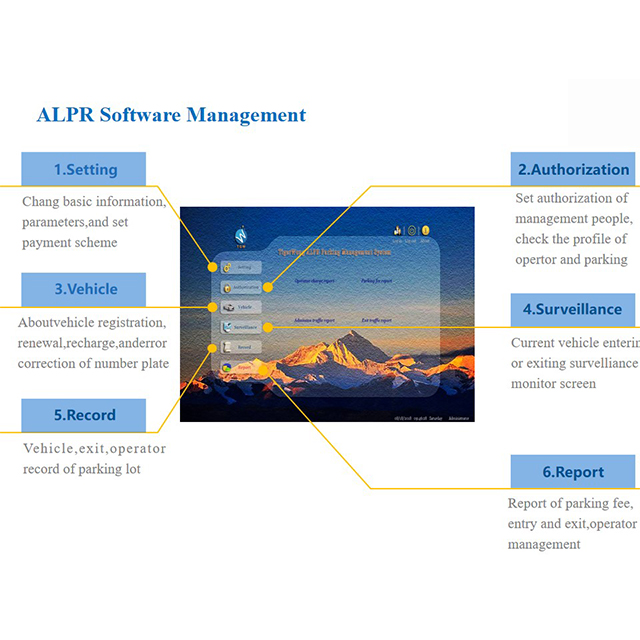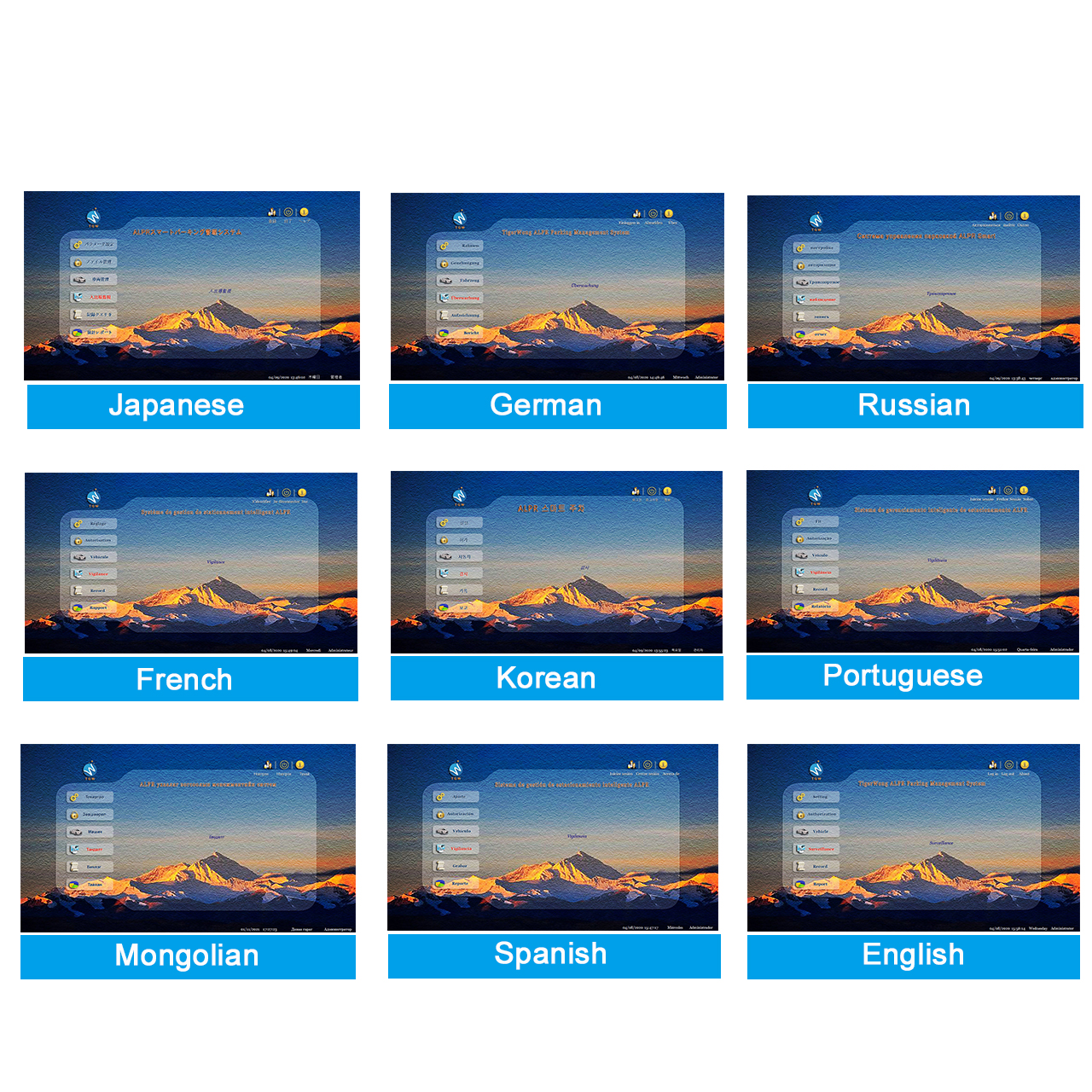 Expanding applications
Expanding application of license plate recognition:
The license plate recognition of parking lot is applied to the entrance and exit of parking lot by the way of license plate recognition.Based on the function of recognition and output of license plate, any project that needs to obtain license plate information can be used in combination with our software. The application places mainly include gas station, car wash shop, vehicle management, intelligent weighing, intelligent charging, payment system for vehicle entry and exit, etc.In order to make more customers benefit from the application of license plate recognition, taigewang has specially customized upload software, which can provide customers with the data of license plate, picture of license plate, time of entry and exit and so on from our software system.Docking is also very simple, only three steps.
Simple introduction to upload software:
1. Parameter setting interface 2. Recognition and vehicle picture interface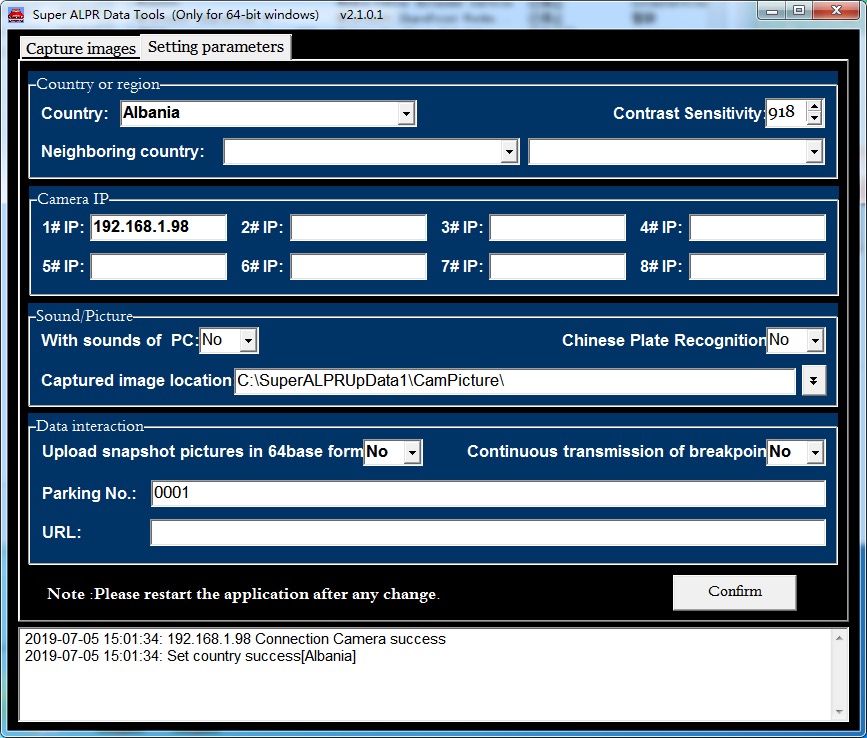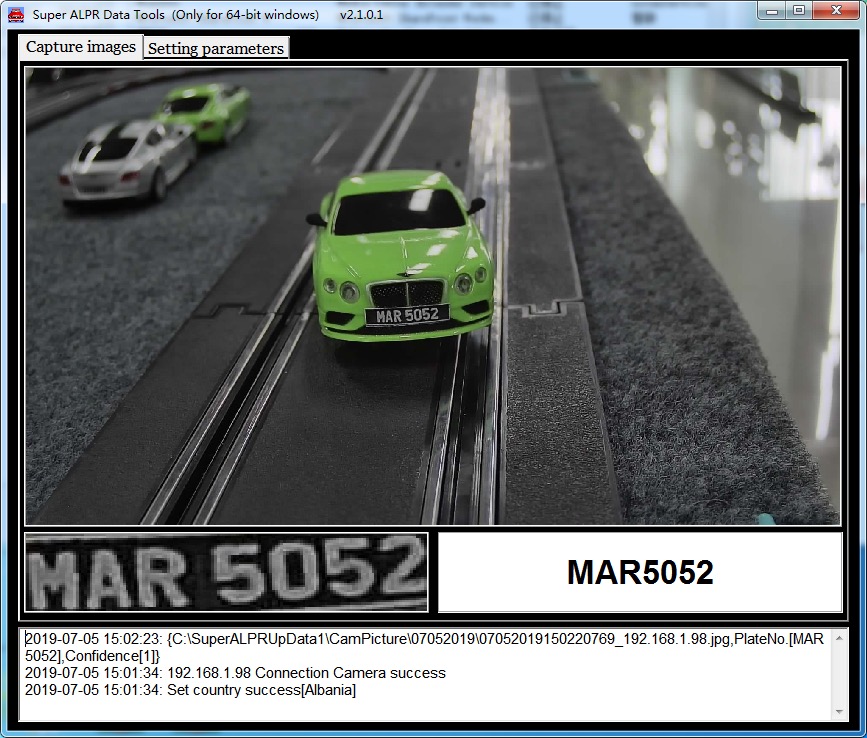 3. Uploading software and docking three steps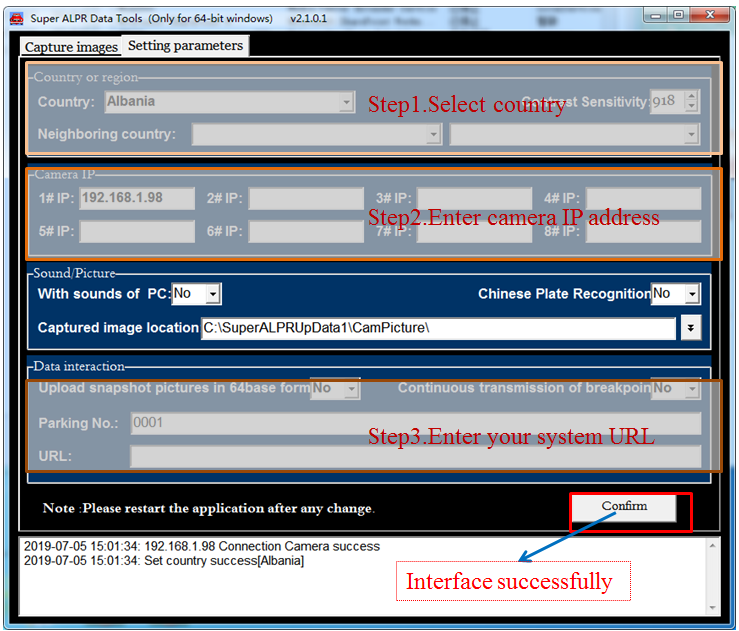 ALPR advantage
License plate recognition parking system is a a reliable, accurate and cost effective car park management solution.

It is widely used in many places,including supermarkets, retail parks, hotels, hospitals and leisure centers.

Reduce labor cost and management difficulty of parking lot system,Improve vehicle traffic efficiency.

Ticketless/ card less parking lot management. Increased security and Parking access automation.

Prevent car theft and prevent "ticket/card loss"
Nine models of hardware
Company Features
Shenzhen Tiger Wong Technology Co.,Ltd is a leading company which manufactures Singapore. By introducing advanced production lines, Shenzhen Tiger Wong Technology Co.,Ltd mainly manufacturing high quality Singapore. Shenzhen Tiger Wong Technology Co.,Ltd owns several modern production lines to manufacture high quality Singapore.
The factory owns comprehensive production facilities which can be controlled by machines or labor. These facilities are all made with high precision and quality, which makes sure less yield loss. The factory has established a perfect integral management system, including ISO 9001:2008 Quality Management System Certificate and ISO 14001:2004 Environmental Management System Certificate. With successively developed hundreds of series of products, our company has won a large number of customers. We will strengthen its cooperations with overseas enterprises to enlarge its international business. In the past years, our mature professional R&D team has made a deep investigation into the products, gaining insights into the product market trends. Now, the team is cooperating with global experimental technologies institution in product research and development. Occupying a large area, the factory has sets of fully-automatic and semi-automatic production machines. With these high-efficient machines, the monthly product yield has been significantly increased.
We don't want to satisfy our clients – we want to thrill them. Regardless of the industry you represent, our main focus for you is to unlock profits by growing your sales, decreasing your costs, and improving your productivity. We ensure Quality, Stability, and Profitability.
Product Details
With the pursuit of perfection, TGW Technology exerts ourselves for well-organized production and high-quality licence plate recognition camera.
Application of the Product
TGW Technology's licence plate recognition camera has been widely used in many industries.
TGW Technology is dedicated to solving your problems and providing you with one-stop and comprehensive solutions.
Product Comparison
TGW Technology's licence plate recognition camera has more advantages over similar products in terms of technology and quality.
Enterprise Advantages
TGW Technology has a team of professional and technical personnel with high production efficiency.
We established a full set of specifications of the customer service system to provide customers with one-stop services, including details information giving and consultation, return and exchange of products. We solve various needs of customers, so as to improve customer's satisfaction and support for our company.
TGW Technology is committed to becoming a leading enterprise in the industry. We take 'integrity, tenacity, and unyielding' as the enterprise spirit, and persist in the concept of 'quality is the soul of the enterprise and the foundation of the enterprise's survival'.
TGW Technology, founded in has developed for years. Now, we have a complete and scientific system of quality management.
Our company's sales network has not just spread all over the country, but also exported to North America, Europe, Southeast Asia and other countries and regions.