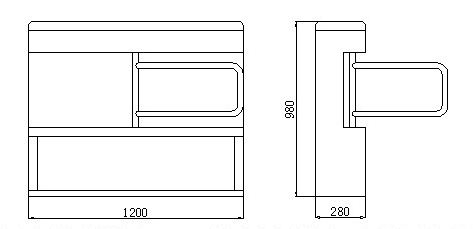 1. The working mode can be set through the button on the main panel.
2. Anti-collision,the object will automatically and slowly return to the original position after collision,to prevent the motor from being damaged by external force collision.
3. Doors can be synchronized.
4. Automatic reset.Right turn is automatically cancelled if it is not passed within the scheduled time.(1-60s adjustable), the default time is 10s.
5. Compatible access control system, consumption system, ESD system, electronic ticketing system, etc.
6. One-way control or two-way control.
7. Two pairs of anti-collision infrared sensor,two pairs of alarm infrared sensor.
8. Each cabinet have one LED direction indicator.
9. The unit can be controlled and managed by remote control.
Company Advantages
1. TGW TT004 has an improved heat dissipation ability which is always a focus for our research and development team. Our team strives to create products that can work at a high temperature without damaging the LED light source.
2. TGW face recognition temperature measurement device has passed the China Compulsory Certification(CCC) Test. The R&D team always attach great importance to consumers' safety and national security by providing qualified products.
3. TGW parking system)—Shenzhen TigerWong Technology Co. contains high lighting transmittance materials such as PMMA, PLA or PC, and all these materials are non-toxic and eco-friendly.
4. TGW entrance barrier is made of encapsulating material which has high thermal conductivity and strong insulation capacity. In this way, its electrical performance is ensured.
5. TGW TT006 has a special heat sink to absorb the heat producing by LEDs. The thermal management is adopted to help the heat dissipating into the surrounding environment and protect the LEDs from burning out.
6. This product has brought a lot of economic benefits to customers, and it is believed that it will be widely used in the market.
7. This product has long service life and stable performance.
8. We conduct rigorous tests to ensure that our products are defect-free and meet high quality standards.
9. This product conforms to the international market strict quality standard.
10. This product can add a certain dignity and charm to any room. Its innovative design absolutely brings an aesthetic allure.
11. The durability of this product ensures easy maintenance for people. People only need to wax, polish, and oiling occasionally.
12. As a part of interior design, the product can transform the mood of a room or entire house, creating a homely, and welcoming feel.
13. This product can offer people with the necessity of beauty as well as comfort, which can support their living place properly.
Company Features
Shenzhen Tiger Wong Technology Co.,Ltd is an outstanding resource in terms of budget, schedule and quality. We have the experience and resources to meet the most demanding specifications for types of access control system. Shenzhen Tiger Wong Technology Co.,Ltd has many years of comprehensive experience in designing and manufacturing types of access control system. We have acclaimed customer service. Shenzhen Tiger Wong Technology Co.,Ltd is born from the know-how rooted in the territory, and from the company's strong international character. We are experienced in developing and producing types of access control system. Shenzhen Tiger Wong Technology Co.,Ltd provides the best types of access control system at the best price. We are able to personalize the product according to the customer's unique style. Shenzhen Tiger Wong Technology Co.,Ltd is here to provide customers with high-quality products such as types of access control system and excellent customer service.
Shenzhen Tiger Wong Technology Co.,Ltd has strong technical force and advanced manufacturing technology. Shenzhen Tiger Wong Technology Co.,Ltd is strong in technology and has excellent ability of research development. Shenzhen Tiger Wong Technology Co.,Ltd possesses tremendous technology and excellent manufacturing equipment. Shenzhen Tiger Wong Technology Co.,Ltd has strong technical force and new product development ability. Abundant technology force and scientific management laid solid foundation for the healthy development of Shenzhen Tiger Wong Technology Co.,Ltd.
We have been taking a visionary approach to supporting environmental progress. We've integrated environmental criteria into our innovation process so that every new product we launch contributes to sustainability. We are committed to leadership in sustainability. We take responsibility for the safety and health of our employees, customers and consumers, the protection of the environment and the quality of life in the communities in which we operate. We aim to pioneer new solutions for sustainable development while continuing to shape our business responsibly and increase our economic success. This ambition encompasses all of our company's activities – along the entire value chain. Our commitment is to deliver consistent customer delight. We aim to provide innovative products and services of the highest standards that surpass customer expectations of quality, delivery, and productivity.
Application of the Product
The automatic systems turnstiles developed by TGW Technology is widely used in various fields.
TGW Technology always gives priority to customers and services. With a great focus on customers, we strive to meet their needs and provide optimal solutions.