What is ticket dispenser solution?
Ticket dispenser is the key equipment of the parking lot management system, generally refers to the management equipment of cards and barriers in the parking lot charging management system or ticketing system.
The main components of the ticket box include voice output module, LED or LCD display module, card management module, main control module, vehicle detection module and power supply module. The ticket box is an indispensable part of the parking lot and other ticketing intelligence, and is widely used in the management of various vehicle passages.
Hardware part introduction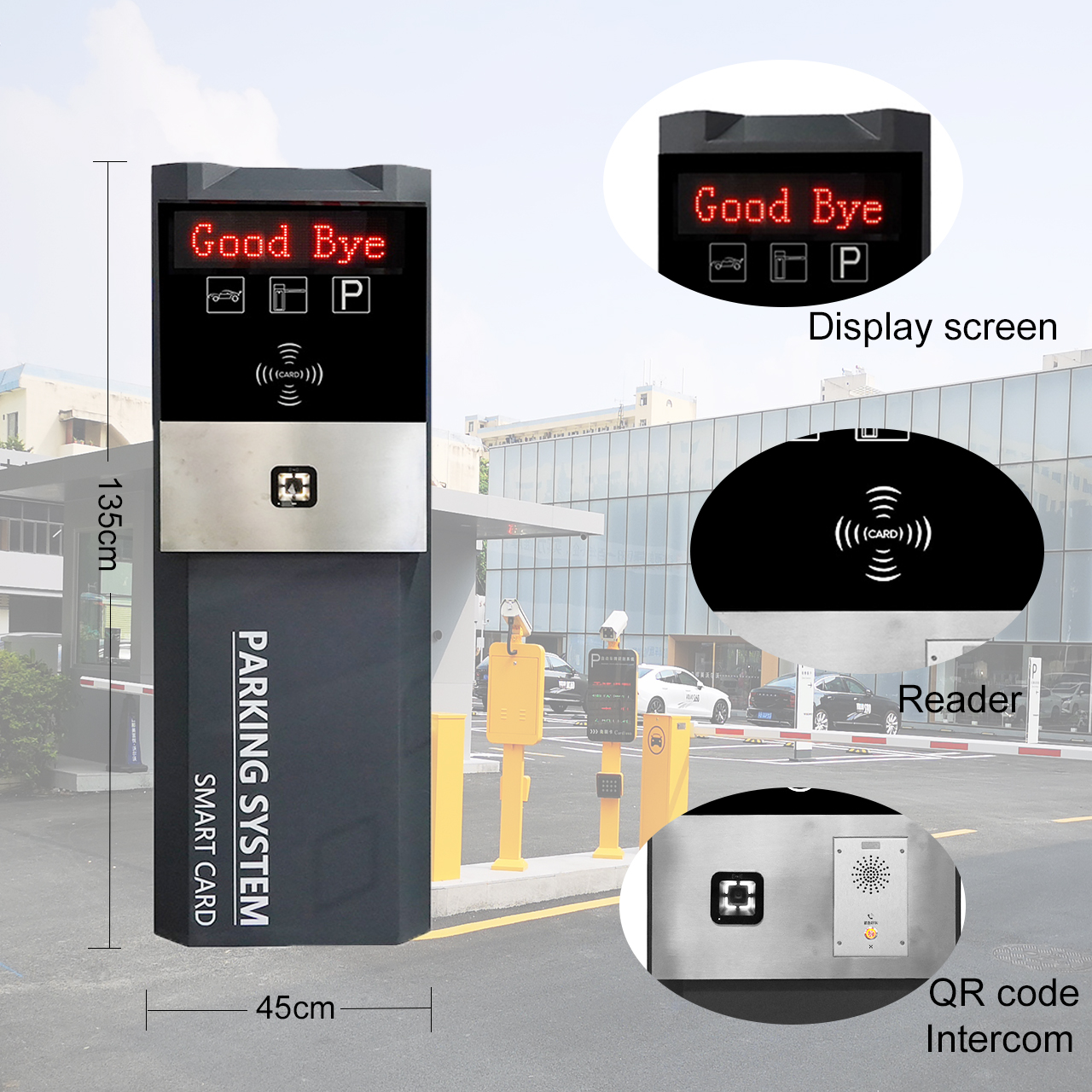 1. Unique manual release can stop the boom at any angle, Auto-reset when power on.
2. Bar can rise and fall on left/right sides by setting on the same machine.
3.One balance spring is suitable for all types of bars.
4. Unique remote controller, 3 buttons to control the barrier gate, safety and easy using.
5. Support the external and internal VEHICLE LOOP DETECTOR (optional).
6. Machine core can automatically adapt to low temperature.
Software part introduction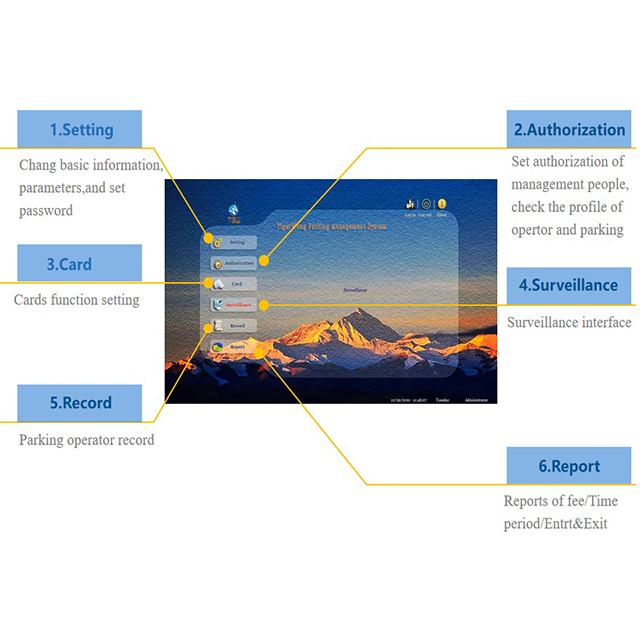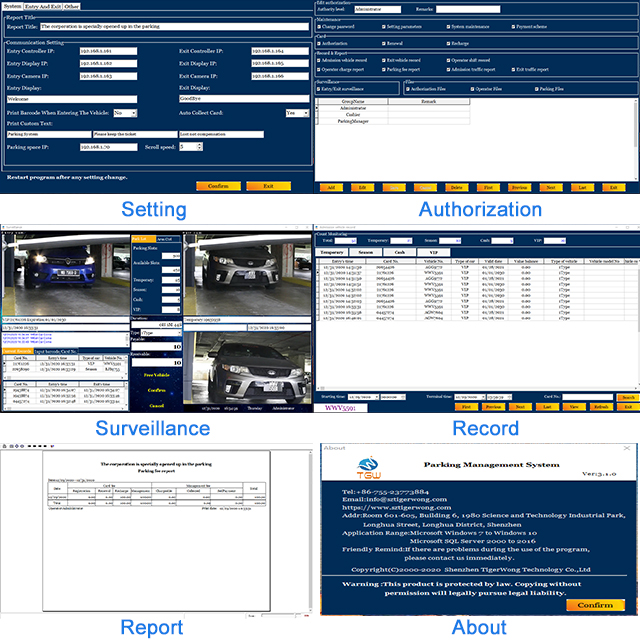 How does it work? Ticket Parking Composition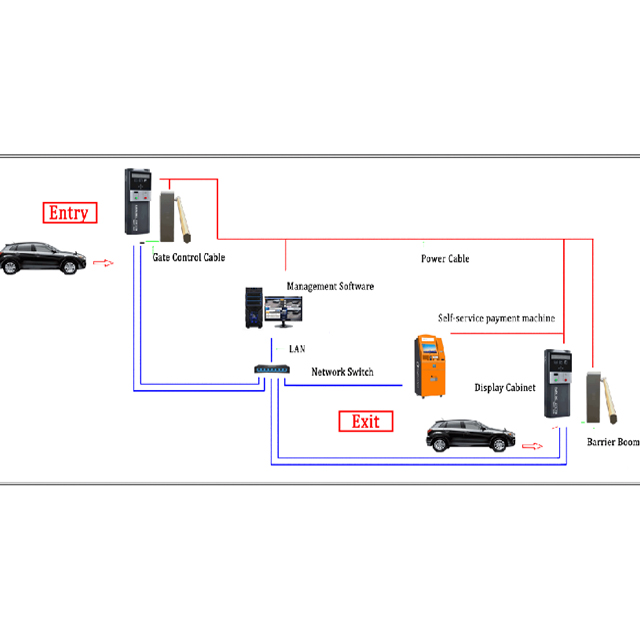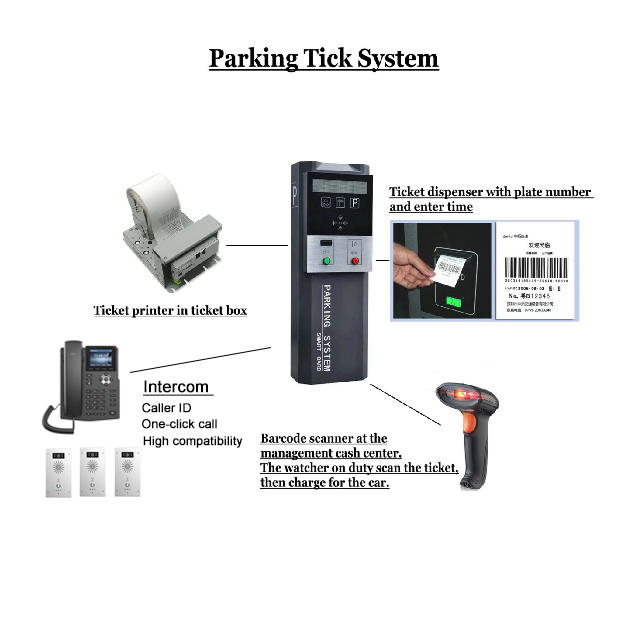 Process description:
Entrance:
Push Button and pick up the ticket
Take the card and paste up it on the dispenser box to raise the barrier gate.
It must be waiting a minute that the barrier has alreadlly rose up.
Exit:
The vehicle begin go through the barrier and entry parking.
Scan the ticket to exit.
Advantages of parking ticket dispenser
Advantages of parking lot entrance control ticket dispenser
* It can realize "one car one ticket".
* Intercom with the center and automatic counting and statistics function
* With Handheld scanner
* High-brightness LED Chinese characters are automatically displayed and turned over, and the remaining parking spaces are displayed
* Appearance size and color are optional
* Voice prompt, help intercom function
Company Advantages
1. TGW Intelligent license plate recognition device assists in managing the huge traffic flow—Shenzhen TigerWong Technology Co. is produced under advanced equipment. It will be processed by fastness to washing tester, steamer and washer, as well as vacuum cleaning equipment designed for textile.
2. TGW gate turnstile will go through a series of tests after produced. It is scrutinized in terms of colorfastness, dimensional stability, appearance after washing, quality of thread and yarns, etc.
3. The quality control of TGW Face recognition technology —Shenzhen TigerWong Technology Co. is conducted throughout the entire production process. The textile fibers and different kinds of agents are guaranteed to meet the standards stipulated in the National Basic Safety Technical Specifications for Textile Products.
4. Cusomers in the industry greatly rely on the product for its stable performance and long service life, delivering more economic benefits.
5. Quality controls are carefully carried out throughout the production cycle to ensure the quality of the product meets the requirements of both industry and customers.
6. The product is of high quality and is ensured to meet international quality standard and customer's expectation.
7. It is an essential creation both for the environment and people. It not only helps reduce energy consumption, but also cuts people's costs on electricity bills.
8. For the environment, the product helps reduce emissions by cutting people's daily carbon footprint. For people, it cuts electricity costs by consuming less energy.
9. People are fond of using this product mainly due to the simple and easy operation. It does not have complicated using instructions and brings convenience to people.
10. People have no worry that it generates electromagnetic radiation that is harmful to health. Using this product will not have an adverse influence.
Company Features
With our excellent products and thoughtful service, TGW now is blooming in the Pedestrian market. The reputation of TGW now has been expanding with the popularity of Pedestrian. It is our exquisite Pedestrian that boosts the reputation of TGW. TGW is very honored to be a leading Pedestrian supplier and manufacturer.
Shenzhen Tiger Wong Technology Co.,Ltd has a group of senior design elite team and management personnel for Pedestrian development. Shenzhen Tiger Wong Technology Co.,Ltd has a group of elite senior management team and dedicated staff. Shenzhen Tiger Wong Technology Co.,Ltd has a group of highly skilled engineers to provide the best solution on Pedestrian. Shenzhen Tiger Wong Technology Co.,Ltd has a group of skilled engineers for Pedestrian. Shenzhen Tiger Wong Technology Co.,Ltd has a high-quality professional R&D team for Pedestrian.
We handle our production waste responsibly. By reducing the amount of factory waste and thoroughly recycling resources from waste, we are working to eliminate the amount of waste treated in landfills to as close to zero. We fight for a sustainable future. We have been working to minimize the total resources used, and are continuing to increase resource collection through the introduction of new recycling technologies and systems to expand the usage of recycled resources. We offer a culture of empowerment. All of our employees are challenged to be creative, to take risks and to constantly find better ways to do things, so that we can continue to delight our customers and grow our business.
Application of the Product
The Outdoor Parking System produced by TGW Technology has a wide range of applications.
TGW Technology is committed to providing customers with high-quality as well as one-stop, comprehensive and efficient solutions.