Hardware introduction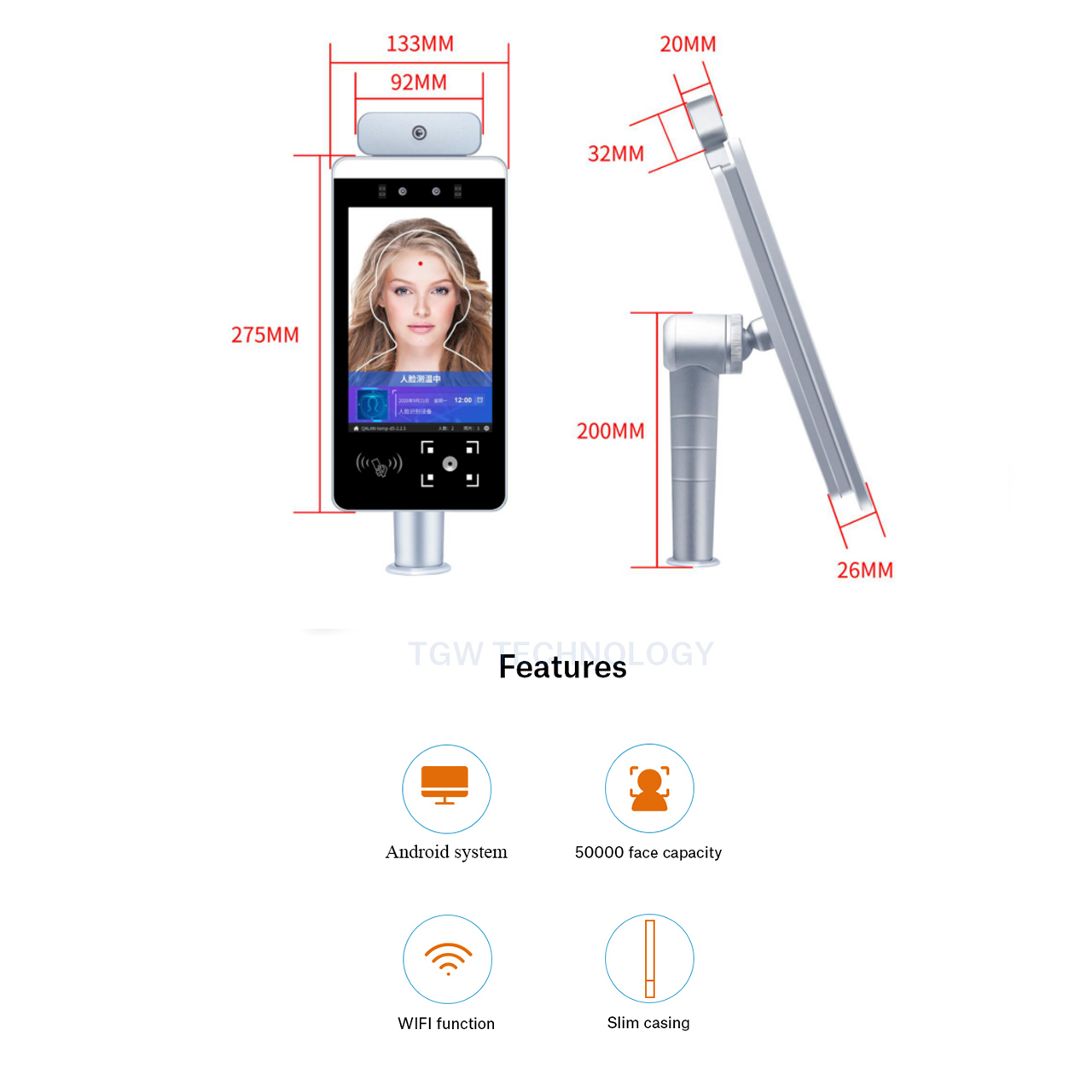 A high-performance dynamic temperature-measuring face recognition terminal, which is divided into gate installation and wall installation.
The terminal integrates the functions of off-line face recognition, temperature detection, mask recognition, identity verification, on-site face collection,
blacklist early-warning, photo taken after passing, active object detection. It adopts WDR HD face recognition camera,
which is fully adapted to harsh environment such as strong light, back light and weak light, with characteristics of fast recognition speed,
high accuracy and large list storage capacity.
Product details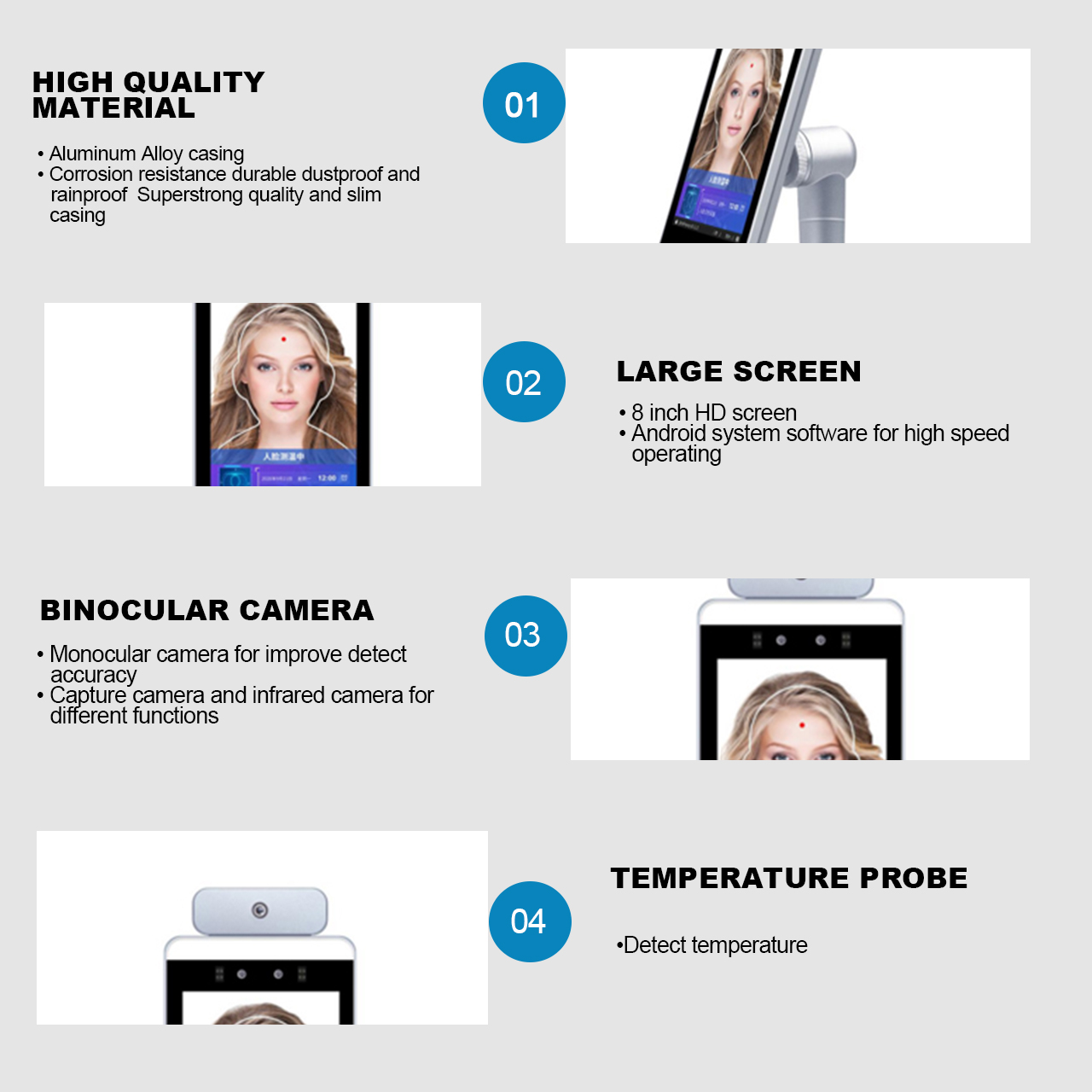 About temperature measurement face recognition terminal
1. Support the camera to capture the face to activate the device;
2. Adopt dynamic face detection and tracking recognition algorithm based on video stream;
3. Support local storage of 20,000 face libraries on the device;
4. When the face database is 3000, the accuracy of 1:N recognition is 99.7% under the condition that the false recognition rate is three out of ten thousand;
5. Fast recognition speed:
(A) Face tracking and detection takes about 20ms
(B) Face feature extraction takes about 200ms
(C) Face comparison takes 0.2ms (2000 people base, average value for multiple recognition), 0.5ms (10000 people base, average value for multiple recognition);
6. Binocular with infrared light camera;
7. Support on-site photo saving during face recognition or stranger detection;
8. Support interface docking in HTTP mode;
9. Support the deployment method of public network and local area network;
10. Support the comparison function of strangers' personal certificates;
11. Support human body temperature detection, support human body temperature measurement under indoor conditions;
12. Support external QR code.
A collection of features to meet your different needs

Advantages of temperature measuring face terminal
1.Real living body detecting
2.Recognition speed around 0.5ms
3.Recognition rate very high,recogntion rate up to 99.7%
4.Supppot recognize whole world race.
5.Storage capacity max 2-50k/person
6.Support language change for software
7.SDK/API interface avaible
8.Standalone use or with operate software
9.Very good heat dissipation and system stability
Application scenarios
It can be used with application management systems such as face-based site real-name management system, face-based access control attendance management system and visitor management system, which is perfect for complex application scenarios that require temperature monitoring, identity recognition and access control, such as communities, campuses, hospitals, scenic spots, hotels, shopping malls, office buildings, public places and construction sites. In terms of epidemic prevention and control, it effectively reduces the potential risks of large-area contact with human body during temperature measurement, shortens the temperature measurement time and improves the temperature measurement efficiency. At the same time, centralized management provides real-time data support for the screening and tracing of suspected patients and floating population, and provides a strong safety guarantee for the management under the above scenarios.
Company Advantages
1. TGW car park number plate recognition system has attracting designs with ingenuity.
2. The improved design of TGW parking lot management software reduces quality problems.
3. The raw material of TGW glasses usa goes through a rigorous selection procedure.
4. TGW Ticket Management software aligns with SOP (Standard Operating Procedure) in production process.
5. The production process of TGW access control system is highly mechanized and automated.
6. Our quality management system ensures that the product meets with the international quality standards.
7. The product has been subjected to thorough quality check before shipment.
8. The product has been tested and inspected according to the strict quality standards.
9. The advanced quality testing equipment and method are applied, ensuring the high quality of the product.
10. The quality of the product is in complete compliance with the set industry standards.
11. This product is far more preferable to competing products in terms of performance/price ratio.
12. This product can meet the challenge of the market competition.
13. The driving force of this product's development comes from the huge market demand in the industry.
Company Features
Shenzhen Tiger Wong Technology Co.,Ltd is a professional manufacturer of facial recognition software companies. We have the experience and expertise to enjoy a good development prospect in the global market. Since established, Shenzhen Tiger Wong Technology Co.,Ltd continually manufactures and updates products such as facial recognition software companies to satisfy the needs of different markets. Shenzhen Tiger Wong Technology Co.,Ltd is the best choice for those who want cost-effective and quality-guaranteed products such as facial recognition software companies. Shenzhen Tiger Wong Technology Co.,Ltd is a manufacturer that provides quality facial recognition software companies and related services. We impress our customers with experience and expertise.
We have a sound quality management system and complete quality inspection methods to ensure the TGW's quality and reputation. Our company masters mature technology and has a perfect quality assurance system. We have established a complete quality assurance system and has obtained ISO9001: 2000 quality management system certification. Our factory is equipped with sophisticated testing and testing equipment. Our company has established a complete quality and management assurance system for products including facial recognition software companies, and obtained the ISO9001 certificate.
We are constantly improving the quality of facial recognition software companies in order to seek better development. We consistently provide preferable facial recognition software companies to each customer. As an experienced manufacturer of facial recognition software companies, we will definitely satisfy you. Our high-quality products, including facial recognition software companies, will surely meet your expectations.
Application of the Product
TGW Technology's Tablet Temperature Face Recognition can play an important role in various fields.
We are always aware of new trends and developments in the market, so we can provide our customers with the industry-leading one-stop solutions.